Southern California wildfires double in size to 20,000 acres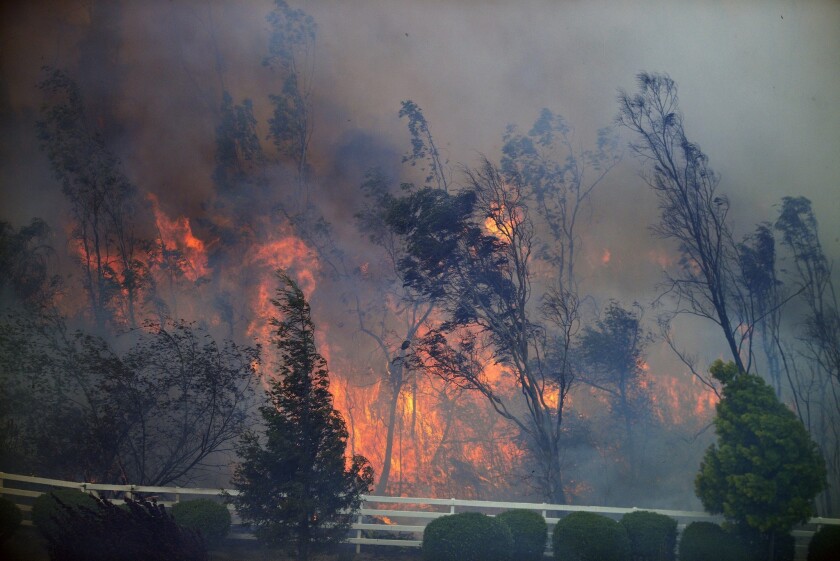 Wildfires have scorched nearly 20,000 acres in San Diego County, nearly double the last assessment, officials announced Friday afternoon.
Eleven brush fires in the area have burned 19,826 acres since they first started on Tuesday, San Diego County Supervisor Dianne Jacob said. The fires prompted thousands of evacuation orders, a massive firefighting response involving agencies from throughout Southern California and an emergency declaration by Gov. Jerry Brown.
Six of the fires, including the destructive Poinsettia fire in Carlsbad, have been fully contained, officials announced at an afternoon news conference.
About 1,000 firefighters, however, continue to battle the Cocos fire in San Marcos, which was just 10% contained and has so far destroyed three homes.
California Department of Forestry and Fire Protection Deputy Chief Kelly Zombro told reporters that firefighters were making progress in San Marcos under more favorable weather conditions.
"Right now the wind is in our favor," Zombro said.
Roughly 1,000 firefighters were battling the blaze.
Meanwhile, the 8,000-acre Las Pulgas fire at Camp Pendleton continues to send out plumes of smoke visible from Los Angeles, but there is no indication the fire will move beyond the base or damage structures.
The 6,300-acre Tomahawk fire at at the adjacent Naval Weapons Station Fallbrook also continued to rage.
Jacob said that while the worst appeared to have passed, "the difficult days for San Diegans are not over."
The fire season, she added, had only just begun.
"It is not a matter of if we are going to have another fire, it's a matter of when," Jacob said.
Investigators were still trying to determine what caused the wildfires.
San Diego County Dist. Atty. Bonnie Dumanis said three arson-related arrests had been made, but none was suspected of playing a role in the main brushfires.
Two teenagers were arrested in Escondido Thursday on suspicion of trying to start two small fires, and an adult was arrested in Oceanside for "adding" to a fire, she said.
Investigators on Friday concluded that the Bernardo fire in San Diego County was caused by a backhoe during an excavation project.
The 1,548-acre fire southwest of Rancho Bernardo was 90% contained as of Friday morning as crews took advantage of better weather conditions. The fire, reported on Tuesday, was the first of what would eventually become 11 brush fires to erupt this week.
It was larger in size than the Poinsettia fire in Carlsbad but less destructive. While up to 50 structures were at one point threatened, none was lost, according to the Cal Fire.
In Carlsbad, the Poinsettia fire was fully contained at 400 acres Friday after destroying eight homes, an 18-unit apartment complex and three other buildings. A second 18-unit apartment complex suffered a considerable amount of damage; three other homes had minor damage.
---
The perils of parenting through a pandemic
What's going on with school? What do kids need? Get 8 to 3, a newsletter dedicated to the questions that keep California families up at night.
You may occasionally receive promotional content from the Los Angeles Times.