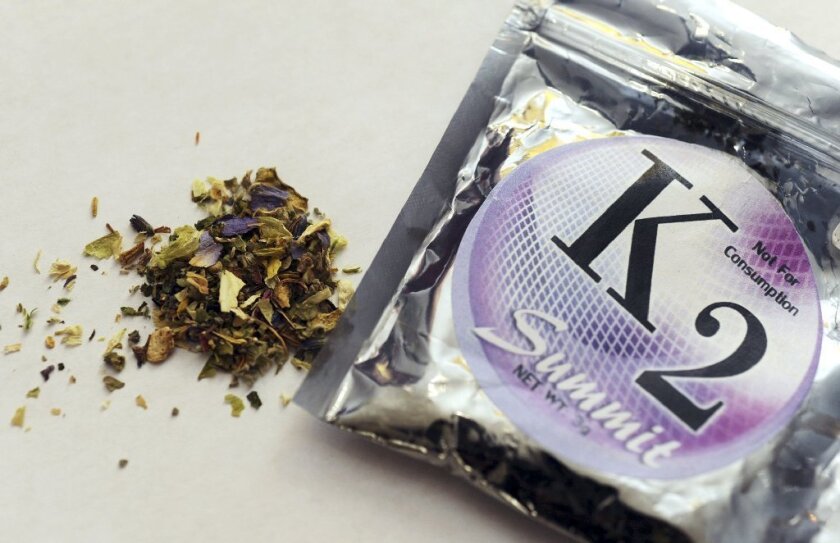 A Newport Beach man said to be the leader of a drug ring that distributed more than $12 million worth of dangerous synthetic drugs, commonly referred to as "spice" or "bath salts," pleaded guilty to drug, weapons and money laundering charges Monday afternoon, federal prosecutors said.
Prosecutors said Sean Libbert, 41, was the head of a ring that imported and manufactured chemicals used to create synthetic marijuana and other designer drugs that are meant to mimic the effects of weed, but have been known to cause seizures and hallucinations, according to a news release from the U.S. attorney's office.
Spice, also known as "K2," is produced by spraying psychoactive substances on a non-marijuana plant. The drug was linked to a rash of overdoses earlier this year along skid row in downtown Los Angeles, where spice joints are sold for as cheap as $1 to the area's sprawling homeless population.
Libbert's group smuggled in the chemicals used to make the drugs from China, then sold their own brand of synthetic marijuana, dubbed "Da Kine Blend," over the Internet, according to court documents.
The 41-year-old pleaded guilty to money laundering, weapons possession, smuggling controlled substances into the United States and conspiracy to manufacture and distribute drugs, according to the news release.
"The investigation in this case revealed that this defendant controlled an organization that was one of the largest importers and distributors of dangerous, synthetic drugs in the nation," U.S. Atty. Eileen M. Decker said in a statement. "Over the course of only 16 months, this organization smuggled well over 600 pounds of chemicals into the U.S., knowing that the drugs would be used to manufacture synthetic marijuana or 'spice.'"
Five other defendants have pleaded guilty in connection with Libbert's drug ring, including a Chinese national accused of supplying him with the chemicals needed to manufacture the drugs.
Libbert has agreed to serve at least six years in prison under the terms of a plea deal. His sentencing is scheduled for March.
According to the plea agreement, Libbert admitted to distributing at least 4 kilograms of synthetic cannabinoids during a six-month span in 2011, which he knew would be used to make at least 100 kilograms of synthetic marijuana.
Follow @JamesQueallyLAT on Twitter for crime and police news in California.
ALSO
San Diego woman is accused of hiding 44 immigrants at her home
Missing mother's earbuds, strands of hair found as desperate search in Northern California town continues
How the battle between Trump and Clinton could pave the way for L.A.'s $1.2 billion homeless housing measure
---