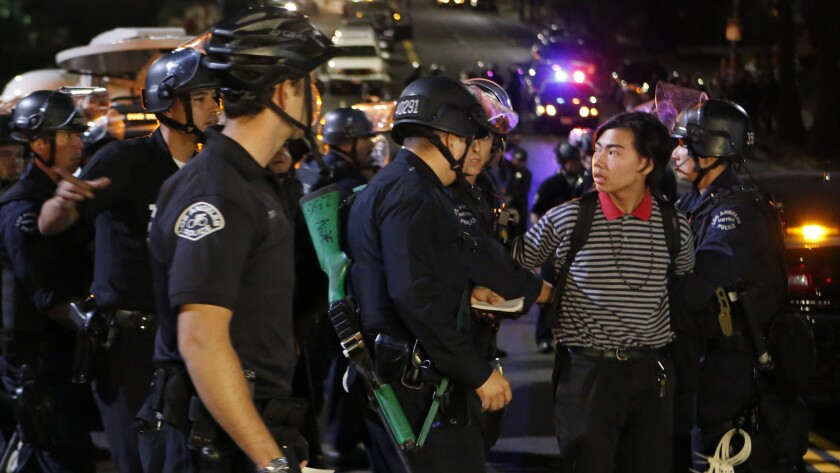 Demonstrators marching Friday evening in the Westlake section of Los Angeles in protest of the Ferguson grand jury decision not to indict a white police officer in the shooting death of a black teenager were once again facing arrest after some started running in the streets.
LAPD officials said about 7 p.m. that some arrests have been made.
A group of more than 30 were surrounded by LAPD officers on Alvarado Street near Beverly Boulevard after they allegedly blocked streets and ran into oncoming traffic, police said. The area was shut down by police. The LAPD has also closed ramps to the 101 Freeway in the area.
Some of the protesters left the area once LAPD issued the order to disperse, but others remained. If protesters did not immediately leave the area, they would be arrested, police said.
Protesters said the point of all their actions was to be noticed, and that is exactly what was happening.
"These killings have been happening at a nauseating rate," said Daniel Lee, a protester on scene. "There are no federal policies to stop them."
About 6 p.m., officers began pulling protesters out of the group a few at a time, and detained them with zip ties as they got their names and ran background checks, said Lt. Andy Smith, an LAPD spokesman.
Each person was given a dismissal order. If they did not have any outstanding warrants, they would be allowed to leave, Smith said.
"Terrorizing motorists is not covered by the 1st Amendment," Smith said.
LAPD Capt. Mike Oreb said there have been a few arrests, including one for battery on a police officer. He said police were monitoring the peaceful demonstration but intervened when protesters began running into traffic.
"It became very dangerous for the driving public and they were doing it on purpose," Oreb said of the demonstraters.
No arrest numbers were immediately available.
This story will be updated as more information becomes available.
Follow Ryan Parker for breaking news at @theryanparker and on Facebook.
---