Is there a safer way to street race? In L.A., some speed demons think so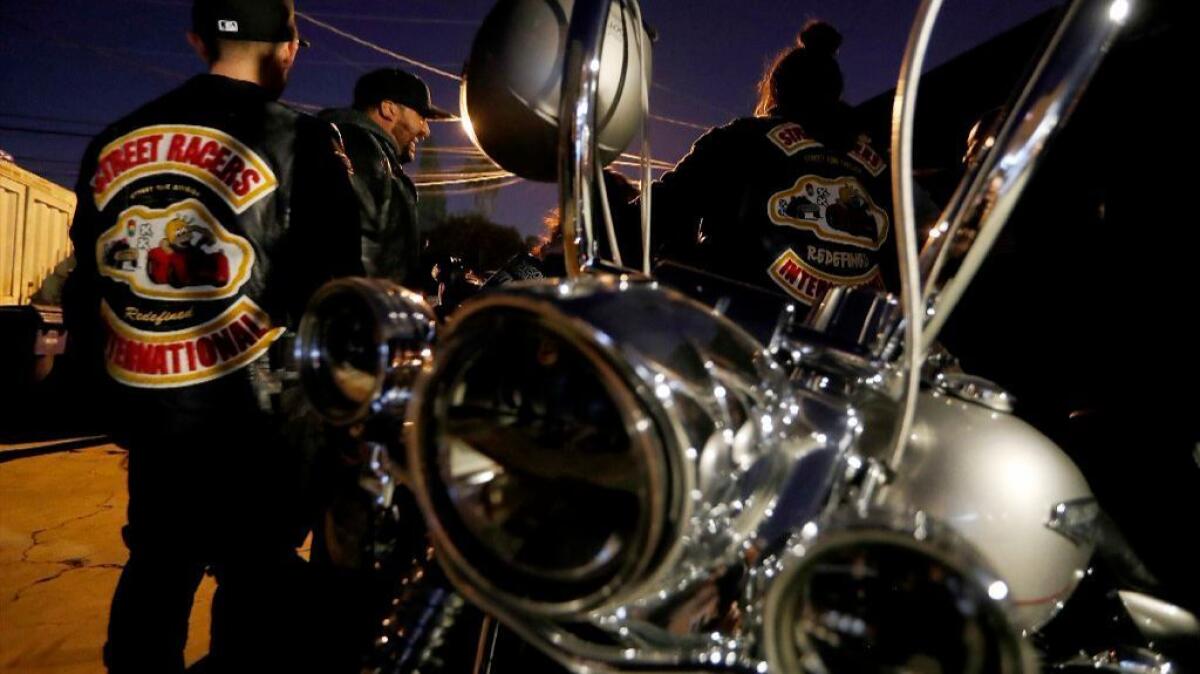 On a Friday night in Compton, two cars raced their engines on a dimly lit street behind a warehouse complex. A man stood between the vehicles, pointing to each, calling out small dollar amounts, asking who wanted to put money on the Camaro to his left.
The bets closed. The drivers got their signal and each took off, disappearing in a blur of red taillights. The crowd on the sidelines filled the street, some standing on their toes to see who won.
That pattern played out for several hours that night. Twice, Los Angeles County sheriff's deputies drove by and flashed their lights, momentarily breaking up the rally. But the group reconvened in two other spots.
There was no televised police pursuit. No cars crashed. No fights occurred. No one got hurt.
This is the way some people hope Southern California's sprawling street racing circuit can look one day: like a sporting event instead of a crime scene.
"On TV, they only show the bad parts of it," said the president of the International Brotherhood of Street Racers, one of the city's oldest street racing organizations. "They don't show the unity."
The group is advocating for greater legal avenues for enthusiasts who participate in speed contests that have the potential to turn deadly.
Earlier this year, a Los Angeles Times analysis of coroner's records, police reports and media accounts found that at least 179 people have died as a result of suspected street racing in Los Angeles County since 2000. Police say the local racing scene has grown stronger in recent years, and many believe the most dangerous incidents stem from spontaneous races in residential neighborhoods and street takeovers that draw hundreds.
The California Highway Patrol documented 984 street racing incidents in Los Angeles County last year — including spontaneous races and organized events — accounting for a little more than 40% of the incidents statewide.
The evolving, and increasingly dangerous, nature of such outlaw events has drawn condemnation from police and politicians, but it's also aggravated a segment of racers as well.
For decades, Los Angeles members of the National and International Brotherhood of Street Racers had organized legal races on a strip of land on Terminal Island with the backing of some police and civic leaders. The legal events ended in the mid-1990s.
Members of the brotherhood now organize clandestine races in the middle of the night, in industrial areas where the odds of a pedestrian or uninvolved motorist passing through are minimal. The group discourages people from performing doughnuts or other vehicle stunts, which police say are common at takeover scenes and can endanger nearby spectators. Empty beer bottles and the scent of marijuana are prevalent at their events, but they say they refuse to let anyone who has even sipped a drink get behind the wheel of car.
"You're not gonna go ahead and put our lives in jeopardy," said one longtime street racer who, like many at the events, requested anonymity for fear of reprisals from law enforcement. "If you can't follow the rules, if you can't follow the code, you can't be out here."
Still, one of the group's leaders — who asked to be identified by his nickname, Taz — said he knows the risks he's taking getting behind the wheel, no matter how many precautions the group takes.
"We know it's a dangerous sport, no matter where you put it," he said.
Donald Galaz, another member of the group who is often seen at street racing advocacy events throughout Los Angeles County, said their message is simple: They want to work with local government to find a legal place to race, and they want to end the casualties.
"This is not a game. The impromptu stuff within the city is the most dangerous stuff that is happening," Galaz, 45, said. "A track is not going to stop street racing from happening, but it is going to put a dent in the number of fatalities."
Some officials share that viewpoint.
Outgoing Los Angeles City Councilman Mitchell Englander, a longtime vocal proponent of stricter enforcement against street racers, suggested during a council meeting last month that the disappearance of nearby legal raceways combined with racers' increased use of social media to rapidly organize events has led to a spike in illegal speed contests in the city.
"It's gotten worse, some would argue. Worse because we've lost the tracks and the opportunity where people can actually gather in safe places and locations, and there's more enthusiasts and aficionados that are changing their vehicles and amending them, and people with social media find it easy to gather," he said.
The new owners of Irwindale Speedway, home to the only legal drag strip in Los Angeles County that is both close to the city and palatable to street racers, is trying to prove Galaz's theory correct. The speedway nearly went out of business in late 2017, but it was saved by former race car driver Tim Huddleston, who organized a new lease.
The track is home to a one-eighth-mile track that street racers can rocket down as often as they want for $20 every Thursday night; starting in 2019, street racers also will be welcome to use the drag strip on Saturdays for the same price. Earlier this year, Irwindale also developed a "burnout box" — an area blocked off by concrete barricades where drivers can perform otherwise dangerous doughnuts without endangering spectators — as part of a move to widen its appeal to members of the illegal car circuit.
"If we can take just one street racer off the street, and get him a legal opportunity, then we are making a difference," said Kevin Stevens, the speedway's marketing director.
Stevens said he's also waded into the Facebook and Instagram pages that are popular among street racing crews and garages and managed to urge a number of competitors to carry out grudge races at Irwindale.
Huddleston said that Irwindale offers a combination of safety and easy access that is sorely needed in and around L.A. County. Racers who want to take to the track at Pomona Raceway need to pass an National Hot Rod Assn. inspection and aren't likely to get more than one run on a given day, according to Galaz. The next closest location is Buttonwillow Raceway Park in Kern County, which is a long way to travel for 10 seconds of race time, Galaz said.
"It's a closed course, private property, and it's completely K-railed in ... the same barricades as the freeway. Multiple firefighters on staff," Huddleston said of the Irwindale track. "It's set up like a regular professional drag race."
Founded in the 1960s by local racing legend "Big Willie" Robinson, the brotherhood has long advocated for safer street racing that would see cars rocketing down empty quarter-mile asphalt strips, far from pedestrians.
In 1974, the Brotherhood Raceway Park opened on Terminal Island, a venture then endorsed by Los Angeles Mayor Tom Bradley. But the racing park closed in the 1990s, and the brotherhood's relationships with city officials and police are not as strong as they once were.
The Los Angeles Police Department is aware of the group's actions and repeated calls for a legal racing track. But the brotherhood represents only a sliver of the city's much broader, unbridled racing scene, some officials say.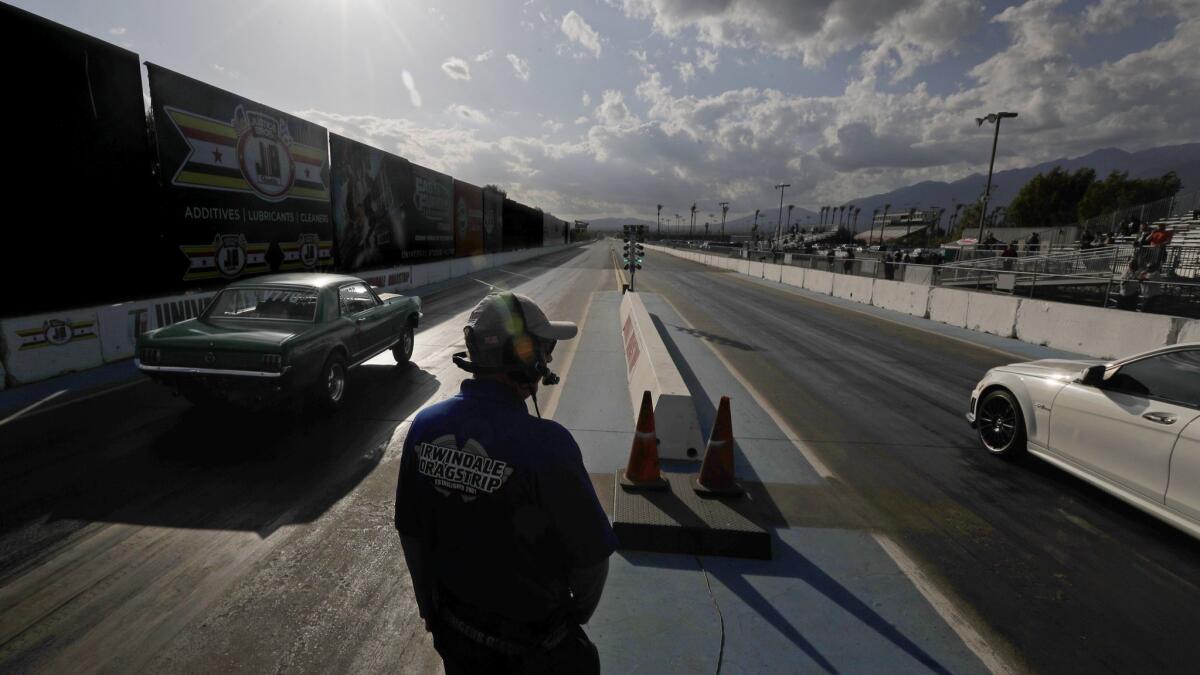 "What they do, though illegal, they do it in a safe manner," said LAPD Capt. Al Lopez, who formerly headed traffic investigations in Central Division.
Galaz says the brotherhood's membership is in the hundreds, but unaffiliated racers and members of other car clubs are welcome to take part in their events as long as they follow the rules. At one event near Compton, dozens of drivers who weren't sporting the brotherhood's leather cuts could be seen roaming the area, lining up for races and exchanging hugs with Taz.
One racer, who asked not to be identified, said most drivers at brotherhood events have a lot of experience behind the wheel, allowing them to course correct and avoid disaster if they lose control. That lack of "seat time," he believes, is a major factor in the crashes that occur during spontaneous races, which normally involve younger drivers with little experience handling a lot of horsepower.
For many who barrel down the streets of South L.A. or Compton, racing is an obsession. For others, it's a job. The racer said he has won as much as $27,000 in a single race, money that goes toward rent or bills.
Though he'd prefer more legal options, the racer said he would do what he had to do to get his speed fix.
"Just as bad as we want to breathe every day," he said. "That's how deep this passion is."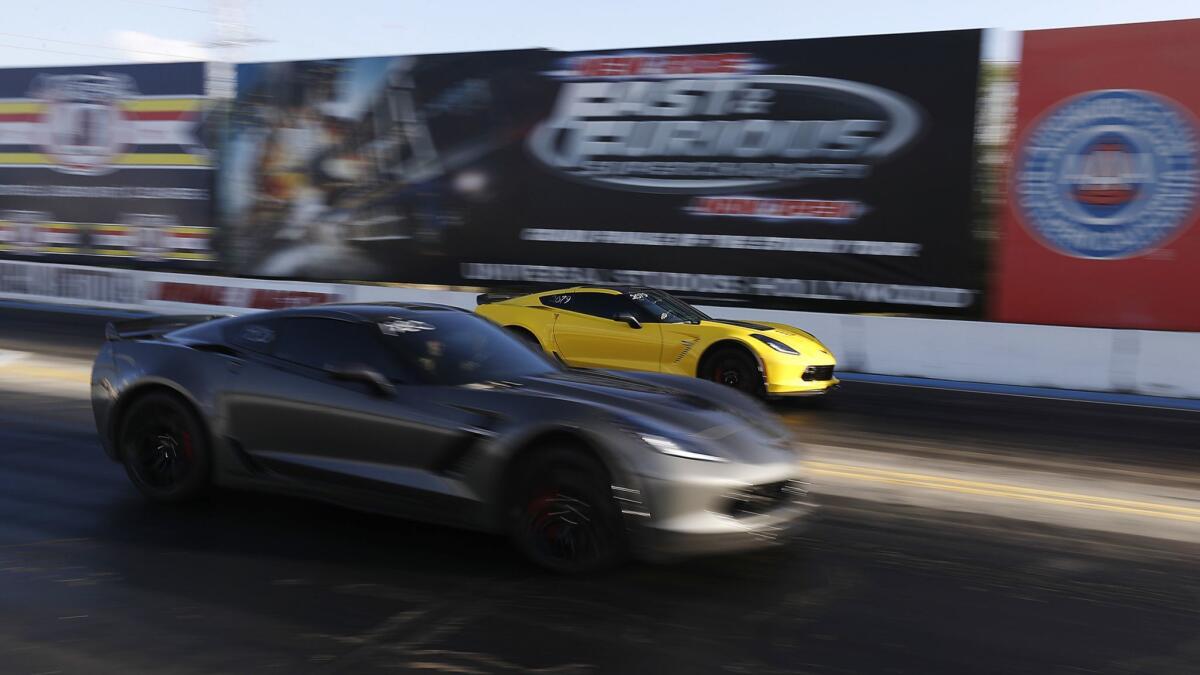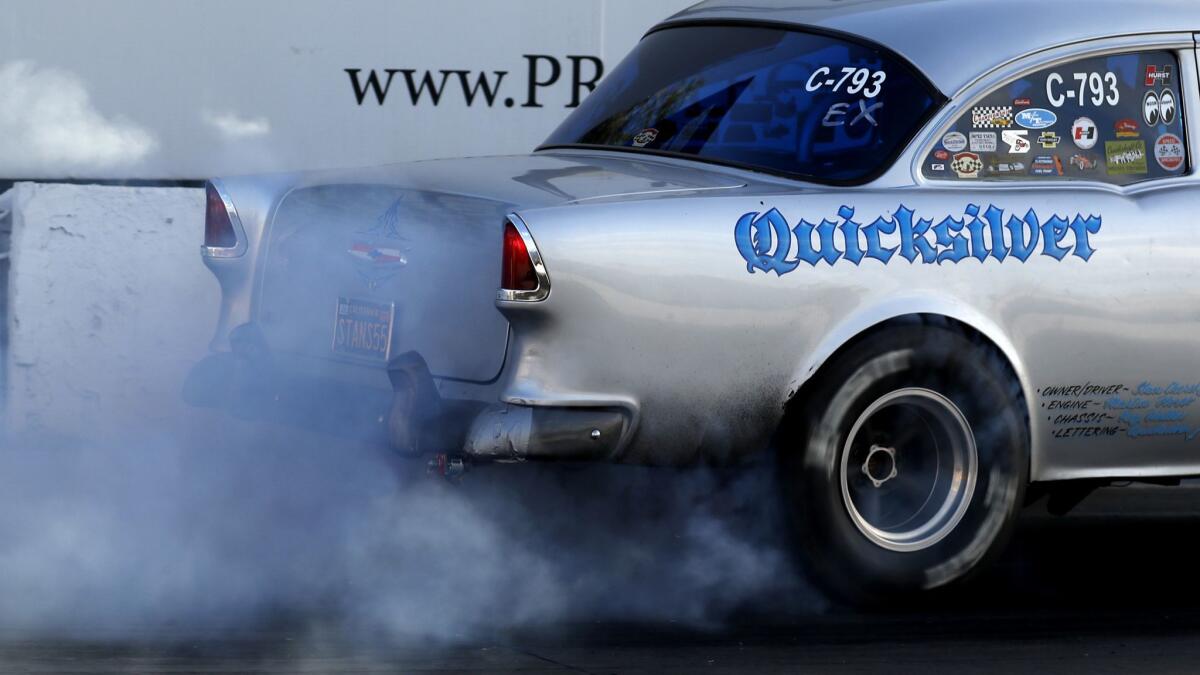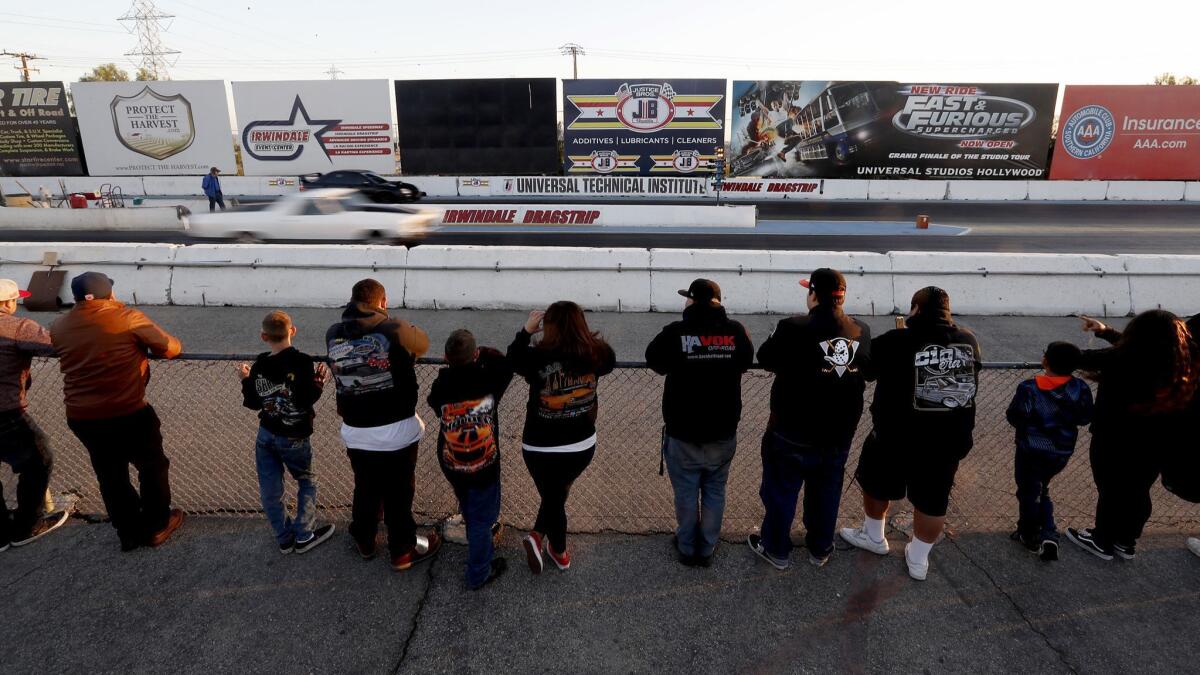 Twitter: @JamesQueallyLAT
Twitter: @nicolesantacruz
Sign up for Essential California for news, features and recommendations from the L.A. Times and beyond in your inbox six days a week.
You may occasionally receive promotional content from the Los Angeles Times.