Deadly street racing fueled by social media, popular culture, police say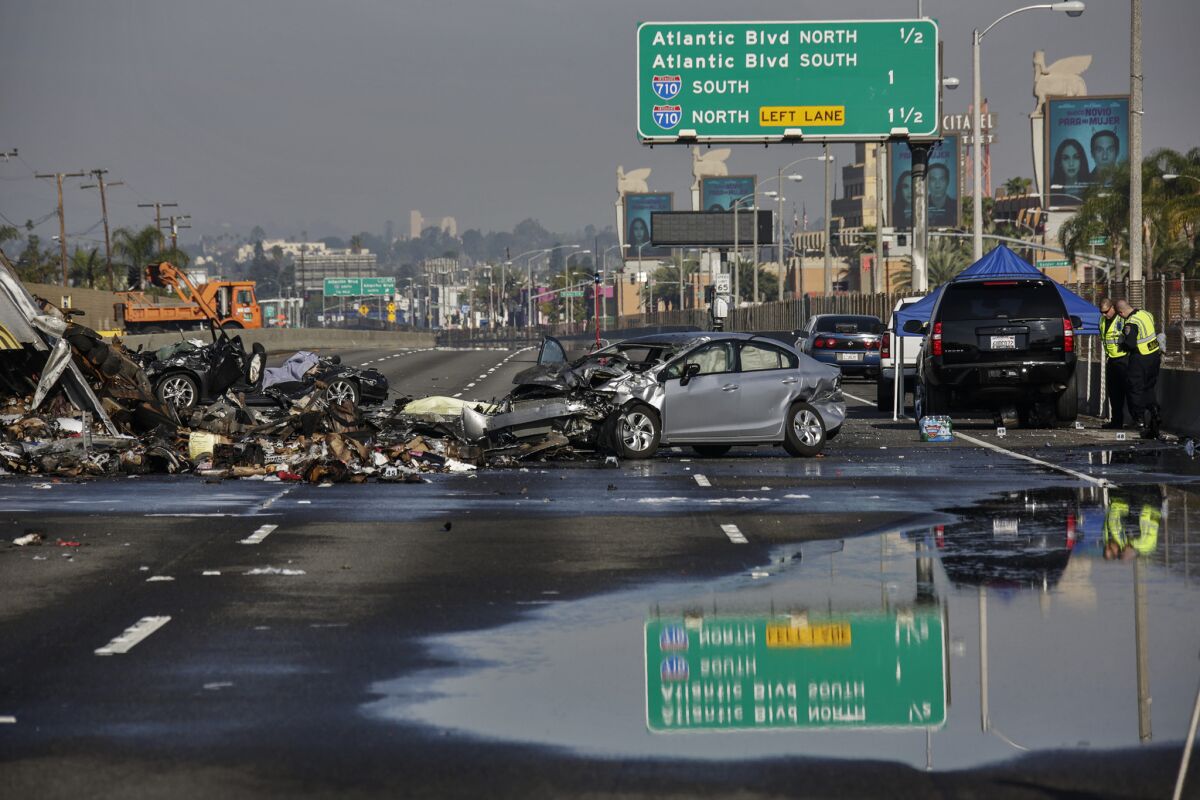 The fiery crash on Interstate 5 early Saturday that left three dead is the latest incident tied to street racing.
The violent crash is one in a string of deadly street race accidents in recent years that prompted law enforcement crackdowns and talk of new state legislation to stiffen penalties for illegal car modifications.
Although there are no statistics on street racing incidents, local police say they appear to be on the rise, with some racers using social media to coordinate matches and stay ahead of authorities.
"They jump on any one of their social media sites, only to move the problem to one of our partnering jurisdictions," Los Angeles police Capt. John McMahon told The Times last year in a story about street racing.
NEWSLETTER: Get essential California headlines delivered daily >>
That story described one example:
"Yungster323 — a private Instagram account followed by racers — put up a cryptic post: There would be a meet on Tuesday night. Send a private message to the account to get the location.
"Someone at that spot — a Bellflower Stater Bros.— would announce the location for a race. In the parking lot, empty cans of Modelo and Corona bottles sat near the gathered Camaros, Mustangs, Dodge Neons and trucks. The smell of marijuana hung in the air."
Police say the popularity of illegal racing has only increased amid movies like the "Fast and Furious" series and video games.
Even the death of "Fast and Furious" film star Paul Walker in a fiery crash in November 2014 appears to have done little to dampen enthusiasm for speed contests.
Dangerous driving is not just confined to street matches. Participants in illegal races hit triple-digit speeds on their way to race spots. Oftentimes, this happens on the freeways.
Illegal street racing has drawn increased scrutiny from law enforcement over the past several years.
One in Chatsworth in February 2015 killed two spectators, and another soon after in Gardena, on March 31, left two people injured and one dead. Earlier this year, a Hawthorne street racer was charged with murder after, police say, he caused an accident that killed a San Pedro musician and teacher who was driving in the area.
In November 2014, the LAPD's Valley Traffic Division formed a seven-officer Aggressive Driving Detail, the department's only unit dedicated to street racing. The unit has handed out hundreds of citations and made scores of arrests.
Meanwhile, law enforcement officials have come together to discuss how to stem the epidemic as the tally of race-related fatalities continues climb.
The weekend crash occurred on Interstate 5 in Commerce. Three people were killed and several others injured after a street racer lost control of his vehicle and slammed into a UPS truck, causing the big rig to flip over the median, smash into oncoming traffic and explode. The big rig collided with a gray Nissan, sheared its top off and came to rest atop of a red Ford Explorer.
A California Highway Patrol investigator takes photographs at the scene of Saturday's multivehicle crash on the 5 Freeway in Commerce that killed three people.
(Irfan Khan / Los Angeles Times)
Authorities say a Dodge Challenger that was racing another vehicle caused the fatal accident. Its driver was arrested.
(Irfan Khan / Los Angeles Times)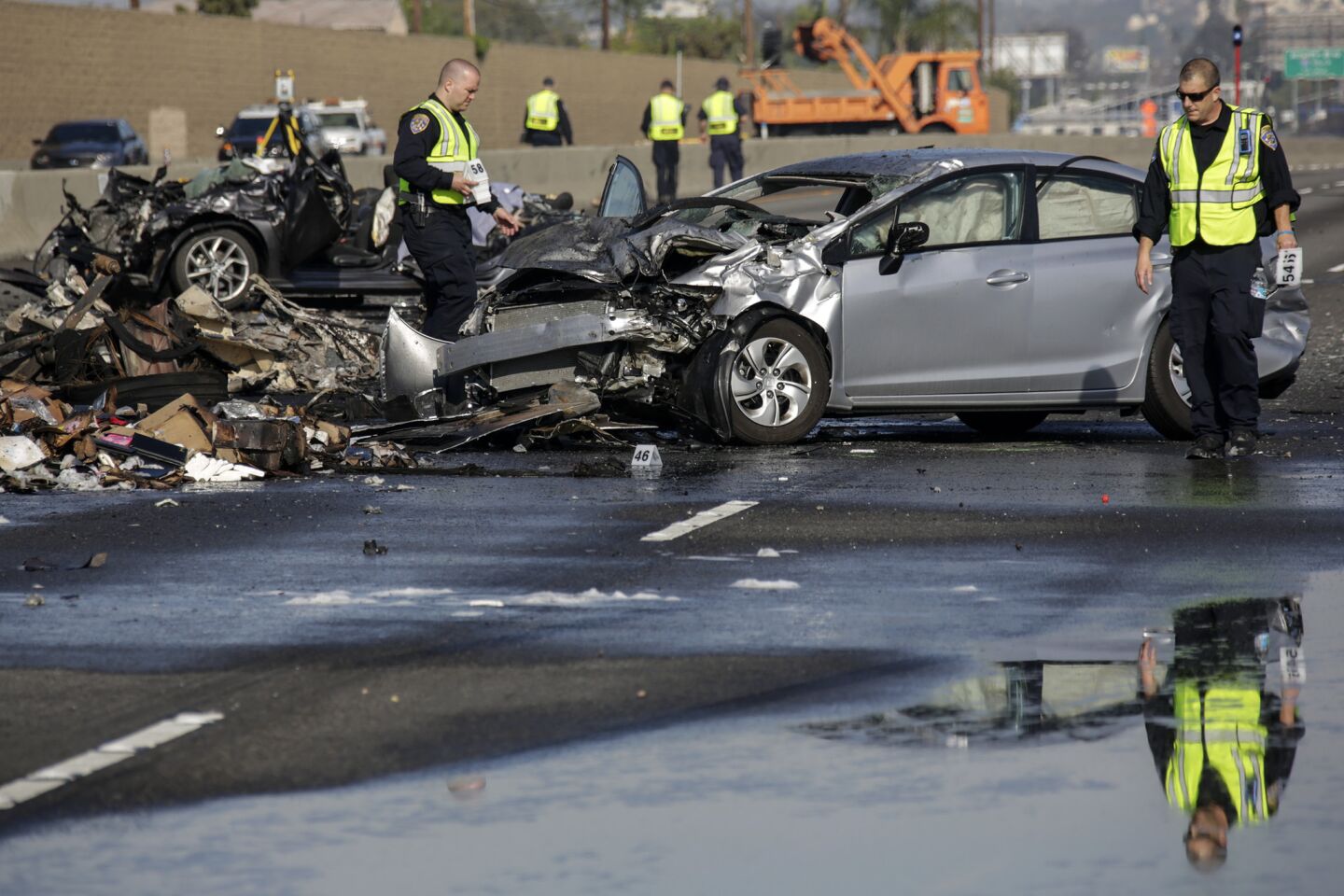 Investigators gather evidence after Saturday's crash on the 5 Freeway in Commerce.
(Irfan Khan / Los Angeles Times)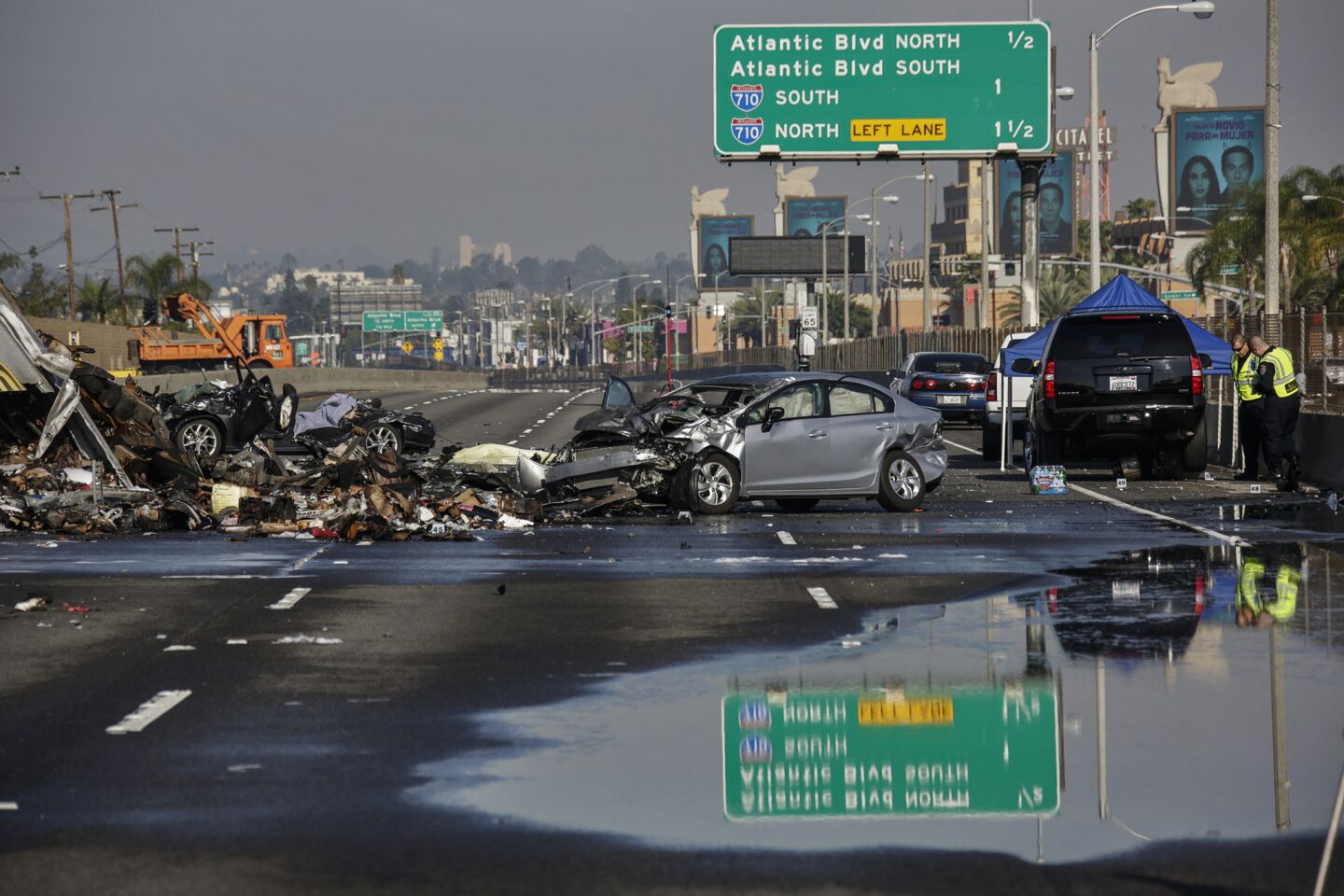 Debris is strewn across the 5 Freeway in Commerce after three people were killed in a fiery multivehicle crash. A motorist who told authorities that he had been racing was charged Tuesday with second-degree murder.
(Irfan Khan / Los Angeles Times)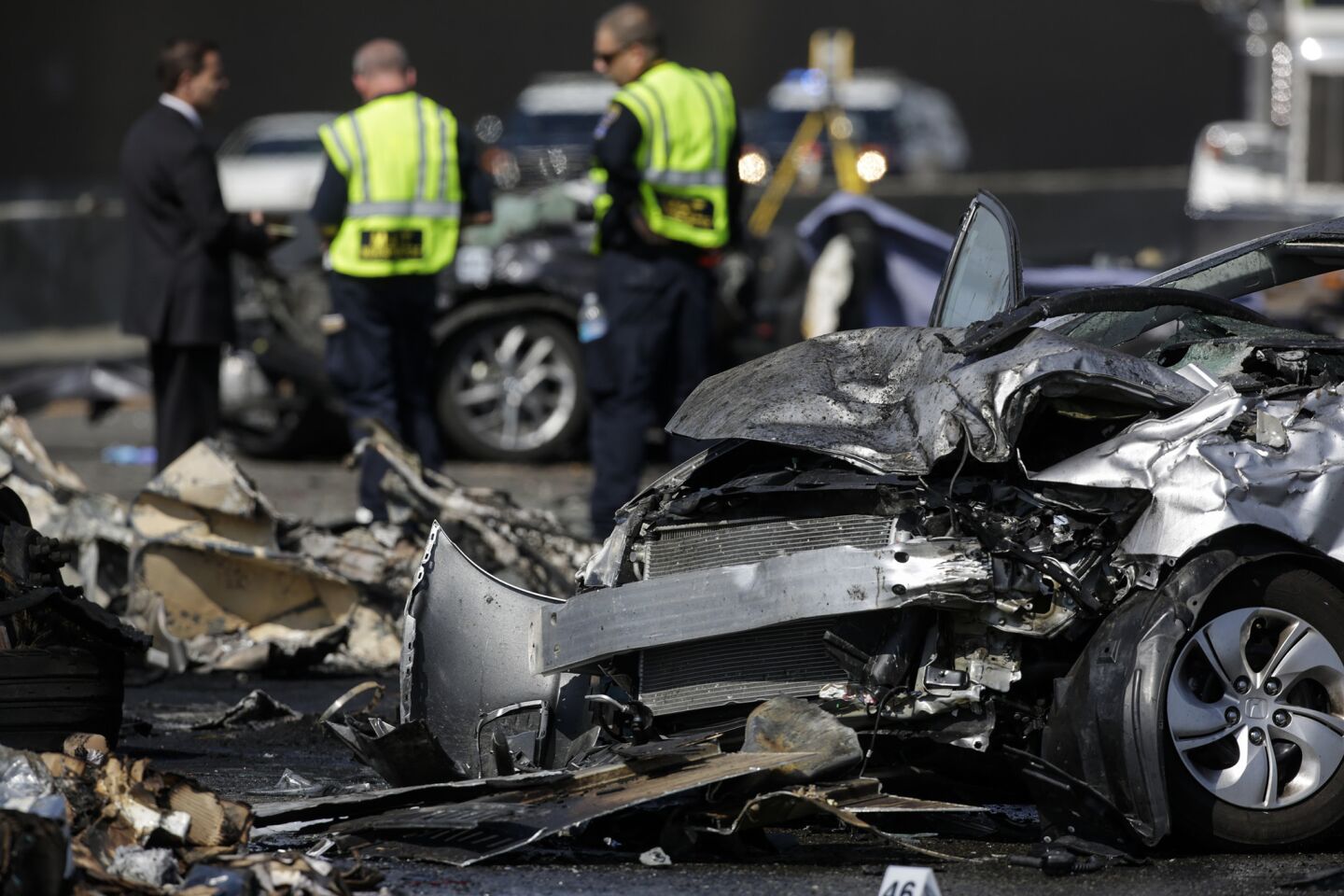 CHP investigators at the scene of Saturday's multivehicle crash.
(Irfan Khan / Los Angeles Times)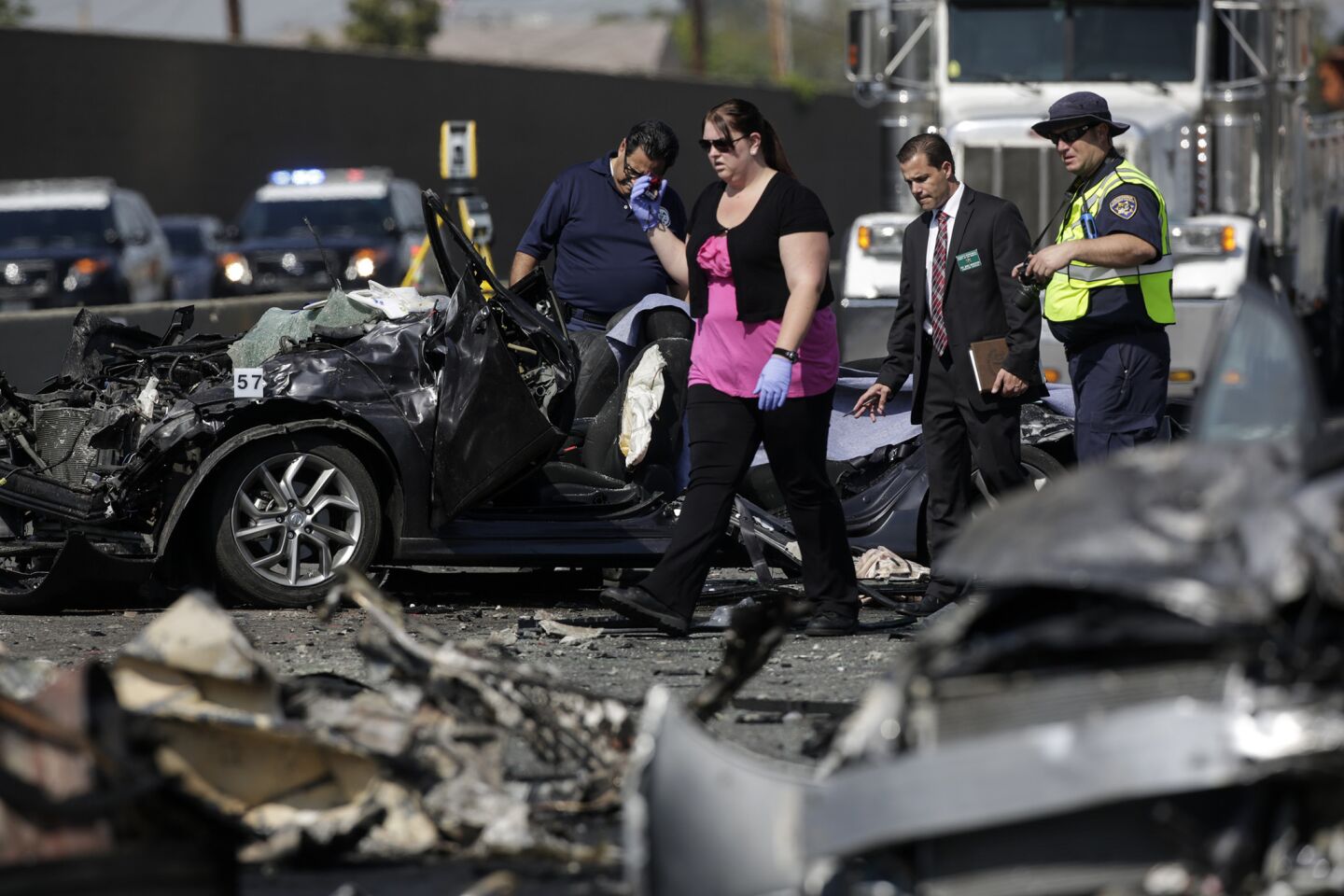 CHP investigators and coroner's officials gather evidence from Saturday's fatal crash on the 5 Freeway in Commerce.
(Irfan Khan / Los Angeles Times)
Dealio Lockhart, 35, of Whittier was arrested at the scene and will face vehicular manslaughter charges. Lockhart, who drove a Dodge Challenger, admitted to authorities that he had been racing, officials said.
The other suspect was last seen driving a Dodge Charger. There has been no progress to report on the search, said Officer Tony Polizzi of the California Highway Patrol.
The Los Angeles County Sheriff's Department identified one of the other victims as 18-year-old Brian Lewandowski, whose father is a homicide lieutenant with the department.
See the most-read stories this hour >>
"Brian was an incredible young man and every parent's dream for a son. We are absolutely devastated by our loss," the family wrote in a statement.
Teamsters Local 396, a labor union, posted on Facebook on Sunday morning that UPS truck driver Scott Treadway was one of the people who died in the accident.
The third victim was named as Michelle Littlefield in a Facebook post from St. James Holy Redeemer School in Montrose, which identified Littlefield as a member of the class of 2010.
ALSO
One man still wanted by police in KKK rally stabbings at Anaheim park
Mountain High ski area is closing until it gets new snow
Mother and son are killed in a drive-by shooting outside a Carson home
---
Life is stressful. Our weekly mental wellness newsletter can help.
You may occasionally receive promotional content from the Los Angeles Times.