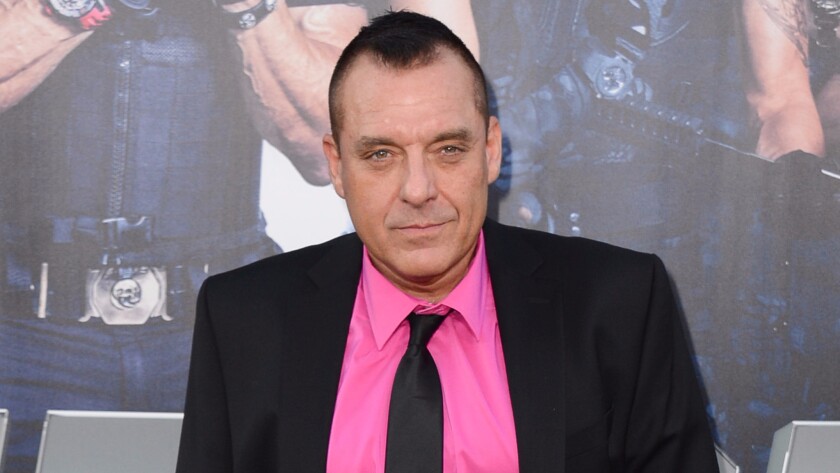 The Los Angeles city attorney's office has charged actor Tom Sizemore with three misdemeanors in connection with his arrest in a domestic violence case in July.
Sizemore, 54, was charged this week with intimate partner abuse, intimate partner battery and making terrorist threats, the city attorney's office said. He is free on $50,000 bail and is scheduled to be arraigned Sept. 15. He faces up to three years in jail – one year for each count – if convicted on all charges.
Sizemore was arrested about 8:15 a.m. July 19 after getting into an altercation with his girlfriend in the 400 block of South Main Street in downtown Los Angeles, authorities said. A charge evaluation filing reported that the victim had minor injuries and that the actor has a history of domestic violence and run-ins with law enforcement. The Los Angeles County district attorney's office declined to pursue felony charges against the actor earlier this month, leading to the misdemeanor charges from the city attorney.
Sizemore pleaded no contest in 2006 to using methamphetamine outside a Bakersfield motel and was sentenced to 36 months of probation.
Los Angeles police arrested him twice in 2009, for suspected battery of a former spouse and for allegedly transporting or selling a controlled substance, according to LAPD records.
In 2011, Sizemore was again arrested on charges of battery of a former spouse, records show.
In July, Sizemore was reported to be driving a vehicle that ran over a stuntman on the set of the new TV show "Shooter." Sizemore reportedly didn't see the stuntman while filming at Agua Dulce Airpark. The actor's representative declined to comment.
The actor is best known for his roles in the films "Saving Private Ryan" and "Black Hawk Down."
For breaking California news, follow @JosephSerna on Twitter.
ALSO
Angels star Mike Trout walks away from O.C. car crash uninjured
California Incline in Santa Monica set to reopen Thursday
Police ask for help identifying man suspected of shooting at L.A. BBQ stand and killing aspiring rapper
---