UC Irvine professor gets security escort after saying on Twitter that a colleague was harassing her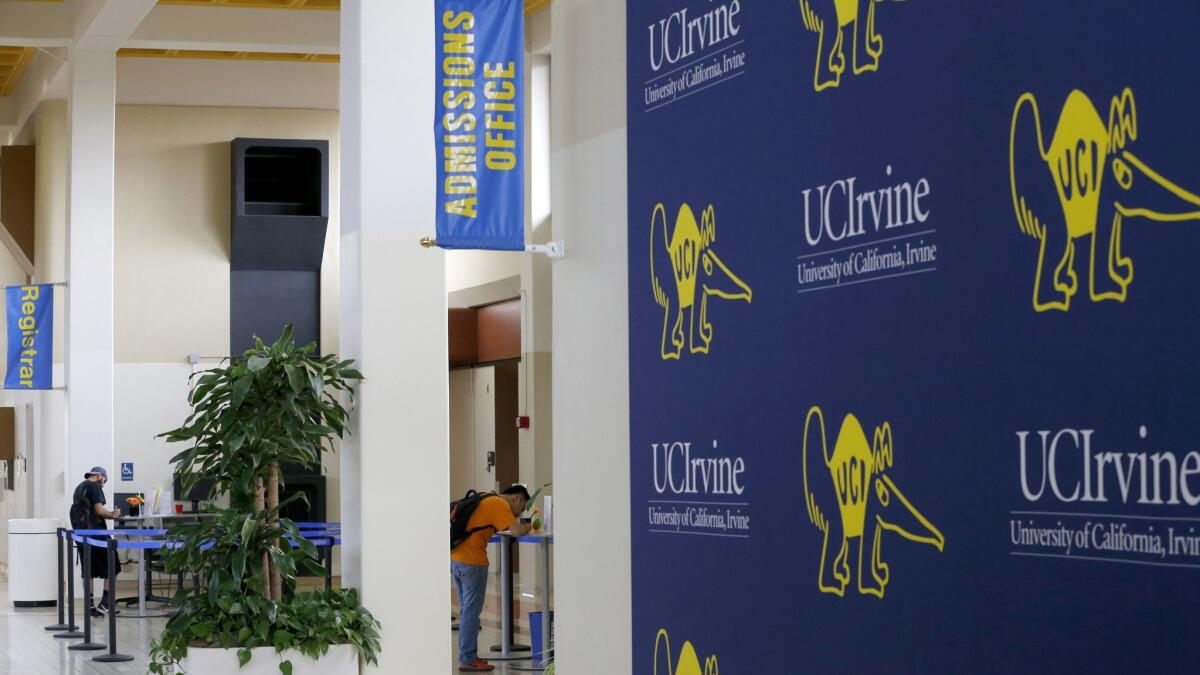 A UC Irvine faculty member was given a security escort to campus this week after she tweeted about feeling unsafe because of a fellow professor's behavior.
In a public thread on Twitter, Kathleen Treseder, chair of the Ecology and Evolutionary Biology Department, said Monday that lecturer Richard Symanski was intimidating her after she and others publicly accused a former UCI geneticist of sexual harassment. Treseder said Symanski sent her a memoir that referenced similar accusations against him as well as a fictional character who massacres university academics.

For the record:
9:55 p.m. Dec. 18, 2018An earlier version of this report misspelled UCI Chancellor Howard Gillman's last name as Gilman.
Treseder tweeted Thursday that she was staying home because a colleague was making her feel unsafe. On Monday, she posted a photograph of Symanski's memoir, "Bad Boy Geographer," and attached a letter he had sent two months earlier.
That post drew the attention of Treseder's thousands of followers and prompted UC Irvine's School of Biological Sciences to release its own statement on Twitter.
"UCI's School of Biological Sciences and administration intervened immediately as soon as we became aware of Professor Treseder's concerns," the department said, adding that it acquired private security services for her for an unspecified amount of time.
The university said it could not share details of the situation because of its "sensitive, personnel-related nature."
In Symanski's letter posted by Treseder, he suggests that because of her identification with the #MeToo movement, she read the part of his book about a sexual harassment charge made against him. He warns that a large part of the novel focuses on sex and prostitutes.
The letter referenced Treseder's involvement in the university's investigation of geneticist Francisco J. Ayala, who was accused of sexually harassing several faculty members and graduate students. Treseder was one of Ayala's accusers, and in June, the geneticist resigned.
In her tweets, Treseder included quotes from Symanski's memoir, which also referenced an unpublished crime novel he wrote featuring a main character who executes academics.
"They were taken into a seminar room and, with one exception (a coward who jumped out the window instead of facing the killer's humiliating charges), were killed with a sawed off shotgun," Symanski writes in the memoir, describing part of his novel. "Nearly an entire academic department was eliminated."
Treseder said she found the comments unsettling.
"I am his Chair. He wanted me to read this," she said on Twitter.
One math teacher in Oregon, Julie Wright, wrote a public letter to UCI Chancellor Howard Gillman and Biological Sciences Dean Frank LaFerla, requesting the university take action.
Wright referenced in her letter another portion of Symanski's book in which he says that men wanting to have sex with women is a compliment.
"All these 'poor' and 'victimized' and 'oppressed' and 'sensitive' women don't have the intelligence to see that men saying they want to … them is an enormous compliment," Symanski said in the book. "[Women] have their victimhood to worry about, and their quite fragile and angry feminist egos to worry about."
In an email to City News Service, Symanski said he was unaware of Treseder's tweets, but acknowledged he sent a copy of his memoir that includes 10,000 words on a "bogus" sexual harassment charge against him in 1995. He said he wanted to show Treseder that there's another side to the sexual harassment accusations made against men.
Neither Treseder nor Symanski, who is scheduled to retire Jan. 7, could immediately be reached for comment Tuesday.
alejandra.reyesvelarde@latimes.com
Twitter: @r_valejandra
Sign up for Essential California for news, features and recommendations from the L.A. Times and beyond in your inbox six days a week.
You may occasionally receive promotional content from the Los Angeles Times.