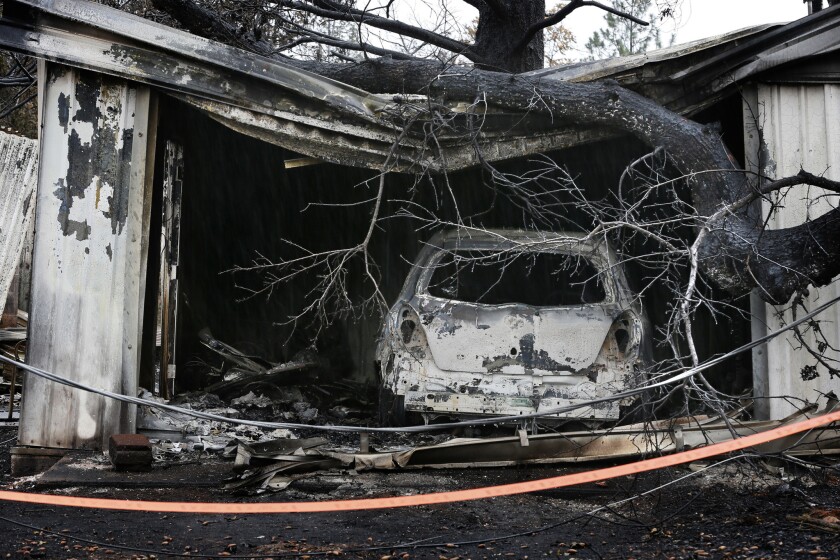 Reporting from Oakland —
Within hours after the Valley fire ignited, the calls for help poured in: from the sick, the bedridden and those trapped by the encroaching flames.
Emergency dispatch logs – released Tuesday to The Times by Lake County Sheriff Brian Martin – give a glimpse of the unfolding nightmare and a mad door-to-door scramble to evacuate surprised communities as the fire swept across the mountainous Northern California county.
What became a now 76,067-acre blaze was first reported to the California Department of Forestry and Fire Protection as a 2-acre grass fire off a side road on Cobb Mountain, shortly after 1:20 p.m. on Saturday, Sept. 12.
Within half an hour, the Sheriff's Department was asked to begin evacuating communities, starting with Cobb. Minutes later, the logs show the requests for rescue begin.
Interested in the stories shaping California? Sign up for the free Essential California newsletter >>
By 6:47 p.m.: "Several occupied houses ... are trapped screaming for help, unable to get to them."
At 7:10 p.m.: "Male and female are trapped in the horse arena and they are surrounded by fire..."
One couple, trapped outside their home, waited for rescue in the safest place they could find: a creek.
Children were reported standing by the sides of the road trying to get out. An "elderly couple" attempted to flee on horseback, the records show.
The logs contain calls to provide help to 37 people who are identified as "elderly residents." Some were unable to drive or bedridden. Others had Alzheimer's or needed emergency aid in the first day and night of the fire.
Three people, all over 65, have been found dead. Two other individuals remain missing.
"While the loss of life is terrible and tragic, had it not been for the quick response in heroic efforts of our deputy sheriffs and assisting agencies, the human toll would have been greater," Martin said. "There were many heroic acts performed during the first few hours of this fire."
The morning after, the fire still spreading, the logs chronicle an attempt to track down a camper who earlier had refused to leave the Boggs State Forest even as it burned. His Honda remained at the camp site "and the tent is melted" but the man could not be found, the dispatch log noted.
Such refusals to leave were common.
The logs show more than two dozen cases where individuals or even groups of people defied orders to leave. In at least two cases, the individuals threatened officers or firefighters.
As the first 24 hours of the deadly fire drew to a close, the first suspected looters arrived – two men trekking in on foot, wearing backpacks.
For coverage of wildfires in Northern California, follow @PaigeStJohn and @LeeRomney.
Romney reported from Oakland and St. John from Pilot Hill, Calif.
MORE ON CALIFORNIA WILDFIRES:
Interactive map: Where are all the California fires?
How the Valley fire exploded into one of the worst in California history
Residents return to town ravaged by Northern California's Valley fire: 'It will never be the same'
---