So far, Lori Loughlin's daughters Olivia Jade, Isabella Rose not targeted in admissions scandal, source says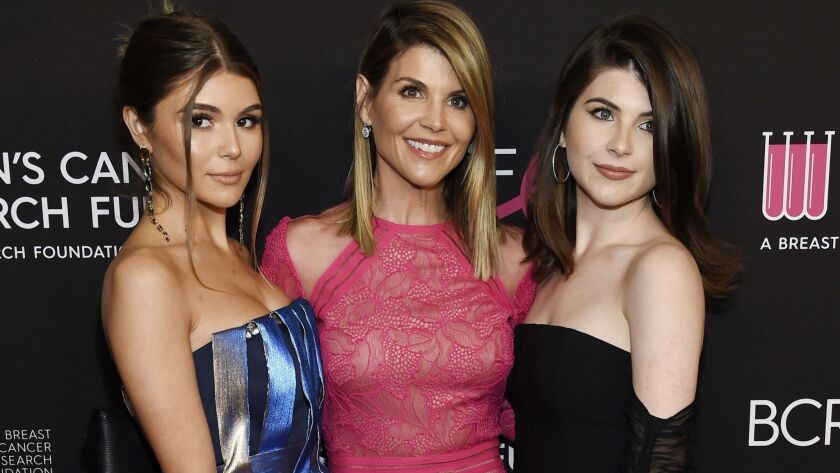 Lori Loughlin's two daughters, Isabella Rose and Olivia Jade, are not among the children who have received target letters from federal prosecutors in the college admissions scandal, a source familiar with the investigation told the Los Angeles Times.
Loughlin and her husband are accused of paying $500,000 to have their two daughters admitted to USC as crew recruits. Though neither is a rower, the parents saw being a coxswain as their daughters' ticket into the private college, according to an affidavit filed in federal court.
So far, no children of parents accused of using the service of college admissions guru William "Rick" Singer to get into elite schools have been charged by federal prosecutors, although three have received target letters.
Just because they have received target letters does not necessarily mean they will face charges.
Singer has pleaded guilty to four felonies and admitted to masterminding a scheme to get the children of wealthy families into top colleges through bribes, fake credentials and rigged tests.
The Times reported last week that federal prosecutors had sent a letter to a former Stanford student whose parents paid $6.5 million to Singer informing her she was a possible target of their investigation.
Two other children of Singer's clients have received target letters, including the daughter of Napa Valley vintner Agustin Huneeus Jr., the person familiar with the investigation said. Huneeus has agreed to plead guilty to a fraud conspiracy charge. His attorneys did not immediately respond to a request for comment.
The Times could not determine who received the third target letter. A spokeswoman for the U.S. attorney in Massachusetts declined to comment.
Loughlin and her husband have pleaded not guilty and have vowed to fight the charges.
Full coverage: Dozens charged — including Hollywood actresses — in connection with college admissions scheme »
A source told The Times that Loughlin and her husband, J. Mossimo Giannulli, had told people that they did not believe they were engaging in any kind of crime and felt duped by Singer.
Authorities allege the couple agreed to take advantage of what Singer called his "side door" into the university by bribing USC senior associate athletic director Donna Heinel to designate their older daughter as an athletic recruit on the crew team. Heinel also is charged in the scheme and has pleaded not guilty.
The money that authorities said eventually made its way to college coaches involved in the scam was funneled through Singer's charity, whose stated mission was to help "underprivileged students." This allowed some of the parents to write off the bribes as donations on their taxes, authorities said.
After their older daughter's admission was secured, the couple repeated the scam in 2017 with their younger daughter, Olivia Jade, authorities allege. Singer allegedly told the couple he would present their daughter as a crew coxswain for the L.A. Marina Club team and requested they send an "action picture." The couple sent him a photo of Olivia Jade rowing on a machine, according to the affidavit.
Some legal experts said the couple's tactics so far made sense.
"Most of the parents probably didn't know what they were doing. They have not been educated in the legal field," said Lara Yeretsian, a criminal defense attorney who was part of Scott Peterson's and Michael Jackson's legal teams.
Yeretsian said if Loughlin and Giannulli were willing to risk it, they might find jurors and a judge more sympathetic than prosecutors. Ultimately, a decision to go to trial may depend on whether prosecutors go after their children, she added.
---
The stories shaping California
Get up to speed with our Essential California newsletter, sent six days a week.
You may occasionally receive promotional content from the Los Angeles Times.