Michael Jackson's final day: A sleepless night, dangerous drugs and a death that shook the world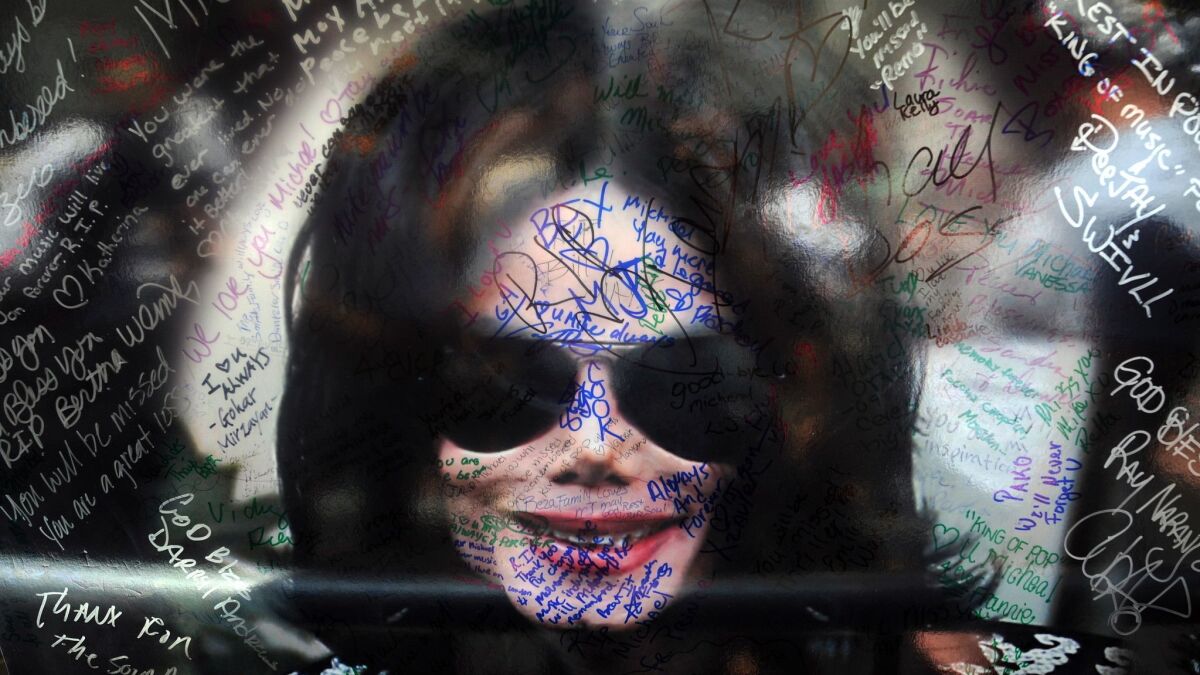 The rumors started flowing in the afternoon 10 years ago: Something was going on at Michael Jackson's estate in Holmby Hills.
The singer — dogged for years by allegations of abuse and medical issues — had been back in the public eye with a comeback tour.
Over the next few hours, the world would learn that Jackson was dead.
And over the next year, the secret life of the King of Pop would come to light. Authorities declared his death a homicide and charged his physician with giving him the powerful drugs that would kill him. Dr. Conrad Murray would later be convicted.
There would be a legal battle over his estate and money, and more recently, new allegations that he sexually abused children.
Here's a look back from the pages of The Times on the superstar's death:
June 24, 2009
Jackson is deep into rehearsals for his comeback tour. The pressure is on, and the singer has complained about not being able to sleep. The Associated Press later described those hours:
The rehearsal ended around midnight Wednesday night with a performance of "Earth Song." The singer hugged his dancers, thanked the crew and wished them a good night. "God bless you."
Jackson returned to Carolwood Drive, stopping briefly at its metal gate to greet a small group of fans who had gathered outside his home.
As they pulled into the driveway, the bodyguard noticed Dr. Murray's car parked outside the home, just as it had been many nights previously.
Jackson's security personnel escorted him into the house and to the foot of the stairs. No one, except for Murray and Jackson's children, was allowed upstairs.
Soon after Jackson arrived home, he started complaining of fatigue and that he needed sleep.
June 25, 2009
Through the night and morning, Jackson receives a series of drugs meant to help him sleep, officials would later say.
Murray, officials said, gave him those powerful drugs. Jackson is found unresponsive later.
Jackson is rushed to a hospital by Los Angeles Fire Department paramedics, who found him in cardiac arrest and not breathing. Efforts to revive him are unsuccessful.
From The Times' front page story:
Michael Jackson, an incomparable figure in music, dance and culture whose ever-changing face graced the covers of albums that sold more than half a billion copies, died Thursday, shortly after going into cardiac arrest at his rented Holmby Hills mansion. He was 50. He spent much of his life as one of the most famous people on the planet, and to many, his untimely death felt both unthinkable and, oddly, inevitable.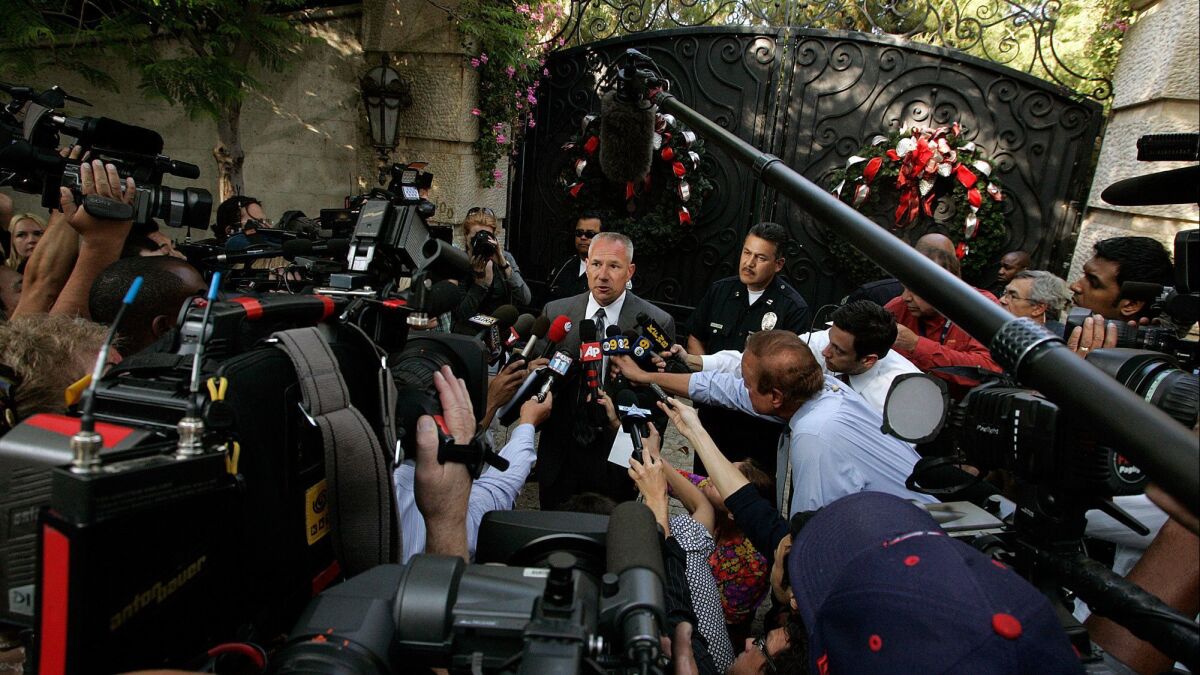 June 26, 2009
The Los Angeles County coroner's office completes an autopsy on Jackson's body but defers determining the cause of death until more tests are done. An investigation will go on to focus on whether the pop icon overdosed on prescription drugs.
July 7, 2009
Jackson is laid to rest in a star-studded memorial at Staples Center.
From The Times' story:
Music legends, sports figures, and civil rights leaders paid tribute to Michael Jackson today during an emotional, song-filled service at Staples Center that was part polished entertainment, part revival meeting. Jackson was praised as a music pioneer and a barrier-breaking cultural figure, who the Rev. Al Sharpton said paved the way for other black entertainers to reach superstardom. "Michael made us love each other. Michael taught us to stand with each other," Sharpton said.
Aug. 24, 2009
The coroner reports that the anesthetic propofol has been found with sedatives in the pop star's system, creating a lethal mix.
Aug. 28, 2009
Jackson's death is ruled a homicide.
Feb. 8, 2010
Los Angeles County prosecutors file a long-anticipated involuntary manslaughter charge against Murray, Jackson's personal physician.
Sept. 28, 2011
Prosecution witnesses testify that Murray covered up the pop star's health both before and after his death, misleading concert promoters and his entourage.
Oct. 7, 2011
In an interview with LAPD detectives, Murray describes Jackson as being desperate for sleep and asking for propofol. (You can read the transcript of the recorded interview with Murray.)
Oct. 24, 2011
Jackson's friend and former physician Dr. Allan Metzger testifies that the singer was searching for drugs to help him sleep two months before his death.
Nov. 7, 2011
A jury of seven men and five women deliberates for about nine hours over two days before reaching a guilty verdict in the trial against Murray.
From The Times' story:
A Los Angeles County jury convicted Michael Jackson's personal physician of involuntary manslaughter, concluding a trial that offered a glimpse of the last days of one of the world's most famous men by deciding that his death was a criminal act.
Nov. 29, 2011
Judge Michael Pastor sentences Murray to four years in county jail for his role in the death of the King of Pop. Pastor has a particularly harsh assessment of Murray's surreptitious iPhone recordingof a heavily drugged and slurring Jackson. Taped a month and a half before the pop star's death and first played during opening statements, the judge says the recording was designed to blackmail Jackson.
Oct 27, 2013
Murray is released from prison.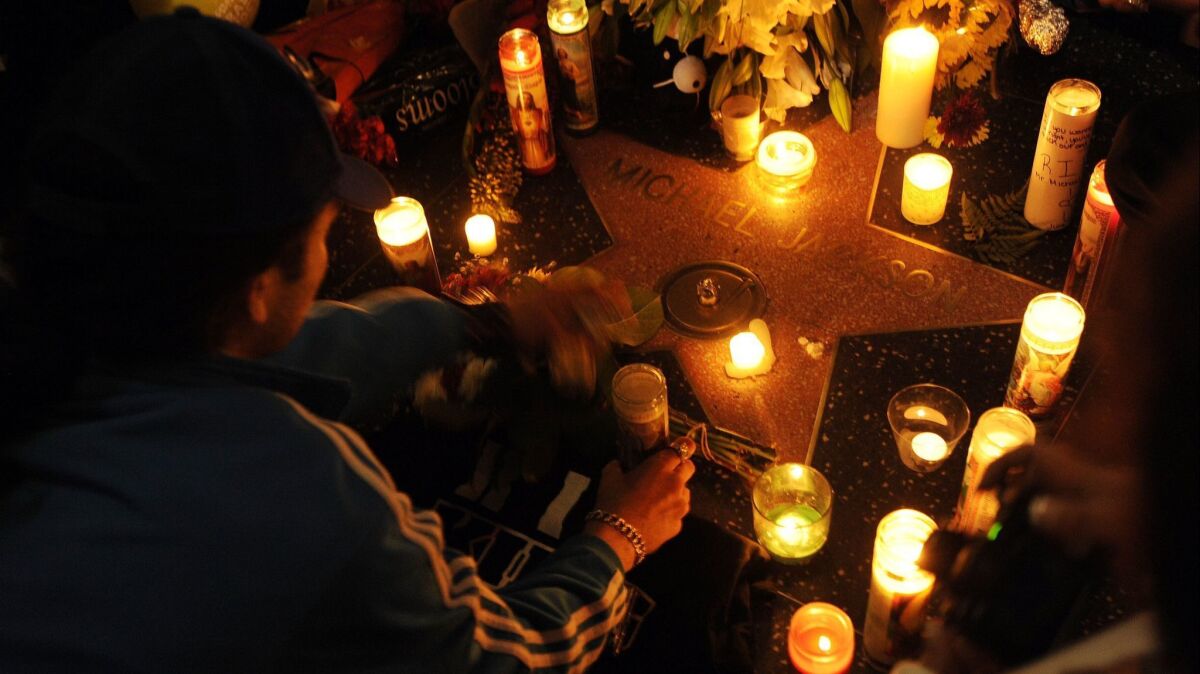 August 2018
A Michael Jackson retrospective is on display at the National Portrait Gallery in London, underscoring how the Jackson brand remains strong.
As The Times reported:
For the estate, it's as much about honoring what would have been his 60th birthday on Wednesday as it is about reframing the narrative around one of pop music's most acclaimed, yet tragic, figures as we approach the 10th anniversary of his passing. Jackson's estate is especially keen on refocusing the sordid narrative that the pop star couldn't escape in life by finding new ways to highlight his artistry. "We've done a lot of big idea projects and things aimed to attract new fans," said John Branca, co-executor of Jackson's estate. "Michael was so multifaceted and in trying to manage the brand we want to do things that capture each facet of who he was. But we start by thinking: What would Michael do?"
January 2019
"Leaving Neverland," a documentary containing allegations that Michael Jackson sexual abused children, debuts at the Sundance Film Festival, sparking new debate about Jackson's legacy.
April 27, 2019
A Los Angeles elementary school that briefly counted Jackson as a student before he skyrocketed to fame votes to keep his name on its auditorium, despite the sexual abuse allegations against him.
June 2019
Janet Jackson says she isn't worried about her brother's legacy. "It will continue. I love it when I see kids emulating him, when adults still listen to his music," she told the Times of London.
Times staff writer Shelby Grad compiled this report.
---
Life is stressful. Our weekly mental wellness newsletter can help.
You may occasionally receive promotional content from the Los Angeles Times.