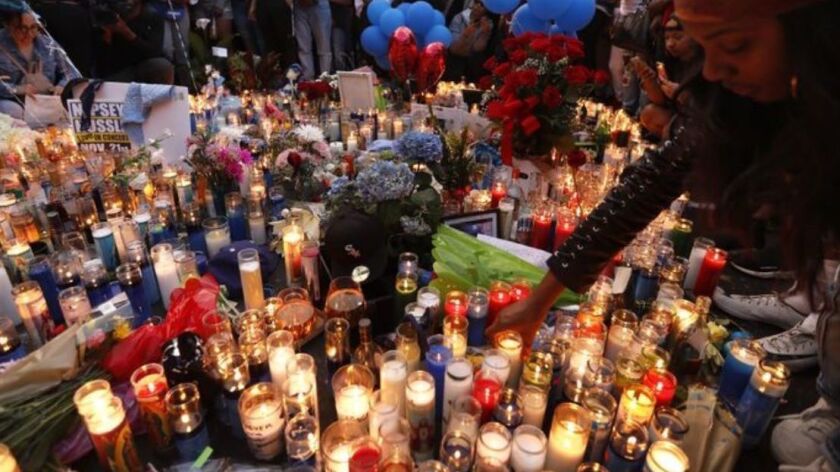 There will be extensive security presence at the memorial at Staples Center for Nipsey Hussle on Thursday as well as a procession from the memorial through the streets of South L.A.
The Los Angeles Police Department will pull in officers from divisions across the city to maintain a peaceful and respectable memorial event, officials said. The police presence, according to officials, will be substantial but mostly for traffic and peacekeeping if needed.
Hussle was fatally shot outside his store March 31. A memorial several days later ended in violence, with several people injured, including two women who suffered gunshot wounds.
Staples Center officials are asking that people without tickets to the memorial not come to the arena or L.A. LIVE because there will no access to the area without a ticket. Doors will open at 8 a.m. with the memorial to begin at 10 a.m.
Tickets for the memorial service were free and were all distributed within minutes this week. Across the web, people began trying to sell their tickets for money. EBay shut down efforts to sell them on its platform.
Guests and staff at Staples will be subject to a metal detector screening, visual inspection, and a bag inspection conducted by security personnel. Bags should be no larger than 14-by-14-by-6 inches and backpacks are forbidden at the memorial. Out of respect to the family, officials said, cameras and recording devices will not be permitted inside the venue and anyone found recording or taking photos may be asked to leave.
A 25.5-mile funeral procession will take place after the service through South Los Angeles, Watts and Inglewood. It will begin at Staples Center, travel south on Vermont Avenue to Century Boulevard before heading to east to Wilmington Avenue and then looping back around and west to La Brea Avenue and Manchester Boulevard and north to the Marathon Clothing store, where Hussle was gunned down March 31, before ending at the Angelus funeral home in the Crenshaw district.
The Nation of Islam will provide security on the procession route. Roads along the route will be closed and motorists are asked to avoid the area.
---