'We want to provide answers,' authorities say as death toll in Oakland fire hits 36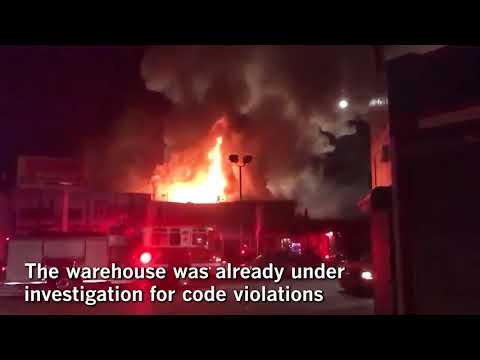 If the fire is determined to be an arson, prosecutors could bring murder or aggravated arson charges — with one count for each person killed.  
Reporting from OAKLAND —
As criminal investigators begin to examine who is to blame for one of the worst fires in modern California history, Oakland authorities continued to search for bodies in the ruins of a warehouse blaze Monday after halting briefly to test for structural weaknesses.
As of Monday afternoon, 36 bodies had been recovered, although more were expected to be found, officials said. Of those recovered, 33 have been positively identified, while the families of 16 victims had been notified, according to Alameda County Sheriff Gregory Ahern.
An additional five families were going to be notified by the end of the day, he said. Three of the victims were from Finland, South Korea and Guatemala, respectively, and those nations' embassies had been alerted, Ahern said.
Oakland Mayor Libby Schaaf said that about two dozen families in all would learn on Monday that they lost a loved one in Friday night's inferno.
"Today is the day that more than two dozen families are going to learn of a loved one's loss. More than two dozen families are going to start an entirely new life," Schaaf said. "For them this is Day 1 of this incident."
Officials had halted recovery operations just after midnight when a crew that was surveying the destruction from a neighboring rooftop noticed that the front wall was leaning 3 inches toward the center of the building, said Oakland Fire Battalion Chief Melinda Drayton. Recovery operations resumed by early afternoon.
About 75% of the building had been searched, according to officials.
"We absolutely believe the number of fire fatalities will increase," Drayton said.
Firefighters and sheriff's officials reentered the building at 9 a.m. after ensuring its safety, and resumed their search. They are expecting rain on Wednesday, but she said their search efforts will continue to move at a steady and methodical pace.
Authorities believe the fire began in the back of the building, but they still have no idea what caused it.
Investigators with the Bureau of Alcohol, Tobacco, Firearms and Explosives will determine a plan on how to search the building, Drayton said. Key areas have been quarantined for additional investigation, she said.
Alameda County Sheriff's Deputy Tya Modeste said of the 36 victims recovered, 11 have been identified. Authorities released the names of seven victims on Sunday: Cash Askew, 22, David Cline, 23, Travis Hough, 35, and Donna Kellogg, 32, all of Oakland; Sara Hoda, 30, of Walnut Creek, Calif.; Brandon Chase Wittenauer, 32, of Hayward, Calif.; and Nick Gomez-Hall, 25, of Coronado, Calif.
Authorities withheld the name of an eighth victim, a 17-year-old boy, because he was a minor.
The names of the additional three victims will be released sometime Monday.
Sgt. Ray Kelly, a spokesman for the Alameda County Sheriff's Department, said the majority of the victims were in their 20s and 30s, but that some were teenagers.
Kelly said the Alameda County district attorney's office has sent a team of criminal investigators to work alongside the sheriff's arson task force and the Oakland Police Department.
The investigators, including a property and land-use expert, are working to uncover any potential criminal activity that may have led to the blaze.
Alameda County District Atty. Nancy O'Malley said charges for those involved could range from involuntary manslaughter to murder, depending on their role in the incident.
"We owe it to the community and those who perished to be methodical, to be thorough and take the time to look at every potential piece of evidence," O'Malley said. "We'll leave no stone unturned. Already people from the community have been reaching out to us about the individuals involved and the scene itself."
District attorney investigators have already begun conducting interviews with people connected to the warehouse property, O'Malley said, though she wouldn't divulge with whom.
"We have 36 families, not only grieving for their lost ones, but also they want to have answers and we as a city collectively are working to find those answers," said Oakland police spokeswoman Johnna Watson. "We want to provide answers not only for the families, but for our community."
The Police Department, she said, is reviewing its body camera footage and the number of calls made to the locations as well as the types of calls made, Watson said.
"Let's say we came to this location and there were some concerns whether it is a criminal concern or whether it's a violation, we may have captured that in our body-worn camera footage," she said.
The department, she said, is also working with the city's planning and building department as well as the district attorney's office.
"We have a lot of moving parts to this and we will certainly find answers to all of these questions…. We want to do a very thorough investigation," Watson said.
These are all our friends. These are all our family. And they're all gone.
— Jesse James Alexander
President Obama said in a statement Monday that his administration was in close contact with state and city officials "to make sure that authorities have everything they need as they continue response operations and investigate the cause of the fire."
"While we still don't know the full toll of this disaster, we do know that an American community has been devastated, and many people — including young men and women with their whole futures ahead of them — have tragically lost their lives," Obama said.
Officials have said the warehouse had been the subject of a city code enforcement investigation at the time of the fire due to complaints about health and safety issues. Some former residents described it as a cluttered "death trap" lacking fire sprinklers.
With identities of the victims slow to emerge, social media outlets provided the connection for family and friends from around the world, allowing them to share hospital numbers, compile a list of possible victims and express their shock and disbelief.
"Oh my god, Sara Hoda is missing in this fire," Carol Crewdson wrote about a friend who had texted that she was going to the party and whose truck was found parked outside the venue.
But for some friends and loved ones, the unanswered phone calls, texts and Facebook messages provided the answer they never wanted to hear.
David Gregory said he thought his daughter was staying overnight at her boyfriend's house when she didn't come home Friday night. Gregory said he had not known that Michela, a 20-year-old honor roll student at San Francisco State, had gone to a concert at the warehouse with her boyfriend.
Gregory had stopped by the Alameda County sheriff's station Sunday looking for information and was asked to return with some trace of his daughter's DNA, such as strands of hair from a comb or brush.
"Try to put yourself in our shoes," he said. "You know there was a fire. And that she was attending that event. Then you see footage of the building on fire, knowing that everybody in there is being burned alive. It's the worst way to go … there is no worse way."
The tragedy took a personal turn for responders when they learned that the son of an Alameda County sheriff's deputy was among those who died.
"This tragedy has hit very close to home for our agency," Kelly said. "We're still dealing with that as we continue to deal with the other victims."
The lack of a complete list of victims fueled an atmosphere of dread for some.
Cory Grimes said that when she discovered that her roommate, Jennifer Mendiola, had gone to the concert and was missing, she felt as though the wind had been knocked out of her. Grimes said her hands were shaking so badly that she was unable to send messages. She checked a Facebook memorial page that listed Mendiola as a victim. But there was no proof.
"There's a lot of misinformation right now, and that makes it hurt more," Grimes said.
The building was leased by a group calling itself the Satya Yuga Collective, managed by Derick Almena. Almena, 46, who lived on the second floor of the warehouse with his wife, considered himself a "realms creator" and built found-object sculptures and stage sets for musical gatherings.
On their social media sites, the couple posted pictures of mannequins hung upside down, colorful tapestries on the floor and wall, Hindu art, furniture from Almena's travels to Bali and large, exposed wooden beams throughout the building.
On the first floor of the warehouse, a half-dozen RVs had been parked to provide living spaces for other residents. It had become a destination for traveling artists looking for a place to crash in the Bay Area, where affordable digs are notoriously difficult to find.
"It's a big ripple that's affected the entire community. It's a huge tragedy; it's a huge loss for people in Oakland. And there's a lot behind it," said Graham Patzner, who lives with his parents in Oakland and believes his friend, Nicholas Walrath, had attended the show. "Artists are constantly struggling to survive in this city because we're all getting kicked out."
Jesse James Alexander, 24, said he believes that three of his friends died in the fire. He said he learned about the blaze on Saturday morning when he received a text from someone making sure he was alive.
"These are all our friends. These are all our family. And they're all gone," Alexander wrote.
Richardine Bartee said she has been numb since learning that her friend Alex Ghassan was among the missing. Ghassan had recently moved to Oakland and was the father of two young daughters. On Twitter and Instagram accounts in his name, Ghassan appeared to have posted a video of the event, which he captioned: "Oakland reminds me of #JerseyCity so much at times."
Facebook also drew worried notes from parents abroad. A panicked parent searched Facebook for answers in Finnish: "Any news of Hanna Ruax," posted Yrjo Timonen, whose Facebook page lists Helsinki as home. "She is my daughter."
For Grace Lovio, who said she was worried sick about her boyfriend, Jason McCarty, the silence was too great. She had been studying in France and ditched her final exam to fly from Paris to San Francisco.
They had last spoken on Friday, she said, and on Saturday she woke up to find that he had sent her a Facebook message: "Love you a zilliopzazillion," he wrote.
During a tearful plane ride, she carried with her a diary filled with poetry McCarty had written for her.
On Sunday, she was en route to her father's home in Concord to meet McCarty's parents, who are from Texas, for the first time.
"Until we know for sure that he's gone, I'm still holding on to some hope," Lovio said. "I'm pretty scared though."
Times staff writers Tracey Lien, Peter H. King, Paige St. John and Soumya Karlamangla, in Oakland, and Jack Dolan, Paul Pringle, Dakota Smith, Marisa Gerber, Sarah Parvini, Sonali Kohli, Matt Hamilton and Veronica Rocha, in Los Angeles, contributed to this report.
ALSO
What are the criminal liabilities after the deadly Oakland fire?
Oakland warehouse residents' harrowing survival stories: 'Oh my God, all of these people died in our home.'
Oakland warehouse had hosted parties, despite safety concerns of former residents
When loved ones couldn't track those missing in Oakland fire, they found answers on social media
---
UPDATES:
3:45 p.m.: This article was updated with comments from an afternoon press conference.
12:57 p.m.: This article has been updated with search efforts resuming and details about an expected power outage.
10:25 a.m.: This article has been updated with a statement from President Obama.
8:25 a.m.: This article has been updated throughout with comments from police and fire authorities.
6:15 a.m.: This article has updated with a revised death toll and comments from Oakland Fire Battalion Chief Melinda Drayton.
This article was originally published at 5:05 a.m.
Sign up for Essential California for news, features and recommendations from the L.A. Times and beyond in your inbox six days a week.
You may occasionally receive promotional content from the Los Angeles Times.