Fear, confusion and anxiety as Northern California residents wait out mass evacuation
Sharon Dalton finds a quiet spot under a table as she spends a second night with her dog Cruiser inside the Bangor Community Hall.
(Brian van der Brug / Los Angeles Times)
Maria Lopez reads on her smartphone as she spends a second night in her father's car in the parking lot of the Bangor Community Hall.
(Brian van der Brug / Los Angeles Times)
Verna Chadwick and 10-month-old son Raiden Ellis during a second night in the Bangor Community Hall.
(Brian van der Brug / Los Angeles Times)
Oroville evacuees Alejandra Mendoza, right, plays a card game with her cousin Liset Lopez during a second night at the Bangor Community Hall in Bangor, Calif.
(Brian van der Brug / Los Angeles Times)
Coua Tha, of Oroville prepares a meal for her family in the parking lot at the Silver Dollar Fairgrounds evacuation center in Chico, Calif.
(Brian van der Brug / Los Angeles Times)
Bill O'Kelley, 86, and wife Doris O'Kelley, 84, of Oroville sit near a flagpole Monday at the Silver Dollar Fairgrounds evacuation center in Chico, Calif.
(Brian van der Brug / Los Angeles Times)
Members of Oroville's Jordan Crossing Mission pray with a volunteer service member Monday at the Silver Dollar Fairgrounds evacuation shelter in Chico, Calif.
(Brian van der Brug / Los Angeles Times)
Desiree Garcia and daughter Kay'lee Pearl Garcia, 3, of Oroville look over donated clothing Monday at the Silver Dollar Fairgrounds evacuation center in Chico, Calif.
(Brian van der Brug / Los Angeles Times)
Debra Walker, of Oroville gets a meal at the Silver Dollar Fairgrounds evacuation center in Chico, Calif.
(Brian van der Brug / Los Angeles Times)
Reporting from Oroville, Calif. —
As Doris O'Kelley rushed out of her Oroville home Sunday night, one question burned in her mind: When would she be able to return?
By Monday afternoon, she hadn't received an answer to that question — or to many others she had about what was happening at rain-swollen Lake Oroville, where concerns remained that a spillway could fail and unleash a 30-foot-high wall of water.
After an uneasy night on a cot at an evacuation center in Chico, O'Kelley, 84, was itching to get home. She was unimpressed with information provided by officials, which she described as technical jargon that was of little help.
"I'd like to see them be a little more plain about what's going on," O'Kelley said.
The evacuations of more than 100,000 people from communities downstream of Lake Oroville on Sunday night — in the counties of Butte, Yuba and Sutter — were abrupt and frantic. By Monday, a sense of frustration and wait-and-see uncertainty had settled in.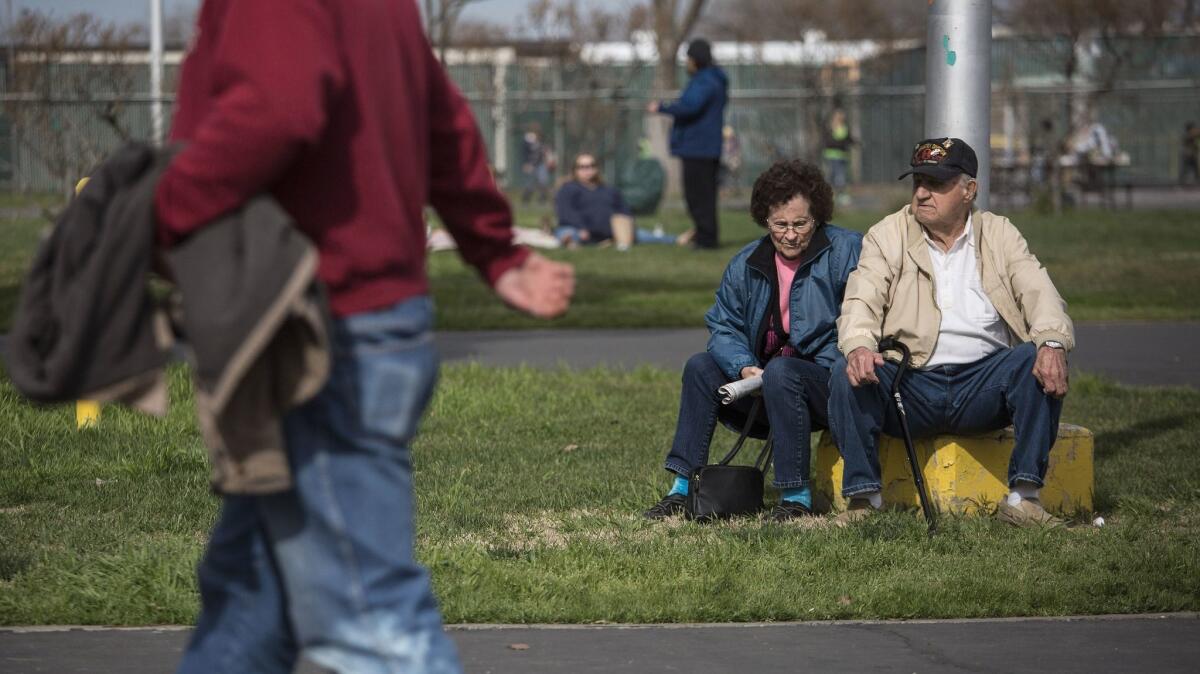 There are forecasts of more rain later this week, which added new urgency to the state Department of Water Resources' frantic efforts to reduce water levels at Oroville Dam — where both an unpaved emergency spillway and the main concrete spillway are damaged. For evacuees, the predicted storms heightened their unease as they waited to see when it would be safe to go home.
Rain is expected to begin falling late Wednesday and continue through the weekend, said Tom Dang, a National Weather Service meteorologist in Sacramento. At least 3 inches is expected to fall on Oroville, while the surrounding mountains and foothills could get up to 8 inches by Monday.
"Obviously, any rain this week is not helpful at all," Dang said.
At an afternoon news conference, Butte County Sheriff Kory Honea said authorities were working on a "repopulation" plan for evacuees, but there was no timeline for lifting the evacuation orders. He defended his decision to call for evacuations over the weekend.
"I recognize and absolutely appreciate the frustration people who were evacuated must feel," Honea said. "It wasn't a decision I made lightly."
His department had to move more than 500 inmates from the Butte County Jail in Oroville to an Alameda County lockup, where they were to be held for the time being, he said.
At the Chico evacuation center at the Silver Dollar Fairgrounds, volunteers worked doggedly to lighten the mood. There were arts and crafts tables, a rolling book cart, valentine cookies.
"All these people are displaced, and it's really sad when you just go around and look and see … the elderly people and the people that need medication and medical attention," said Vince Haynie, a volunteer with the Rhema Word of Faith ministry who was delivering blankets and baby supplies. "They displaced people at the drop of a dime."
Isaac Loseth, 18, said the atmosphere Sunday night at the fairgrounds was "hectic" and "uptight." He slept in his grandparents' RV in the parking lot and worried about his home. Loseth lives near the Thermalito Afterbay, a reservoir about 13 miles southwest of Oroville Dam. If the levees around Thermalito were to breach, he said, "our house would be flooded."
He was feeling better Monday as he walked his dog, Rose, through the fairgrounds. He conceded that although he wanted to go home, he understood why authorities were being cautious with the evacuation orders.
"I think they made the right call as a safety precaution," Loseth said. "Better safe than sorry."
The sudden evacuations Sunday night were marked by frantic, all-caps messages from authorities.
"This is NOT A Drill. This is NOT A Drill. This is NOT A Drill," read a Butte County Sheriff's Office statement posted on social media.
"DO NOT TRAVEL NORTH TOWARD OROVILLE!!!!!" the Yuba County Office of Emergency Services warned.
On Monday, abandoned cars sat along many of the evacuation routes — remnants of the panic and massive gridlock that seized the region within hours of the evacuation orders. Some people said they hopped into other people's vehicles during traffic standstills.
Some residents from the adjacent towns of Marysville and Yuba City said they had been confused about Sunday's evacuation orders. Both Sutter and Yuba counties had called for mandatory evacuations, but the town of Yuba City declared a "voluntary" evacuation.
Because winter floods are common in the Feather River basin downstream from Oroville Dam, many locals in the low-lying valley simply drove to higher ground.
"It's in the DNA, " said Chuck Smith, a Sutter County spokesman.
Marysville, which is protected from the flooded Feather River by a system of levees, rice fields and other low-lying areas, bore witness to the relentless push of water. Tombstones at Marysville Cemetery were underwater. So were soccer fields at the town's riverfront park, where the white tops of goal nets were barely visible above the muddy swirl of water.
At a Red Cross shelter at Sutter Union High School in the tiny town of Sutter, Steve McHughes, 39, said he was consigned to his fate and prepared to stay "as long as it takes."
It took his family of seven nearly five hours to reach the shelter from their home in Live Oak on Sunday night — a drive that usually takes 25 minutes. Along the way, they saw angry travelers hurling threats at a gas station owner who was trying to shut down his pumps.
When the family reached the shelter, all of the cots were filled and there was no room for their three dogs. They spent the night sleeping in three vehicles.
Bruce P. Watson, an Air Force retiree, had been staying in a motel in Yuba City when the evacuations were ordered. He hadn't planned to leave and locked his door.
The motel manager found him there Monday morning, and a maintenance worker drove him to the shelter in Sutter. There, the 65-year-old sat in the afternoon sun, in flannel pajama bottoms and slippers, with a six-pack of beer hanging from his walker.
"I said, 'Oh, well,'" Watson said. He had no clue what would happen next.
"Wait," he said. "That's all I can do."
In Oroville, gas stations throughout town were packed Monday with people who hadn't evacuated and were trying to fill their tanks while they still could. At one, Zac Odom, a 44-year-old Oroville nurse, said he and his family knew about the orders but chose to stay anyway.
"I'm a hardcore Christian," he said. "I knew God didn't establish Oroville to get washed away by this dam."
Sheriff's deputies had come to the Oroville house where Odom was staying with his children, his mother and his aunt. They packed up their Toyota, but it was leaking oil, so they decided to stay. Deputies returned later, but the family was stealthy.
"We turned all the lights off and laid low," Odom said. "We just sat there praying."
Mason reported from Chico, St. John from Marysville, Megerian from Oroville and Branson-Potts from Los Angeles. Times staff writer Joseph Serna contributed to this report.
Sign up for Essential California for news, features and recommendations from the L.A. Times and beyond in your inbox six days a week.
You may occasionally receive promotional content from the Los Angeles Times.