Accused Oscar thief Terry Bryant charged with felony grand theft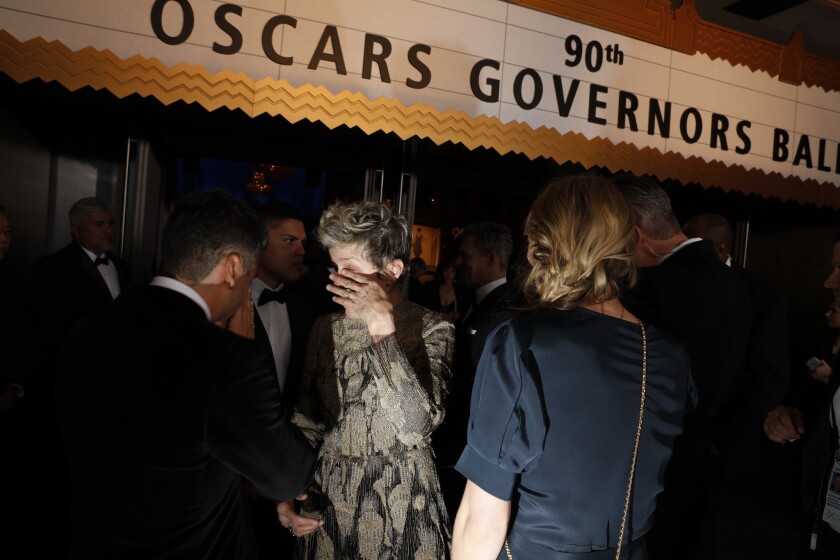 A Los Angeles man accused of stealing Frances McDormand's Oscar and bragging about the prize in a Facebook video is facing a felony grand theft charge, officials said Tuesday.
Prosecutors charged Terry Bryant with a single felony count for taking the bronze statuette because it is worth more than $950, said the Los Angeles County district attorney's office.
Bryant is accused of stealing McDormand's lead actress prize at the Governors Ball on Sunday, after he took time to videotape himself gloating to others at the party about the prize his "team" was taking home.
He was arrested at 11:50 p.m. at the party site, which is inside the Hollywood & Highland center.
The 47-year-old was being held on $20,000 bail. He is due to appear in a downtown courtroom Wednesday for his arraignment. He faces up to three years in prison if convicted.
A photographer stopped Bryant before he could take off with the statuette, LAPD Sgt. Meghan Aguilar said. She said the photographer did not recognize Bryant as one of the winners, so followed him and took the statue from him without any resistance. The photographer then notified security, who apprehended Bryant.
Bryant had a legitimate ticket to the party, Aguilar said. Sources said Bryant appeared to have consumed a lot of alcohol.
The department has seen the Facebook video of Bryant claiming the Oscar was his.
In the video, the man who appears to also go by the name DJ Matari gloated and tried to find out the address of Oscars host Jimmy Kimmel's party.
"Lookit baby, my team got this tonight. This is mine. We got it tonight, baby," he says before kissing the statue. "Governors Ball, baby. Who wants to wish me congratulations?" Hoots and air kisses followed. He said at one point he had won it for "music," and later that he'd won for "best producer."
The statue was lifted just after McDormand had it engraved at the official Oscars after-party, and she still didn't have it with her at the Vanity Fair party later in the evening. More than 70 Oscars have been stolen over the years, including 55 stolen in transit in 2000.
McDormand said she did not want anyone charged in connection with the theft. But when it comes to Oscars, the Academy of Motion Picture Arts and Sciences controls the rights and was listed as the victim in the police report.
The academy has not said how Bryant got a ticket to the ball. But Bryant is a self-declared music artist, disc jockey and independent journalist.
Bryant's social media pages show him at red carpet events and awards shows, and he attended the Screen Actors Guild Awards this year. He is photographed on his Instagram alongside Beyonce, Kimmel and Paris Hilton, among others.
But he also has a minor criminal past in Oregon, with arrests from 1999 to 2002 for criminal mischief and theft.
Twitter: @lacrimes
---
For reporting and exclusive analysis from bureau chief John Myers, get our California Politics newsletter.
You may occasionally receive promotional content from the Los Angeles Times.