Horrific details emerge as parents accused of holding 13 kids captive are charged with torture
A couple in Perris beat, strangled and shackled their children for years. Formal charges of torture, child abuse, abuse of dependent adults and false imprisonment were announced by Riverside County Dist. Atty. Michael Hestrin. (Jan. 18, 2018)
A couple in Perris beat, strangled and shackled their children for years, the abuse escalating from neglect to torture over time, prosecutors said Thursday.
Formal charges were announced Thursday against the parents accused of abusing their 13 children inside their Perris home.
David Turpin, 56, and Louise Turpin, 49, were each charged with multiple felony counts of torture, child abuse, abuse of dependent adults and false imprisonment, Riverside County Dist. Atty. Michael Hestrin announced. David Turpin also was charged with one count of a lewd act on a child by force. If convicted, they face up to 94 years to life in prison. They were arrested this week on suspicion of torture and child endangerment.
"As a prosecutor, there are some cases that haunt you," Hestrin told reporters Thursday. "Some deal with human depravity, and that's what we're dealing with here."
The Turpins' 13 children, ranging in age from 2 to 29, were captives in the couple's tract house on Muir Woods Road and appeared to have undergone years of abuse and starvation, authorities said. Some were shackled to their beds.
Hestrin said the children were forced to sleep during the day and were awake only at night. He said that the teenage girl who escaped from the home and alerted police about conditions inside had been "working on a plan to escape this abuse for more than two years."
The parents would buy food for themselves, but not allow the children to eat it, Hestrin said. The couple would buy apple pies that only he and his wife ate and toys that sat unopened, he said.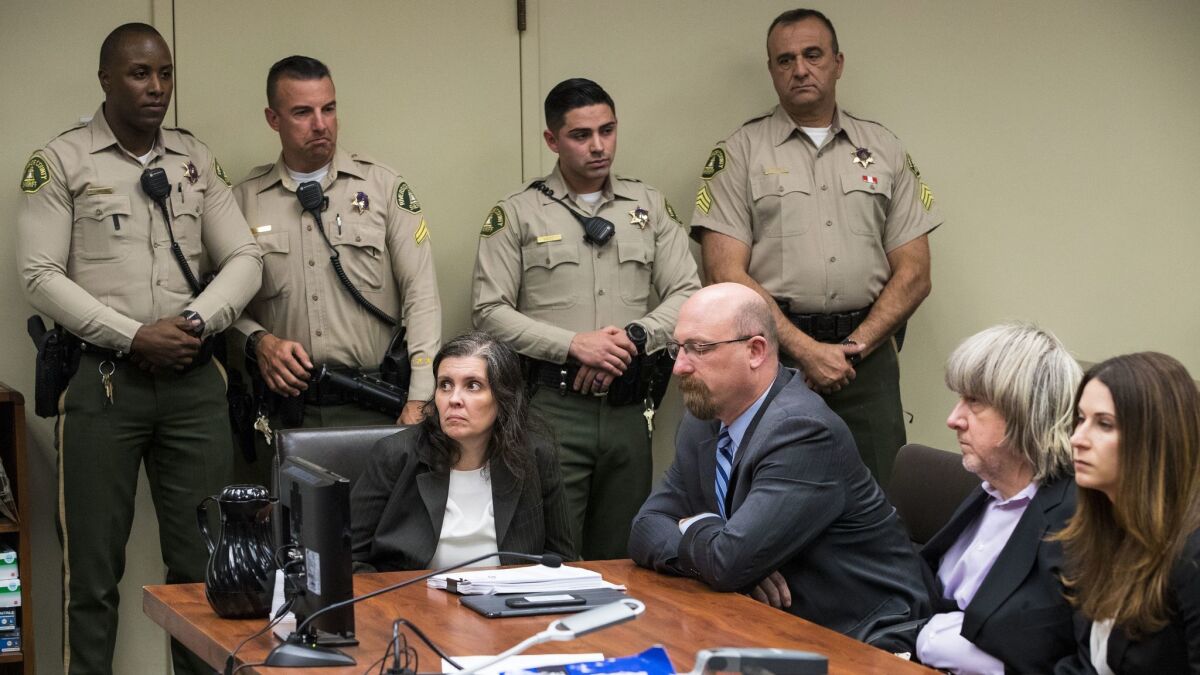 The children were barely allowed to bathe and had not seen a doctor in four years, he said. None of them had ever been to a dentist. If the children washed their hands above their wrists, they were accused of playing with water and would be chained up, Hestrin said. They were shackled and fed on a set schedule.
The parents are charged with 12 counts of torture although there were 13 children, because the 2-year-old was getting enough to eat, Hestrin said.
Many of the children did not know what a police officer was, or what medications or pills were, he said. They are all hospitalized and extremely malnourished. Several have cognitive impairment and neuropathy from sustained physical abuse, he said.
The abuse, Hestrin said, started when the family lived in Fort Worth, Texas. At the time, the parents lived apart from the children and dropped off food for them from time to time, he said. They lived in Texas for 17 years before moving to California.
"The abuse and severe neglect intensified over time and intensified as they moved to California," Hestrin said.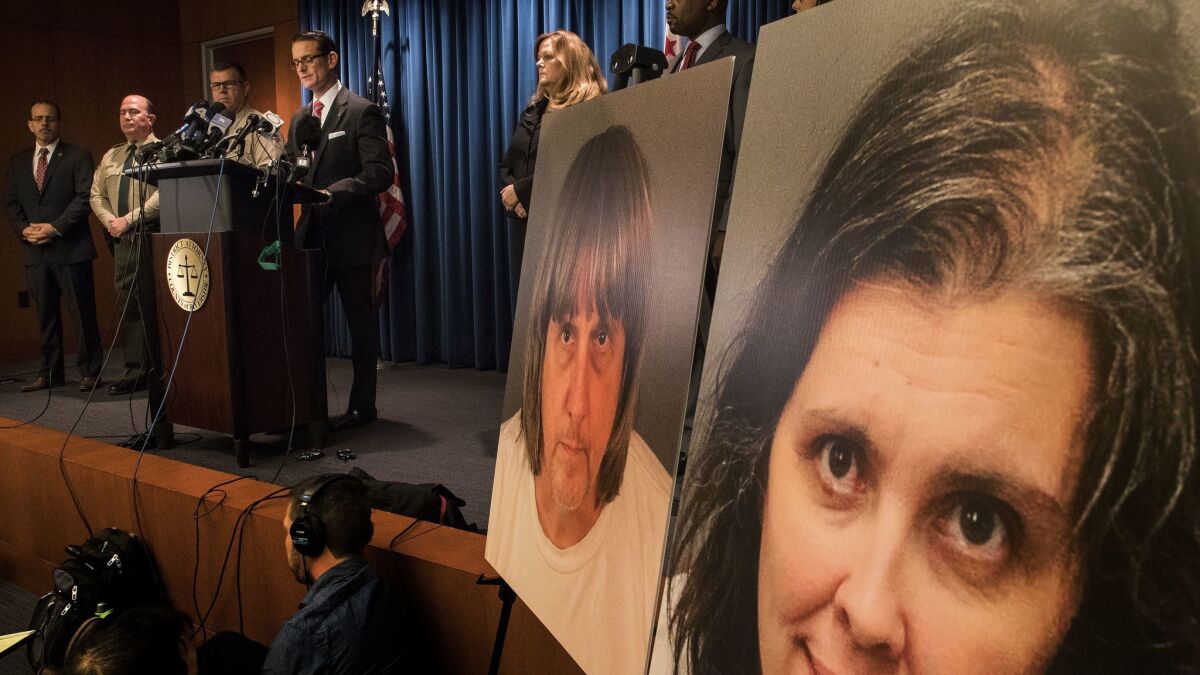 Prosecutors are looking for more information about what happened in Texas.
"Someone must have seen something. Someone must have noticed something. We need your help," Hestrin said.
At first they tied the children with ropes. After one was able to escape the ropes, the parents started using chains and padlocks to keep them from leaving their beds.
The children were allowed to write in journals, which Hestrin said would probably be important to understanding the extent of the abuse.
"I think those journals are going to be strong evidence of what occurred in that home," he said.
At their arraignment in Riverside County Superior Court on Thursday afternoon, David and Louise Turpin pleaded not guilty to all of the charges filed by prosecutors, including torture, abuse and false imprisonment. They couple wore black blazers provided to them by the public defender's office, and sat separated by their lawyers. They spoke only to acknowledge that they were waiving their rights to a speedy hearing. After the hearing, the Turpins conferred briefly with their attorneys.
Authorities learned of the horrors inside the house after a 17-year-old girl called 911 early Sunday, saying she had escaped through a window from her parents' house, where she and her siblings had been trapped. She used a deactivated cellphone to make the call, Riverside County Sheriff's Capt. Greg Fellows said at a news conference Tuesday. She had photos to back up her claims.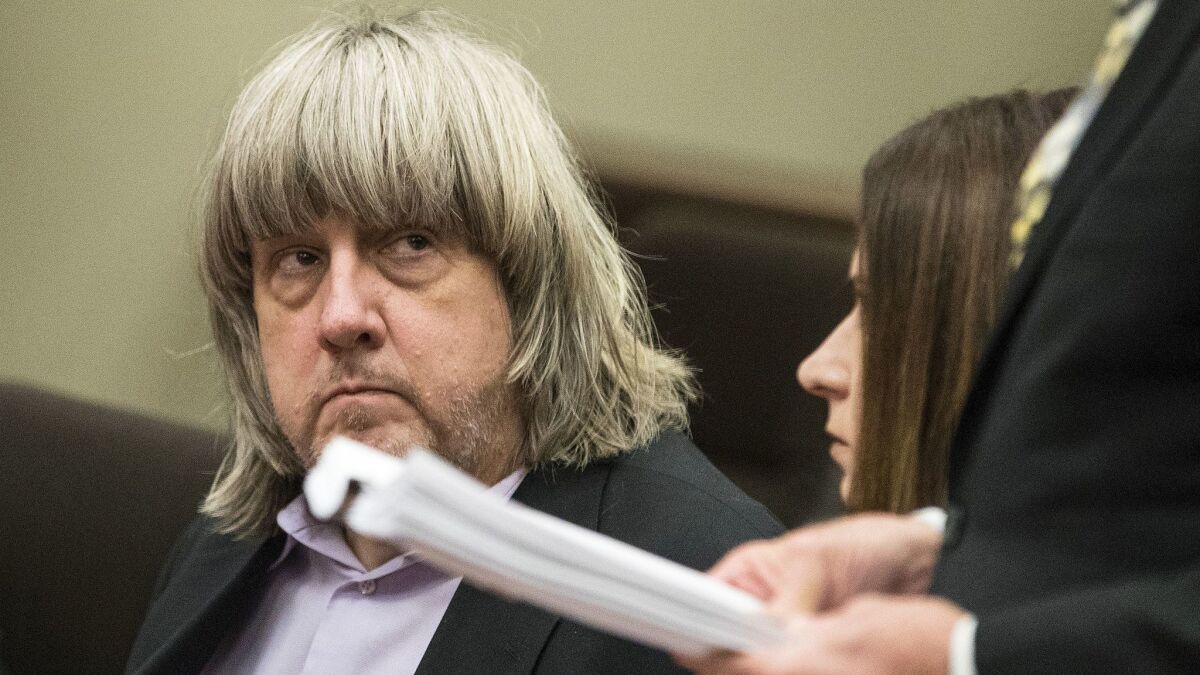 Sheriff's deputies were shocked by the girl's small size and emaciated appearance, thinking she was only 10.
When deputies arrived at the house, it was "extremely dirty," Fellows said. There was a strong, foul stench. Three young people were in chains. And yet, Fellows said, the children's mother seemed surprised to see authorities.
"It seemed that the mother was perplexed as to why we were at the residence," he said.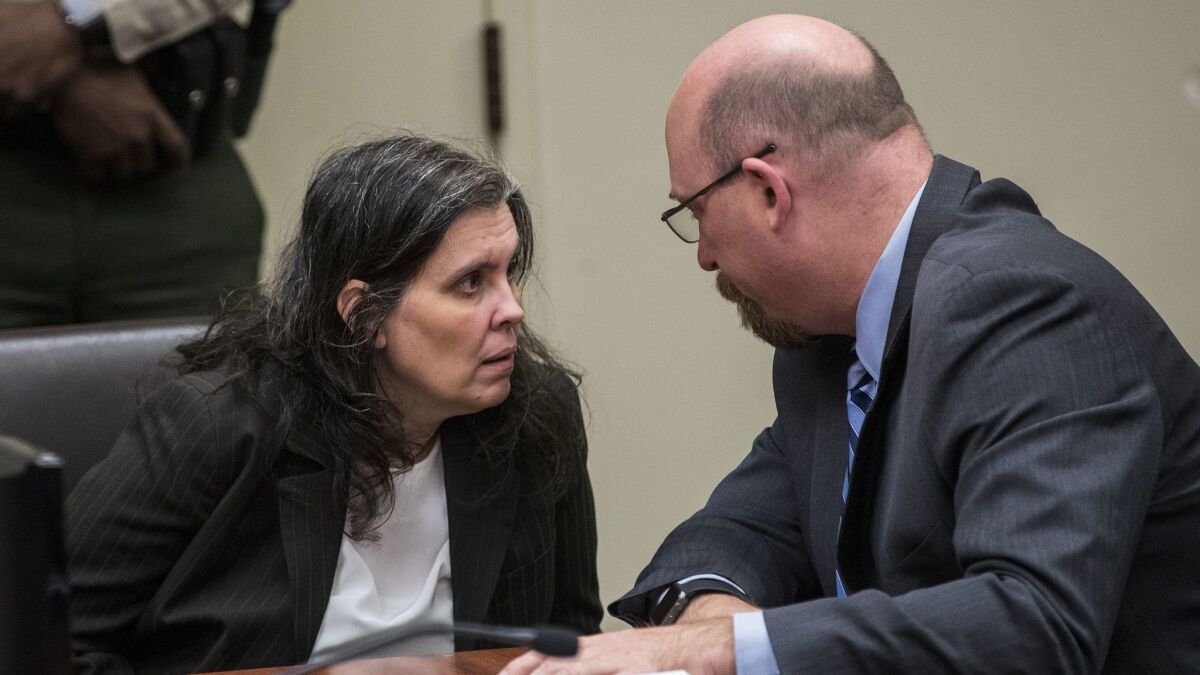 Sheriff's deputies had no prior contact with the Turpins or calls from their house, Fellows said. Likewise, police in Murrieta, where the family lived from 2010 to 2014 after leaving Texas, had no interactions with them, said a spokesman for the agency.
Deputies at first assumed from the children's frail and malnourished appearance that all of them were minors, but later determined that seven were adults, according to the Sheriff's Department.
The 29-year-old weighs only 82 pounds, Hestrin said.
The house was registered as a home school. At least one of the children attended college classes, Hestrin said. Louise Turpin accompanied him and waited outside the classroom, he said.
"When he was finished with class, she would take him home," Hestrin said.
County adult and child protective service workers and medical professionals are assessing the siblings, Fellows said. The parents, he said, showed "no indication of mental illness at this time" that could explain what they did to their children.
Two officials in the Texas communities of Rio Vista and Blum, near where the Turpins appear to have lived for a time, said in phone interviews this week that they did not recall the family.
Jeff Sanders, superintendent of Blum Independent School District, said he had no record of the Turpin children ever being enrolled in local schools. And Rio Vista Mayor William "Keith" Hutchison said he did not remember the family and had not come across anyone who did.
"In our area, if someone lives out in the county they might not ever come into our town because there's not a full-service grocery store or things like that," Hutchison said. "You may never meet someone or see someone living in our area if they don't come into town for some specific reason."
Times staff writer James Queally contributed to this report.
---
UPDATES:
7:44 a.m. Friday: This article was updated with information from Texas officials.
2:50 p.m.: This article was updated with details on the arraignment.
12:20 p.m.: This article was updated with details about alleged conditions in the house from Riverside County Dist. Atty. Michael Hestrin.
11:10 a.m.: This article was updated with information about the criminal charges filed.
This article was originally published at 7:45 a.m.
---
The stories shaping California
Get up to speed with our Essential California newsletter, sent six days a week.
You may occasionally receive promotional content from the Los Angeles Times.