Court rules L.A. council members wrongly blocked public testimony at 'special' meetings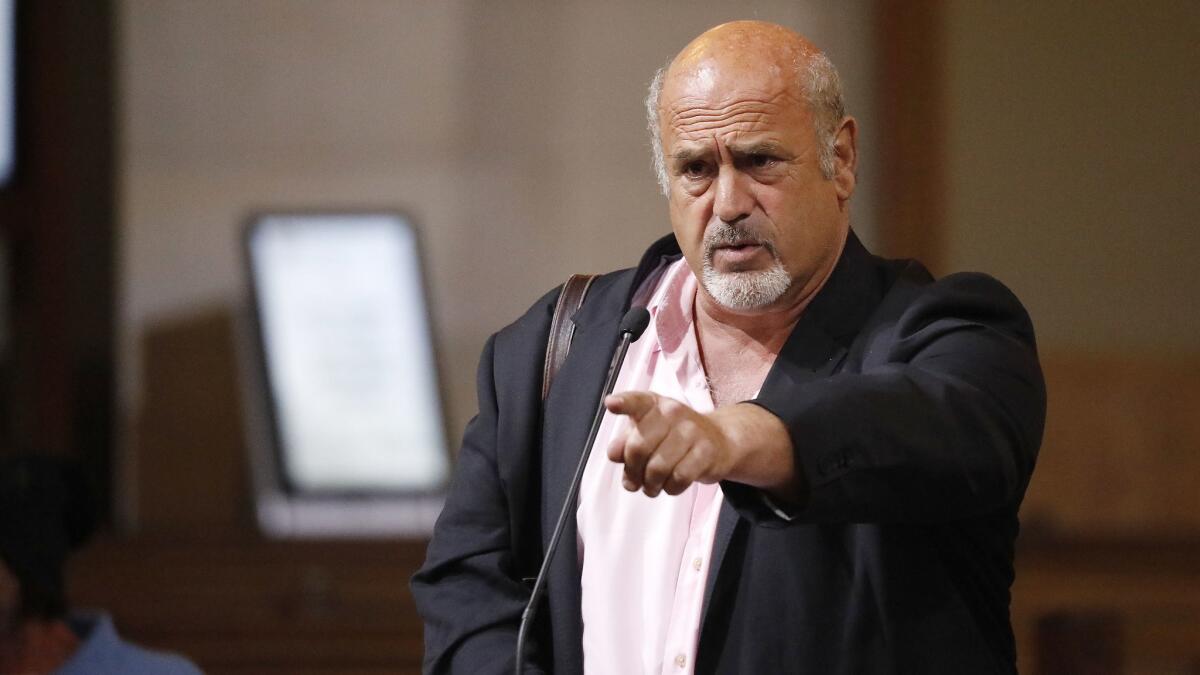 The Los Angeles City Council must allow people to testify on issues considered during their "special" meetings, which are called with just one day of notice, a three-judge panel has ruled.
In a 15-page decision, the 2nd District Court of Appeal said the council improperly prevented Studio City resident Eric Preven from weighing in on a development issue taken up during a special meeting in 2015.
The decision represents a victory for Preven, who has long argued that Los Angeles does not comply with the provisions of the Ralph M. Brown Act, the state's open meeting law. Preven, who serves on the Studio City Neighborhood Council, argued in his lawsuit that council members had repeatedly used a faulty legal rationale to shut down public comment.
"It's not a single incident," he said. "The city has been engaged in a pattern of abuse on the Brown Act."
Read the appeals court ruling here »
The ruling took aim at the city's practice of prohibiting people from speaking on agenda items that were considered in special meetings when the same items had been discussed at a previous committee meeting. Special meetings can be called just 24 hours in advance, whereas regular council meetings require at least 72 hours' notice.
Preven said the council has held more than 100 special meetings since the 2015 incident that triggered the lawsuit. It's not clear how many times public testimony was wrongfully barred during those meetings, he said.
The ruling, which was issued Friday, sends Preven's case back to the trial court for additional proceedings. A spokesman for City Atty. Mike Feuer said his office is reviewing the decision and declined to comment further.
Preven's lawsuit focused on a pair of meetings held roughly three years ago about a shopping center project planned at Sportsmen's Lodge in Studio City, not far from his home.
On Dec. 15, 2015, the council's five-member Planning and Land Use Management Committee took up the shopping center proposal and Preven weighed in on it. The following day, the 15-member council conducted its own vote on the Sportsmen's Lodge project during a special meeting.
Preven asked to make public comments on the proposal again at the council's Dec. 16, 2015, special meeting. He was denied the opportunity on the grounds that the matter had already been heard, with public testimony received, at a council committee the previous day, according to the court's ruling.
Nine months later, Preven filed a demand letter with the city, saying the council had violated the Brown Act, which spells out the rules for public input at government meetings. He later sued.
Feuer and his lawyers had argued that the council has no obligation to grant members of the public the opportunity to testify a second time on an item already heard in committee. A Superior Court judge agreed, saying Preven did not have the right to make additional public comment.
The appeals court reversed that decision, saying it was made in error. State law does not permit government agencies to prohibit public comment on agenda items considered during special meetings, the court said.
The three-judge panel said state law treats special meetings as being distinctly different from regular meetings, which require more advance warning.
Under state law, city officials can refuse to take public comment on an issue considered during a regular council meeting, if public comment was taken on the same issue at a committee. That exception does not apply to special meetings, the court said in its ruling.
"Given the plain language of the statute … we find the Brown Act does not permit limiting comment at special city council meetings based on comments at prior, distinct committee meetings," the ruling said.
Twitter: @DavidZahniser
Sign up for Essential California for news, features and recommendations from the L.A. Times and beyond in your inbox six days a week.
You may occasionally receive promotional content from the Los Angeles Times.