Rescuers rappel down cliff to save stranded puppy in San Diego County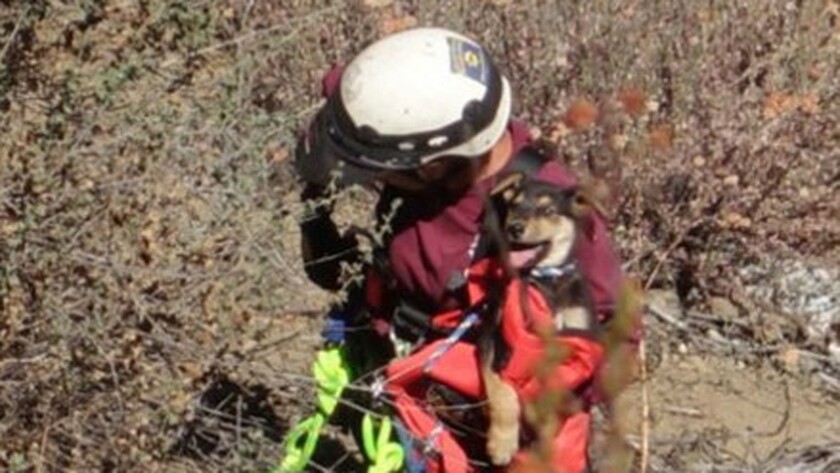 A puppy that fell into a Pauma Valley ravine was rescued over the weekend by an animal control officer who rappelled down a cliff to get to the dog.
A worker at an avocado grove off North Mesa Drive first heard the 2-month old shepherd-mix pup crying Saturday morning about 8:30 a.m., said Denise Gove, the San Diego County Department of Animal Services officer who rescued the dog.
Gove, 54, said the puppy was stuck about halfway down the 200-foot cliff on a tiny outcropping where she was taking refuge from the heat under some dry vegetation.
Gove, who works with the agency's volunteer animal rescue team, said she was in Jamul training with the team's members when they got the call that their services were needed.
So she and a couple of volunteers got into their vehicles and made the two-hour trek to the scene.
Gove said that while she is accustomed to these kinds of rescues, the terrain was a bit tricky — not so much because of the angle, but because there had been a lot of erosion on the hillside and there were several small cliffs and debris to maneuver around. Gove said the dirt was crumbling under her feet.
See the most-read stories in Local News this hour >>
She said the pup seemed glad to see her and was responsive when she reached for her. "She was very much willing to go," said Gove.
Getting her into her arms was key. "You just want to hug them close and feel their heartbeat," she said.
It's not known how long the dog was in the ravine, probably several hours, but she was not dehydrated, and other than a few scratches and some swelling over her eye — apparently a result of the tumble — she was not hurt.
She was all wiggles and puppy smiles Wednesday at the department's facility in Carlsbad where the dog is being held.
And she already has people lined up to adopt her.
Annie Blea from Pasadena and her two young daughters were just some of the folks who had already stopped by the shelter to meet its new celebrity resident.
Blea, who along with her husband are horse veterinarians, are in town because he is working at the track during the Del Mar racing season.
She said the family had lost one of its dogs last month and when she saw the story about the pup she fell in love. "This little dog just spoke to me," she said. She said when she put her hand up to the cage, the dog leaned in to be petted.
Blea said she hopes they can adopt her and said that "if it's meant to be, it's meant to be."
Baker writes for the San Diego Union-Tribune.
MORE LOCAL NEWS
Man yells racial slur, hurls rock into home of black family in Huntington Beach, police say
Crackdown on 'Bay Boys' surfer gang begins after years of complaints
The port that fuels L.A.'s economy and fouls its air gets a pollution-reduction team
---
The perils of parenting through a pandemic
What's going on with school? What do kids need? Get 8 to 3, a newsletter dedicated to the questions that keep California families up at night.
You may occasionally receive promotional content from the Los Angeles Times.