Anxiously awaiting the next earthquake is the new normal for Ridgecrest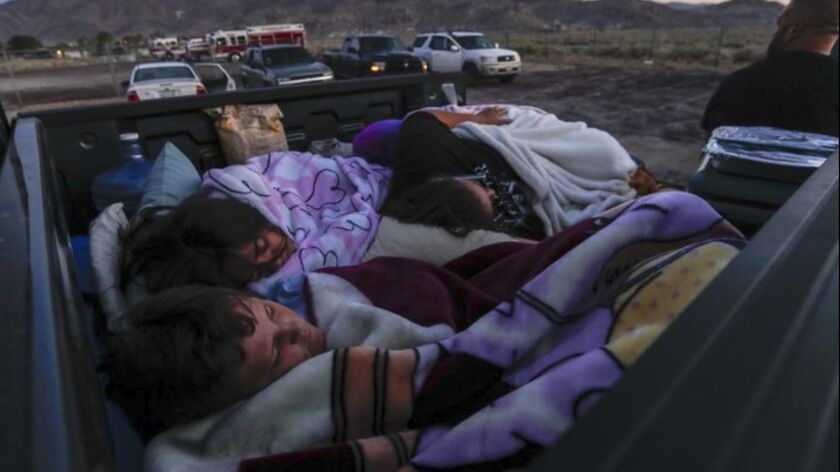 Reporting from RIDGECREST, Calif. —
Lori Churchill, her friend Michelle Hewitt and neighbor James Combs were sitting under a tarp in a courtyard at the Trousdale Estates, a mobile home park in Ridgecrest, when Gov. Gavin Newsom arrived Saturday afternoon with other state and local officials as part of a tour of earthquake damage in the community.
The park was hard hit by the quake and several of the mobile homes had red tags, marking them as uninhabitable. The gas had been turned off because of leaks.
And most residents, even those whose homes were not red-tagged, had slept in their cars the night before, they told the governor.
Full coverage: 2nd major quake in two days hits Southern California »
"It's scary and everybody is really panicky," said Hewitt, who was visiting Churchill when the first large quake hit and had stayed to help her friend.
When Newsom asked whether they had water, Hewitt replied that they did.
But she worried about whether it was safe.
"I don't know if we can trust the water," she said. Newsom asked where they would sleep that night.
"I don't know," Churchill said.
Newsom mentioned the Red Cross shelter nearby. And later, at Combs' suggestion, the governor took selfies with each of them.
"Good luck, tonight," Newsom said before he left.
After he was gone, Churchill explained that she was wearing the same blue nightgown that she had worn for two days — and that she had not slept more than "an hour here, an hour there" in that time.
Her mobile home had not been red-tagged, but there was damage inside.
The frequent aftershocks and the looming possibility of another big quake had her terrified.
"It hasn't come off its foundation, but if another one hits, I don't know what's going to happen," Churchill said.
"I'm walking around kind of like a zombie," she said.
RELATED: California's biggest earthquakes
She had not gone to the Red Cross shelter because she worried just as much about that shelter collapsing in a big earthquake as her own home.
"They're waiting for this other earthquake to come," she said. "If it comes, what does it matter if you're at the Red Cross?"
Asked what it meant to her that the governor had stopped by, she said: "It was nice, but I don't have any illusions about anything. It was an earthquake. It's not something he can control."
Hewitt, her friend, said that even if the governor couldn't prevent another quake, she hoped he would get them help.
"I hope he feels what he saw here," Hewitt said. "We need hope here."
Many storefronts looked to be intact and residents were out and about on Saturday — shopping and eating at restaurants throughout the day.
But on closer inspection, it's clear there is a lot of work ahead. Many businesses remained closed because of damage — the entrance to a Rite Aid was roped off with yellow caution tape.
And at a Marshalls, which was also closed, there were broken ceiling tiles on the floor and merchandise scattered throughout.
At a Dollar Tree store, there was shattered glass near the entrance and a sign saying "Closed until further notice." And at a Jo-Ann Fabrics and Crafts store, where pieces of an exterior wall had crumbled to the ground, a manager posted a long, apologetic note to its customers.
"After an initial assessment of damage yesterday, we have been instructed not to enter the building until we meet with a structural engineer," it said.
"Our thoughts and prayers are with all of you and the entire community and we hope everyone is remaining safe."
Meanwhile, customers at a Denny's waited almost an hour to be seated because it was one of the only restaurants that had managed to reopen.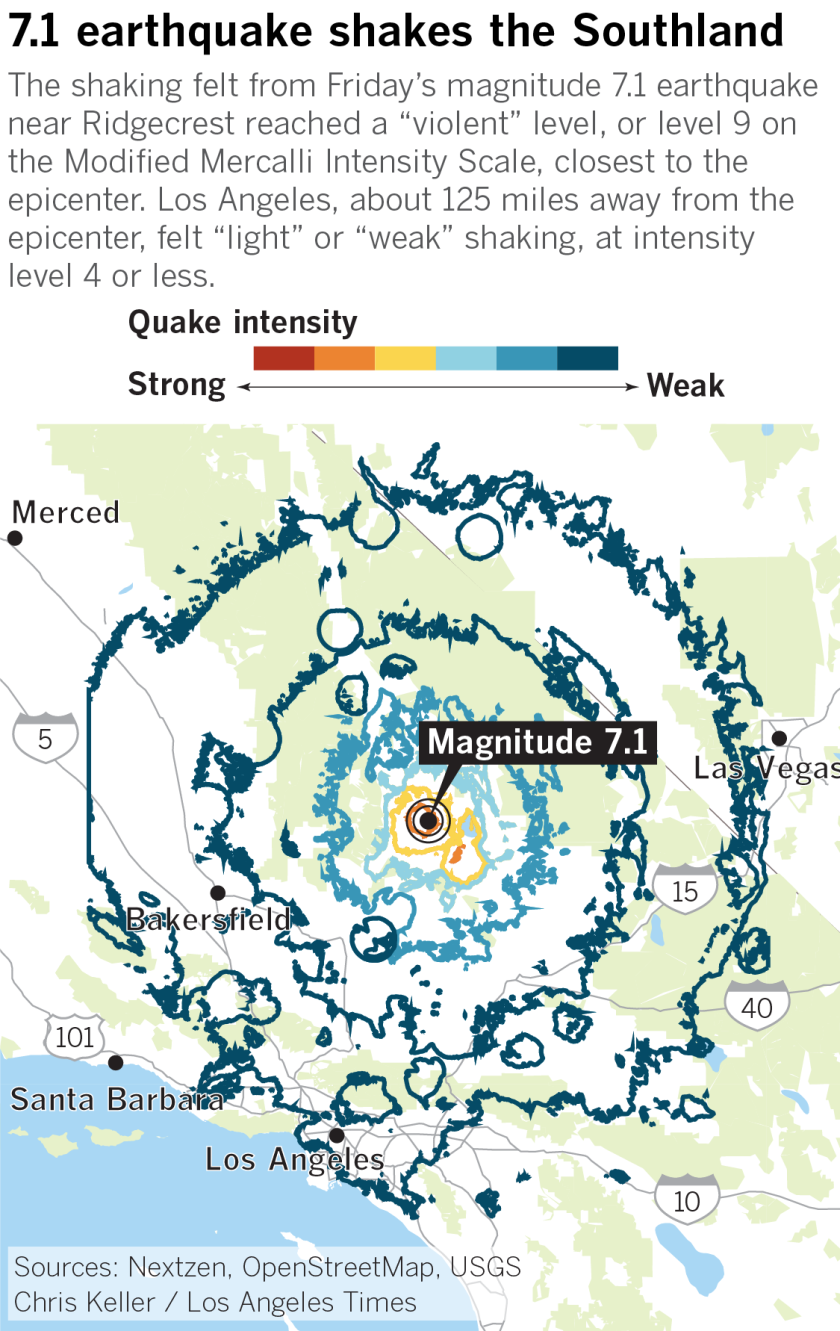 At a McDonald's, a sign on the door said the lobby was closed, but that the restaurant was "serving first responders, police and fire department inside only."
And at the Best Western hotel, a note in the lobby asked customers for their patience with things such as employees taking out trash and changing linen.
"Some staff members have lost their homes and are tending to their families," the note read. "For that reason we are short-staffed."
---
The stories shaping California
Get up to speed with our Essential California newsletter, sent six days a week.
You may occasionally receive promotional content from the Los Angeles Times.