F-16 military fighter jet crashes into building in Southern California
Col. Tom McNamara, vice commander of the 452nd Air Mobility Wing; Riverside County Fire Chief Shawn Newman; and Caltrans representative Terri Kasinga spoke at a news conference about the crash of an F-16 fighter jet into a building on Van Buren Bou
An F-16 returning to March Air Reserve Base in Moreno Valley after a routine training mission crashed after its hydraulics failed and its pilot ejected, base officials said Thursday.
The jet crashed into a building off the base, on Van Buren Boulevard near the 215 Freeway, about 3:45 p.m.
Captured on a dashboard camera by a commuter on the freeway, the jet appeared to be leaning to one side as it dropped to the ground outside the base.
The pilot had reported hydraulics problems and said he was returning to base when he was forced to eject moments before impact, said the base's deputy fire chief, Timothy Holliday.
The crash ignited a fire but it "wasn't very big," Holliday said.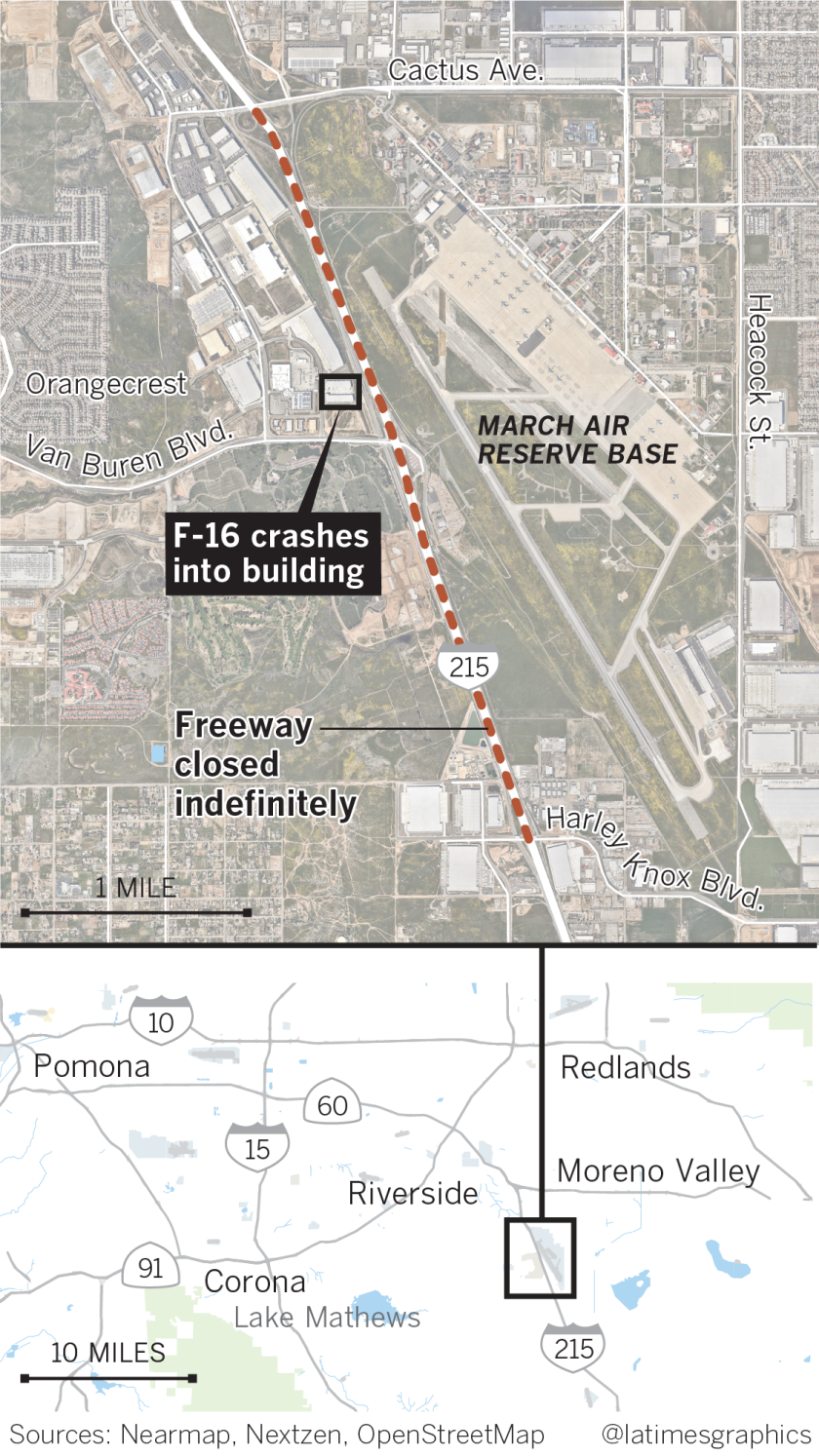 Three people who were on the ground suffered minor injuries and were treated at the scene and released, Holliday said. A total of 12 people, including the pilot, were taken to the hospital to be treated, a Cal Fire official said. No one suffered life-threatening injuries.
Authorities set up a perimeter while they secured the live ordnance the jet was carrying, Holliday said.
A person who was in the building when the plane crashed recorded the immediate aftermath on camera and published it on Facebook.
"Holy [expletive] dude. That's a [expletive] airplane; that's a military airplane in our building," he said. Water is seen cascading from the roof.
Ty Stanonis was on the freeway when the crash occurred ahead of him, he told FOX11. His vehicle's dashboard camera recorded the moment the jet crashed, showing the plane dropping into the building.
"Everybody was slowing down, just trying to figure out what just happened," Stanonis said.
The pilot's parachute deployed after he ejected, and he landed in a field inside the base. Stanonis said the pilot was still for a few moments but finally rose to his feet.
When the plane crashed, it shook all the windows in the building, Stanonis said. He pulled off the freeway and drove by the crash scene, he told FOX11.
"It looked like a bomb had gone off in the building," he said.
As of Friday, a roughly 4-mile stretch of the 215 Freeway remained closed.
RELATED: Crash of F-16 fighter jet in Southern California closes stretch of 215 Freeway »
The freeway was closed in both directions after the crash, according to California Highway Patrol logs.
Images from the scene broadcast by local news agencies showed a hole in the roof of an industrial building next to the freeway where the jet apparently crashed. The building was loaded with pallets of boxes and other items. No smoke or fire was visible at the scene.
A photo from inside the building showed the wreckage buried in twisted metal and debris.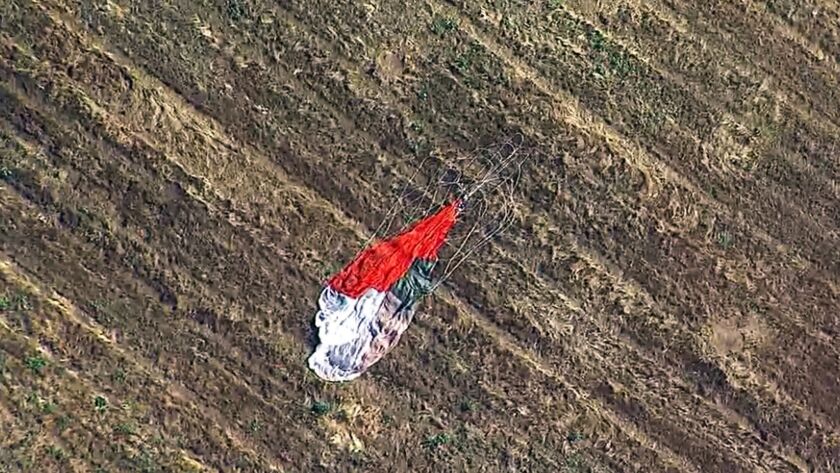 ---
The stories shaping California
Get up to speed with our Essential California newsletter, sent six days a week.
You may occasionally receive promotional content from the Los Angeles Times.