Protesters block freeway, Kings basketball game over police killing of unarmed black man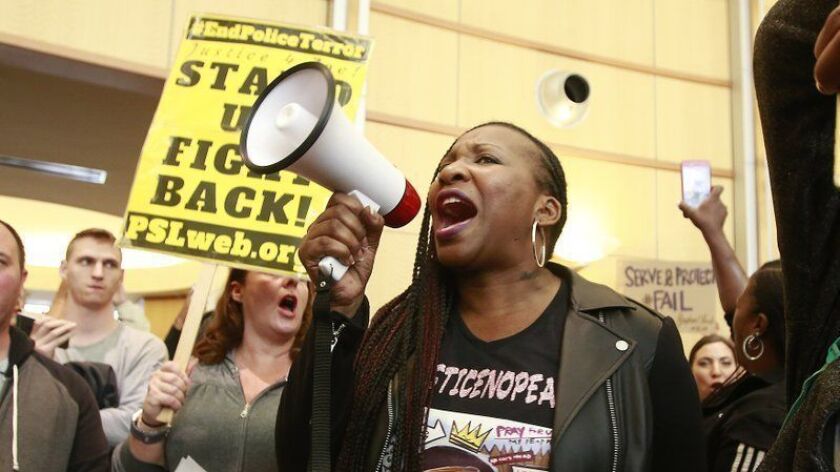 The shooting of an unarmed black man by Sacramento police sparked a day of protests Thursday in which hundreds blocked Interstate 5 and blocked access to a Sacramento Kings game.
Authorities said no arrests were made during the demonstrations, but they caused the Kings to play a game with only a few hundred fans in the stands. The game also started late, officials said.
The protests came after Sacramento police released video of officers fatally shooting an unarmed black man in his backyard after a chaotic nighttime pursuit last weekend.
RELATED: Stephon Clark shooting videos released
"Show me your hands! Gun, gun, gun!" an officer shouts in one video before he and his partner fire repeatedly at a dark figure. When the gunfire ends, a haze of gray smoke swirls in the beam of their flashlights. "Shots fired!" the officer shouts. "He's down."
The officers, who said they thought 22-year-old Stephon Clark was pointing a gun at them in the darkness, fired a total of 20 rounds during the encounter. But no gun was found.
"The only item found near the suspect was a cellphone," the Police Department said a statement.
Relatives and community members have criticized the department, saying it was Clark who had the most to fear from officers, not the other way around.
Anger over the shooting drew hundreds of protesters to City Hall on Thursday, where members of Black Lives Matter and other activists condemned the incident as yet another case of officers shooting an unarmed black person.
Later, the demonstrators moved onto Interstate 5 and to the Golden 1 Center. where the Kings were playing.
Video showed protesters blocking entrances to the arena and at several points clashing with police.
"We need to make folks inconvenienced, just like we are inconvenienced every single day," protester Berry Accius told KCRA-TV.
The game went on, but photos showed the arena was largely empty.
Among those who have condemned the shooting are Rep. Nancy Pelosi (D-San Francisco) and the National Assn. for the Advancement of Colored People. A candlelight vigil for Clark has been planned for Friday night near where the shooting occurred.
"The Sacramento Police Department recognizes the significance of this incident and the impact it has on our community," the department wrote on its Facebook page Wednesday. "We are committed to providing timely information and communicating openly with our community."
The recordings released by the department include the original 911 call about a man breaking car windows that police responded to Sunday night. The video came from the body cameras worn by the two officers who encountered Clark, as well as from a sheriff's helicopter that hovered overhead.
---
The stories shaping California
Get up to speed with our Essential California newsletter, sent six days a week.
You may occasionally receive promotional content from the Los Angeles Times.