Santa Rosa mayor surveys his devastated city: 'We have our work cut out for us'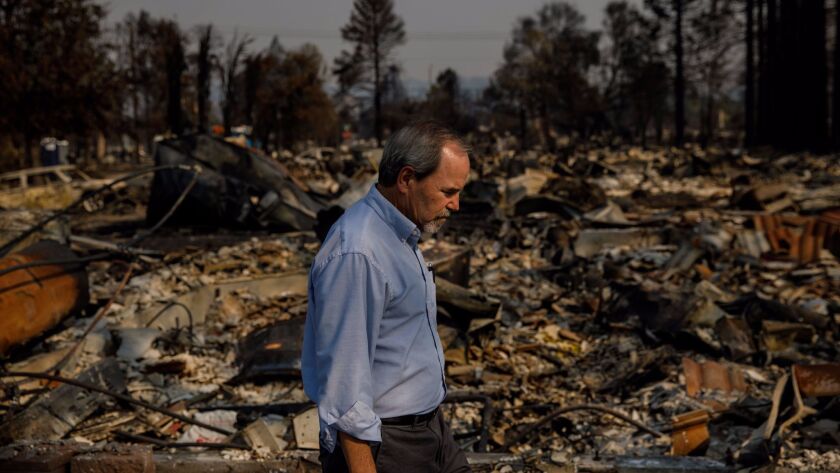 Reporting from Santa Rosa, Calif. —
Broken glass crunched underneath Chris Coursey's sneakers as he stepped through the remains of Coffey Park on Friday afternoon.
A former journalist turned politician, he once expected to spend his term as mayor guiding Santa Rosa through a post-recession growth spurt. Now there was rubble as far as he could see in every direction.
One of the most devastating wildfires in California's history had left behind almost nothing except charred appliances and torched cars. Nails that once held together people's homes were scattered across the ground. A piece of debris was wedged between the branches of a tree.
But Coursey's gaze drifted across the street to an unscathed playground.
"We won't have to rebuild that," he said. "So that's positive."
Before the fire, Coursey had grown accustomed to good news about his city. It had finished a $10-million effort to revitalize its downtown square, a project intended to anchor more development. A new commuter train has started running south to Marin County.
The biggest challenge was building enough housing for everyone who wanted to live there, but even that seemed manageable. When Coursey spoke about the city's development at a recent conference in Santa Fe, N.M., a member of the audience called out, "You've just got an embarrassment of riches in Santa Rosa!"
"That's been ringing in my ears all week," Coursey said.
Now his days are a blur of emergency briefings and visits to shelters where evacuees sleep on rows of cots. Everywhere he goes, people want to know whether their homes are still standing and when they can return. Sometimes he has no answers to give them.
"In a way, I feel really helpless," he said. "People keep asking me, 'What is your job right now?' It's just hugging my city."
It's clear that Santa Rosa's housing challenges will become only more difficult now that roughly 5% of its 60,000 homes have been destroyed.
But figuring out what comes next for the city is a question for another day.
"We're having a hard enough time getting our heads around the here and now," Coursey said. "How do we recover from this? What do we need to do? As far as concrete answers, I don't think those exist yet."
The mayor spends most of his days barely eating and his nights crashing at his increasingly crowded downtown condo. His sister, who fled her home, and her cats are staying with him, as is his girlfriend, an Oakland nurse who is volunteering in town. A friend who was moving from New York to Northern California ended up staying with Coursey, too.
After a Friday news conference with fire officials, Coursey toured the devastation with Lt. Gov. Gavin Newsom, Rep. Mike Thompson (D-St. Helena) and Sonoma County Supervisor Susan Gorin.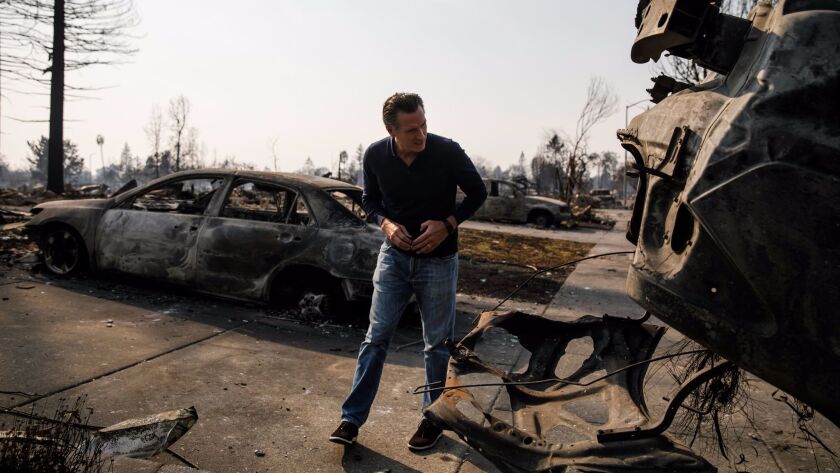 Their SUVs ascended the hills to the Fountaingrove neighborhood, where million-dollar mansions reigned. The only other people on the roads were police officers and utility crews.
When they stepped out in a cul-de-sac, they found themselves surrounded by rubble on all sides. A staircase led to a house that was no longer there. Melted metal from wheels pooled underneath destroyed vehicles.
"It's jaw-dropping to see it in person," Newsom said. "No photos or even videos do it justice."
They continued downhill, passing a trailer park alongside the 101 Freeway. Mobile homes had been transformed into piles of rubble, and a search team had found a body there only hours earlier.
The final stop was Coffey Park, where near-total devastation had become emblematic of the fire's toll.
Even here, the fire's mercurial nature was apparent. On one side of a street, a tidy home was surrounded by pink, yellow and red roses in full bloom. On the other side, the devastation stretched for blocks.
Days after the fire struck, its deep reach into Santa Rosa continued to astonish Coursey.
"This is a place you would feel safe," he said. "Wildfires don't burn in a place like we're standing."
At some point, the rebuilding would have to begin.
"My first thought is the people who were here," Coursey said. "My second is, boy oh boy, do we have our work cut out for us."
ALSO
A Santa Rosa synagogue becomes a haven in a firestorm
Inseparable for 75 years, husband and wife Charles and Sara Rippey died in the Napa fire
Vineyards may have kept wine country fire from getting worse
Smoke from wine country fires leads to 200 canceled flights, hazardous air quality: 'It is basically like living in Beijing'
---
UPDATES:
8:10 p.m.: This article has been updated throughout, with additional quotes and background information.
This article was originally published at 1:35 p.m.
---
The stories shaping California
Get up to speed with our Essential California newsletter, sent six days a week.
You may occasionally receive promotional content from the Los Angeles Times.