L.A. County Sheriff plans to revive highway drug team that stopped Latino drivers on I-5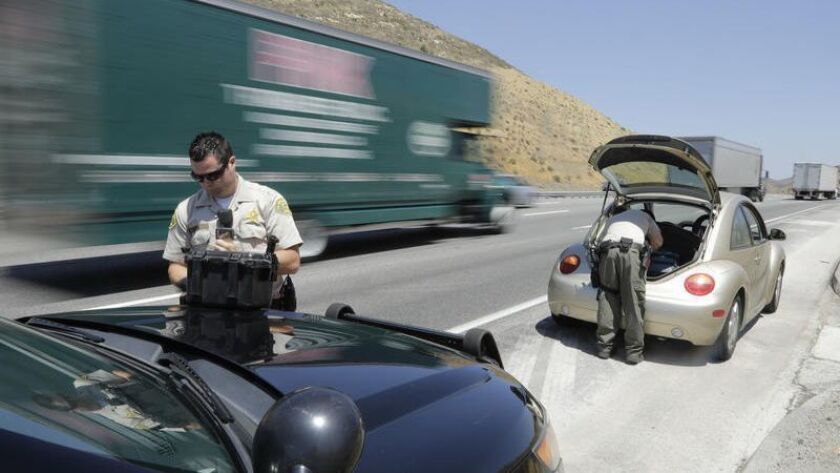 Los Angeles County Sheriff Alex Villanueva said Tuesday that he will revive a drug team that was sharply criticized for disproportionately stopping Latino drivers on the 5 Freeway but said the unit would follow strict constitutional guidelines to prevent racial profiling.
The Domestic Highway Enforcement team was suspended in November after county Inspector General Max Huntsman said a preliminary investigation by his office found the unit was "inherently built to violate the constitutional rights of a vast number of people passing through the I-5 Freeway."
Villanueva told The Times that a new team of specialized narcotics officers is expected to begin drug enforcement operations on the stretch of the interstate north of Santa Clarita later this year. He said the former team fell short of department standards in how they treated Latino drivers.
"Maybe they started with the best of intentions, but over time they got ... a profile that had too much of a component that was constitutionally impermissible," Villanueva said. "So we need to restart and go back to what's allowable."
Villanueva said the revamped team would be given a different name and would consist of some deputies who are native Spanish speakers. The sheriff did not specify how large the unit would be or what reforms would be made before operations resume. He said the unit would have to balance its mission to disrupt the flow of drugs from Mexico with its legal duty not to violate the constitutional rights of drivers.
"If the criminal profile is that Mexican cartels are using native Mexican immigrants to transport drugs through the I-5 corridor, at some point when you start zeroing on who the right people are, it's going to end up being a lot of Spanish-speaking people," he said. "But we have to separate the wheat from the chaff. And we have to use the same standard for everybody."
The unit's approach first came under scrutiny in October when a Los Angeles Times investigation detailed how the team had pulled over and searched the vehicles of more than 3,500 drivers who turned out to have no drugs or other illegal items. The overwhelming majority of those were Latino.
Latino motorists describe anger at being stopped on 5 Freeway by sheriff's unit seeking drugs »
The Times' analysis of Sheriff's Department data found that 69% of drivers stopped by the team were Latino and that two-thirds of them had their vehicles searched — a rate higher than motorists of other racial and ethnic groups. Cars belonging to all other drivers were searched less than half the time.
By contrast, Latinos made up 43% of motorists who were issued citations by the California Highway Patrol on the same stretch of freeway during a six month period last year, according to an inspector general's office report released several weeks ago.
The report found that the team's work "had a constitutionally troubling impact on Latino drivers." and nearly a third of federal criminal filings based on the unit's arrests, 11 of 36, were dismissed by the courts or by prosecutors.
The inspector general's office said there were problems with oversight as soon as the unit was created in 2012 and the Sheriff's Department should have been aware. As early as 2014, the report said, the U.S. attorney's office told sheriff's officials of credibility problems regarding a deputy assigned to this team; yet no study was done to determine whether there were systemic issues behind the team's practices.
The unit — made up of a sergeant, four deputies, a part-time narcotics detective and a drug-sniffing dog — focused on the Grapevine section of Interstate 5, between the northern border of L.A. County and Santa Clarita.
Interim L.A. County Inspector General Rodrigo Castro-Silva has said the department needs to craft clear guidelines on how the team conducts traffic stops and that the stops should be captured on video and audio.
"There needs to be better accountability and there has to be auditing of video and comparing that to the reports of the deputies," Castro-Silva said last week. "There has to be much better training — they recognize that. They are open to working with our office on implementing these recommendations."
Sheriff's Department 'ignored red flags' about team that stopped Latino drivers, report says »
Castro-Silva said his office will be actively involved with the Sheriff's Department in the formation of the new team.
Sean Kennedy, a Loyola Law School professor and member of the Sheriff Civilian Oversight Commission, said it's critical that the department work with independent constitutional policing experts as well as the inspector general to develop a protocol to ensure racial profiling does not occur.
"Changing the name or changing the people involved is not going to be good enough," he said. "We saw from past examples that when you don't have a proper protocol and supervision, criminal cases from the team end up getting dismissed."
Lael Rubin, another member of the commission and a former prosecutor, said she was disappointed that the commission was not notified about the sheriff's plans to revive the team. Since Villanueva has not provided specific details about how the revamped team will differ from the previous one, there is no guarantee of meaningful change, she said.
The inspector general's report listed 26 reform recommendations, key among them a proposal that department supervisors regularly analyze the team's stop data to determine if any racial or ethnic groups are being disproportionately stopped and searched. In a written response, Villanueva said the department would take that suggestion into consideration.
The department agreed with eight of the recommendations, including creating a standalone policy that clearly prohibits racial profiling.
But the department disagreed with a proposal that would require deputies to obtain written consent to conduct a search. Castro-Silva said sheriff's officials told him that was not necessary because deputies' actions would be recorded by dashboard and body cameras.
Claims of racial profiling on 5 Freeway echo findings against sheriff's deputies in Antelope Valley »
Sheriff's officials said they launched the highway team as a response to a spate of drug overdoses in the Santa Clarita area, although the inspector general said the team has not been effective in reducing overdoses. Similar units operate around the country as part of a federal program designed to use local and federal law enforcement agencies to combat drug trafficking.
The team made more than 1,000 arrests and seized 600 pounds of cocaine and more than a ton of methamphetamine, among other drugs, since it was formed. But Huntsman said that, without knowing the total supply that is moving through the 5 Freeway corridor, it's difficult to say how effective their efforts have been.
---
For reporting and exclusive analysis from bureau chief John Myers, get our California Politics newsletter.
You may occasionally receive promotional content from the Los Angeles Times.