Alex Villanueva, who beat long odds in historic election upset, sworn in as L.A. County sheriff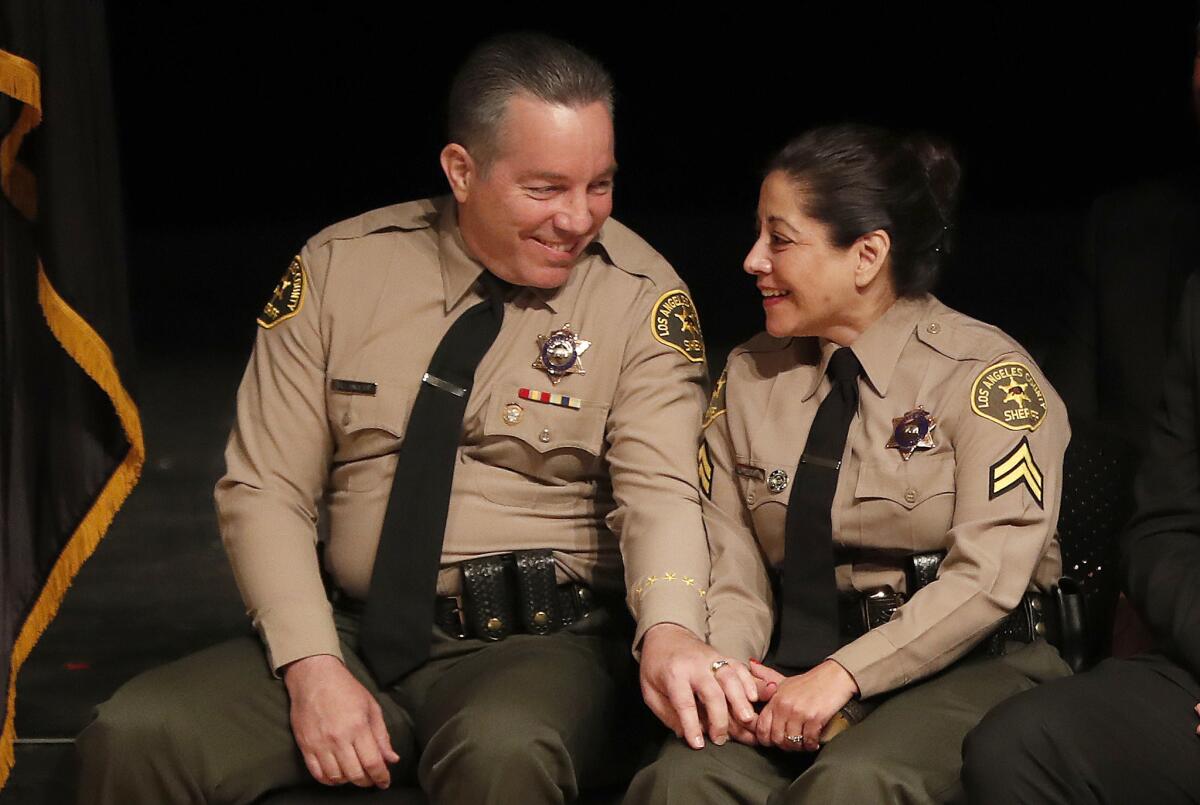 Just days after the final ballots were counted in a closely watched election that awarded him a stunning win, Alex Villanueva was sworn in Monday as Los Angeles County sheriff, promising to steer one of the nation's largest law enforcement agencies toward a new era of change.
Villanueva, 55, took the oath of office from Superior Court Judge Lucy Armendariz at East Los Angeles College, a short distance from the East Los Angeles sheriff's station where he once served as a young deputy.
"We are going back to being peace officers and should be judged by how well we protect our communities," Villanueva said before a crowd of hundreds of deputies, community leaders and elected officials who attended the event. "Our immigrant communities shouldn't have to wonder whether we're here to protect them or deport them."
His lapel was adorned with five gold stars, arranged in a pentagon shape, unlike some of his predecessors, who wore their stars in a row.
"Yes, the rumors are true," Villanueva said to cheers, "there is a new sheriff in town."
The audience, which included Los Angeles County Supervisors Janice Hahn, Mark Ridley-Thomas, Kathryn Barger and Hilda Solis as well as former state Sen. Kevin de León, gave several standing ovations throughout the packed event.
Local radio personality Big Boy served as the emcee.
Villanueva, a U.S. Air Force veteran who served three decades on the department before retiring as a lieutenant in February, scored 53% of the vote, with the outgoing sheriff, Jim McDonnell, taking 47%. His win marked the first time in more than 100 years that a challenger has defeated an incumbent sheriff in Los Angeles County.
During his campaign for the nonpartisan seat, Villanueva promoted his status as a Democrat and promised to expel federal immigration agents from custody facilities.
He has also made statements that could create friction with more progressive voices in the community. He said that he would continue to honor requests from the U.S. Immigration and Customs Enforcement to detain county jail inmates who were convicted of serious crimes, contrary to preliminary recommendations by the Sheriff Civilian Oversight Commission.
"We must take advantage of this historic opportunity to ensure Sheriff Villanueva is up to date with the intricacies of immigration policy, that he understands how past administrations have completely eroded trust with our communities by aligning with ICE, and that we build together a policy that we can be proud of," Pablo Alvarado, executive director of the National Day Laborer Organizing Network, said in a statement.
De León, who authored California's "sanctuary state" law, said at Monday's ceremony that he endorsed Villanueva because he trusts him to protect the rights of immigrants who come into contact with law enforcement.
Villanueva has also spoken of "cleaning house" in the upper ranks of the department and last week announced a massive shakeup, relieving 18 top officials of duty.
His new team includes two retired commanders: Ray Leyva as undersheriff and Bob Olmsted as assistant sheriff overseeing custody operations. Villanueva also intends to elevate Chief Maria Gutierrez to assistant sheriff in charge of countywide operations and Capt. Tim Murakami to assistant sheriff over patrol, department spokesman Capt. Darren Harris said.
The fourth assistant sheriff position overseeing the department's budget will temporarily be frozen, Harris said. LaJuana Haselrig, a lieutenant who had been previously named to an assistant sheriff role, will become a captain, Harris said.
Villanueva is taking over the Sheriff's Department at a time of transition after a jail abuse scandal exposed dysfunction in the agency and led to convictions on federal criminal charges of several top officials, including former Sheriff Lee Baca. McDonnell, who pledged to reform the agency and take a tough stance on discipline, lost the trust of scores of deputies who felt he was punitive and out of touch with the rank and file.
Villanueva has promised to implement his own style of reform, including moving quickly to give deputies body cameras and launching a "truth and reconciliation commission" that would allow deputies and the public a chance to address actions they believed were unfair.
His message Monday was one of inclusion, with a promise to hire more deputies who grew up in the communities they police and to address broad issues including homelessness.
"This is a rare moment in history, where we not only have the opportunity but the courage and the responsibility to challenge an existing power," he said, "to ensure that no matter where you're from, or where you live, or the color of your skin, your Sheriff's Department will work to protect you and keep you safe."
He also had a message for deputies, saying they would be judged by how well they served their communities, not by how well they catered to those in management. "Those days are over," he said to applause.
Twitter: @mayalau
---
UPDATES:
6:45 p.m.: This article was updated with a quote from a community group and more information about the event.
2:12 p.m.: This article was updated with comments from Villanueva.
This article was originally published at 12:50 p.m.
Sign up for Essential California for news, features and recommendations from the L.A. Times and beyond in your inbox six days a week.
You may occasionally receive promotional content from the Los Angeles Times.