Man claiming to be sheriff's official phoned threat to county counsel, sparking probe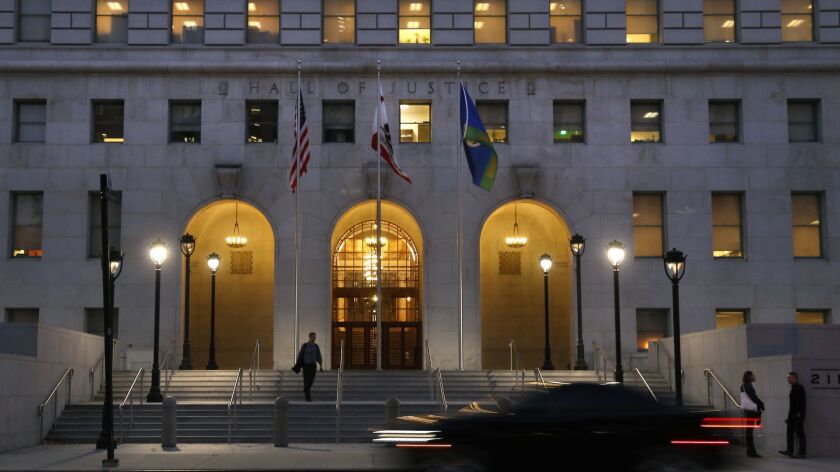 Los Angeles County officials said Monday they are investigating a call made by a man claiming to be a Sheriff's Department official who threatened to arrest the county's chief attorney.
The threat came in the form of a call Saturday to the personal cellphone of the county counsel, Mary Wickham, from a person who said he was a Sheriff's Department sergeant, the county's interim Inspector General Rodrigo A. Castro-Silva said in a statement.
The caller apparently told Wickham to immediately surrender to a Sheriff's Department station for failing to appear on a grand jury summons from 2006.
The caller threatened to arrest Wickham at her home when she told him there was no basis for his demand, the statement said. Castro-Silva said his office has launched an investigation into the matter.
Detectives from the sheriff's Major Crimes Bureau were also assigned to look into the call and are prepared to "launch a full assessment" of the potential threat, Sheriff's Department spokesman Lt. A.J. Rotella said in a statement.
Rotella said for several weeks, the department has received reports about calls by people purporting to be from the Sheriff's Department warning residents that they had not appeared for jury duty.
Another spokesman, Capt. Darren Harris, said the call to Wickham appeared to be part of a common scam that the agency has been warning the public about.
But Castro-Silva said the incident was a serious matter, calling it "a hostile act intended to intimidate a public official doing her job on behalf of Los Angeles County, the Board of Supervisors and the residents we serve."
"I anticipate and expect the Los Angeles County Sheriff's Department's full and immediate cooperation in determining the individual or individuals behind this unwarranted attack on the County's top legal advisor," Castro-Silva said in the statement.
Lennie LaGuire, a county spokeswoman, said the details of the threat against Wickham do not line up with the information about the scam that was described in a link sent by Harris. LaGuire said the man who called Wickham gave his name, which matched the name of a Sheriff's Department employee.
LaGuire said Wickham declined to comment.
The incident comes at a time of heightened tension between Sheriff Alex Villanueva and the county Board of Supervisors, which has gone to court to try to stop the sheriff from reinstating a deputy who was fired for violating policies related to domestic violence and dishonesty.
"This was clearly meant not only to intimidate Mary Wickham, but to send a message to the board to back off," said Supervisor Sheila Kuehl. She said she believes the call was not a hoax or coincidence, noting that it made Wickham fearful for herself and her family.
"She has been the one in the lead of all of our actions with the Sheriff's Department recently," Kuehl said, adding that Wickham is the "tip of the spear."
Supervisors Kathryn Barger and Hilda Solis, in separate statements, also condemned the call made to Wickham.
"Threatening a public servant is despicable and will never be tolerated. This undemocratic intimidation is designed to chill the County Counsel from doing her job," Solis said.
At least six deputies who were previously discharged have been reinstated under Villanueva during his first few months in office after his surprise election victory last year over then-incumbent Sheriff Jim McDonnell. The Times reported that some of the rehires were made as part of settlements that the Sheriff's Department struck with deputies who had been fired for misconduct.
Wickham, in a letter to Villanueva dated April 1, told the sheriff that only her office can handle such settlements and directed him not to enter into any more agreements related to discipline. She also told him not to employ outside attorneys for those arrangements.
In a recent interview, Villanueva said Wickham had "gone rogue" by claiming that she has power over legal settlements involving deputy discipline.
"She basically said that, for all intents and purposes, she's in charge. I don't think the voters elected her as the sheriff," Villanueva told The Times this month.
Supervisor Mark Ridley-Thomas expressed skepticism that Wickham was merely a coincidental target for the jury duty scam, saying Villanueva's recent moves have "set the tone for undesirable behavior."
Rotella, the Sheriff's Department spokesman, said that the agency is committed to investigating all incidents of fraud. The department has been criminally investigating numerous reports from residents about the jury duty scam, he said.
Twitter: @mayalau
---
The stories shaping California
Get up to speed with our Essential California newsletter, sent six days a week.
You may occasionally receive promotional content from the Los Angeles Times.