Trump once said of earthquakes, 'Someday Las Vegas may be the West Coast.' But his budget could kill key quake safety measure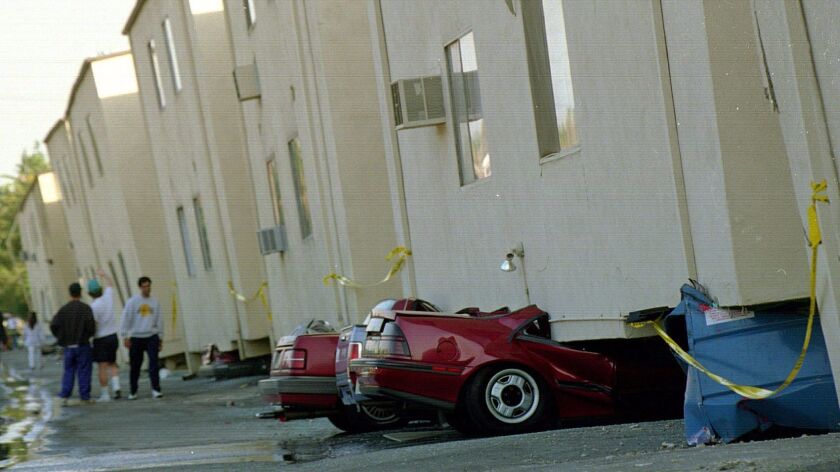 Back in the 1980s, when Donald Trump was a real estate mogul trying to expand into Los Angeles, he made a startling comment to the Los Angeles Times:
"I'm really concerned with the whole earthquake situation in L.A.," Trump said. "I am a tremendous believer that someday Las Vegas may be the West Coast."
Trump's quip aside, the president has said little about publicly about seismic safety, an issue of big concern in California and the West Coast.
But Trump's budget would cut federal funding for an earthquake early warning system for the West Coast that scientists have been planning for years.
---
TRUMP ON QUAKES
'I must tell you it's disconcerting'
Trump's comments on earthquakes in L.A. came while he was trying to build what would be L.A.'s tallest building, a massive structure on Wilshire Boulevard.
It was never built. In a Los Angeles Times Magazine article published in 1988, Trump discussed the seismic risk in the context of L.A.'s real estate market. From the article:
Is this another Trump business tactic? Is he trying to talk down real estate values in Southern California so that he can buy in cheaply? Unlikely. Trump insists that he has "seen some of the damage earthquakes can cause, and I must tell you it's disconcerting.
"People in general are having lingering doubts about the value of real estate in L.A.," he adds. "It's happening too much and too often, the tremors. It's a very scary thing.
"Hey, I can't tell you I'm completely staying out of [the L.A. market] because of that. But I have to admit it's a lingering problem, and if a deal is a close call, I'll probably stick with my instincts."
WHY SYSTEM CUT?
Quake alerts considered a new service
The ending of funding for the early warning system was proposed in a Department of the Interior budget that talked of "sensible and rational reductions and making hard choices to reach a balanced budget by 2027."
In a statement announcing the U.S. Geological Survey budget, the Department of the Interior said the budget "focuses on core USGS science and efficiency," and asserted that the budget would be able to fund monitoring of the nation's earthquakes.
Bill Leith, the USGS acting associate director for natural hazards, said a decision was made to focus on USGS' service core capabilities — services that are already offered, rather than a new service such as the earthquake early warning system.
The budget document posted on the U.S. Department of the Interior's website did not elaborate on the reason for cutting the alert system, saying only: "This elimination would end USGS efforts to implement the ShakeAlert earthquake early warning system."
The earthquake early warning system works on a simple principle: The shaking from an earthquake travels at about the speed of sound through rock — slower than the speed of today's communications systems. That means it would take more than a minute for, say, a magnitude 7.8 earthquake that starts at the Salton Sea to shake up Los Angeles, 150 miles away, traveling on the state's longest fault, the San Andreas.
The prototype system has had some early successes. When a magnitude 6.0 earthquake hit Napa in 2014, the system gave researchers in San Francisco about eight seconds of warning before shaking began. Last year, 30 seconds of warning reached downtown L.A. before the ground shook from a magnitude 4.4 quake centered near Banning.
As the system gets built, officials have talked about allowing places such as classrooms, offices, shopping malls, amusement parks and police and fire stations to have ready access to alerts. Eventually, bigger benefits are expected: technology to open elevators at the next floor, sparing occupants from being trapped, and warnings that could halt the flow of natural gas through major pipelines, preventing catastrophic fires.
Scientists last week had said they hoped to have an early version of the system in limited public release sometime next year.
REACTION
'We cannot stop now'
Scientists said the loss of federal funding would derail the early warning system, which officials hope would one day send public earthquake alerts to smartphones seconds or even minutes before a temblor.
"It probably would kill the early warning system if we thought there were no more funding coming from the U.S. Geological Survey," said John Vidale, director of the Pacific Northwest Seismic Network and a seismology professor at the University of Washington.
Seismologist Lucy Jones said she was "deeply disappointed" to see Trump's budget proposal.
"Eliminating the $10 million a year that the government has been spending would stop the program and waste the $23 million that has already been invested," Jones said in an email. "The talented scientists and technicians that are working on the project now will go to other jobs, so their experience and expertise would be lost.
"Many life- and money-saving measures would not be available when the next earthquake strikes," she added.
A champion of the earthquake early warning system, Rep. Adam B. Schiff (D-Burbank), said it would be foolish to end it.
"After years of educating the public and Congress to the benefits of the earthquake early warning system, we have been able to deliver $23.4 million in federal funding to help build out an early warning system across the West Coast," Schiff said in a statement.
"But we cannot stop now, just as monitoring stations are being built out and the system is expanding its reach. Support for the early warning system in Congress is sustained, growing and bipartisan, and we will not accept this attempt by the president to cut a vital funding stream for a program that will protect life, property and critical infrastructure," Schiff said.
Rep. Ken Calvert (R-Corona), who serves on the House Appropriations Committee, said in a statement Friday that he believes "the earthquake early warning system can be a lifesaving tool for the millions of Californians and other Americans who live in earthquake-prone areas.
"That's why I have been at the forefront of advocating for funding of the program, including the $10.2 million in funding that was signed into law earlier this year," Calvert said. "Obviously, the president's budget proposes some reductions for this program and other agencies that fall within the Interior Appropriations Subcommittee's jurisdiction, which I oversee as Chairman. During the appropriations process, important programs like this will be given full consideration."
Without ongoing funding, the ShakeAlert system would need to lay off employees, said Tom Heaton, a Caltech professor of engineering seismology.
"If that funding went away, we would have to lay off a number of the developers and the development would basically cease," Heaton said. "I'm not sure how we could possibly recover from that."
Already a subscriber? Thank you for your support. If you are not, please consider subscribing today. Get full access to our signature journalism for just 99 cents for the first four weeks.
---
UPDATES:
12:40 p.m.: This article was updated with a new statement by Rep. Ken Calvert (R-Corona).
10:45 a.m.: This article was updated with a comment by seismologist Lucy Jones and a statement from the Department of the Interior budget
This article was originally published at 10:05 a.m.
---
The perils of parenting through a pandemic
What's going on with school? What do kids need? Get 8 to 3, a newsletter dedicated to the questions that keep California families up at night.
You may occasionally receive promotional content from the Los Angeles Times.