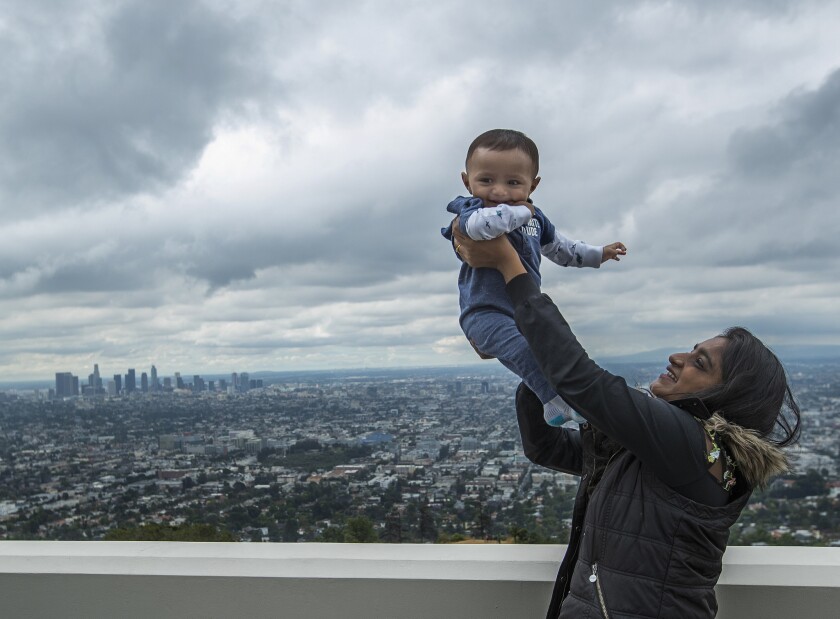 It may be the first day of summer, but Angelenos probably won't be breaking out their swimsuits anytime soon, as gray skies persist through the weekend.
Friday morning brought light showers and cloudy skies to Los Angeles, Ventura and Santa Barbara counties, and the morning fog will likely continue through the weekend, according to the National Weather Service.
Meteorologist Rich Thompson said the June gloom is nothing out of the ordinary, even for the first day of summer.
In the Los Angeles region, temperatures will warm up Saturday and Sunday afternoons, reaching between 70 and 85 degrees in the valleys.
But in coastal areas, the clouds will stick around all weekend with temperatures hovering in the 60s.
"It's not the best beach weather this weekend," Thompson said.
RELATED: What causes dreary, gray June gloom? »
The cool weather has Southern California residents holding their breath, as fire season ramps up. Some areas have already seen conditions that would make any blazes that begin spread rapidly.
Meteorologists on Friday warned of winds in the Antelope Valley that could reach 20 to 35 mph, with gusts up to 60 mph near Lake Palmdale and the surrounding foothills. The combination of high winds — which could cause downed power lines — relatively low humidity and temperatures in the 80s raises the risk of fire danger, the weather service said.
"Nothing that comes close to … a red flag warning, but there's an elevated concern," Thompson said. "We're watching, but it's nothing extreme."
Gusty winds will continue across the Antelope Valley thru this evening. SW winds 20-35 mph with gusts to 50 mph. Isolated gusts to 60 mph possible around Lake Palmdale and adjacent foothills. Possible blowing dust and tree damage. #CAwx #SoCal #LAweather #LAwind pic.twitter.com/XcgR36XZBU

— NWS Los Angeles (@NWSLosAngeles) June 21, 2019
Northern California, however, has issued a red flag warning through Saturday, cautioning that gusts of up to 40 mph and low humidity levels between 10% and 15% are creating high fire dangers.
The warning, which extends from Sacramento north to Redding, is for elevations below 2,000 feet where wildland fuels are susceptible to rapid spread of fire, said Jim Matthews, lead forecaster for the National Weather Service in Sacramento.
Heavy winter rains have produced an excess amount of vegetation, according to experts. With temperatures heating up across the state, that vegetation will continue to dry and become fire fuel, meteorologist Bonnie Bartling of the weather service said.
⚠️ Low humidity and breezy north winds will bring increased fire danger today and Saturday. Please avoid outdoor activities that could cause a spark! #cawx pic.twitter.com/nhVxmW83JH

— NWS Sacramento (@NWSSacramento) June 21, 2019
alejandra.reyesvelarde@latimes.com
Twitter: @r_valejandra
---