After 24 years, arrests made in horrific L.A. fire that killed 10, including 7 children
In a major break in a 24-year-old case, Los Angeles police have arrested several suspects in a fire that swept through a Westlake apartment building crowded with Latino immigrants, killing 10 people, including seven children.
Several law enforcement sources told The Times on Saturday that three suspects are tied to the notorious 18th Street gang. At the time of the May 1993 fire, the gang was terrorizing residents of the neighborhood, then a densely packed first stop for immigrants flowing into L.A. from Mexico and other parts of Latin America.
The suspects were allegedly angry because the apartment manager had ordered them to take their drug dealing elsewhere, said the sources, who spoke on the condition of anonymity because they were not allowed to comment publicly. They sought revenge by lighting the building on fire, the sources said.
The arrests capped years of investigations into what is considered one of the worst arson fires in L.A. history. The blaze also came to symbolize the desperate conditions faced by immigrants, both legal and illegal, who found themselves living in old, substandard apartments and facing daily threats from gangs who controlled the area.
Survivors of the fire told horrific stories of what it was like inside the burning building.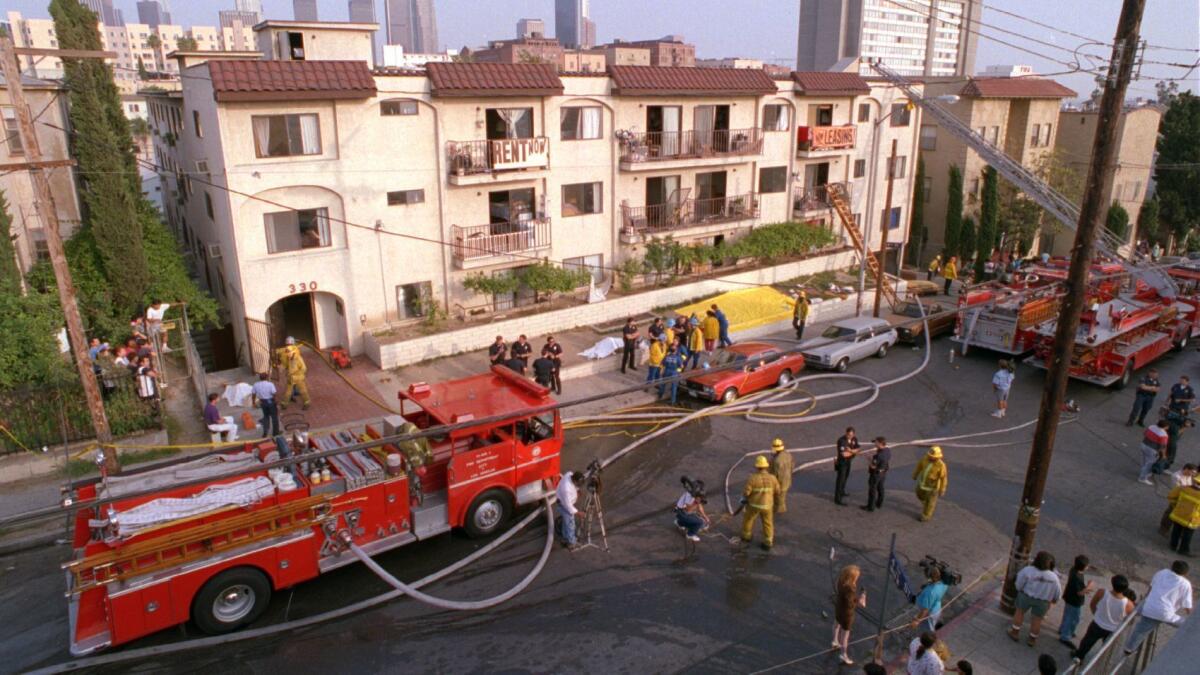 As the flames spread, mothers threw babies out of windows, hoping someone would catch them. People formed human chains to hoist residents down from upper floors. One man watched in horror as his wife and three of his children ran into the smoke, where they perished, huddled in a hallway. Another man also lost three children and his pregnant wife.
More than 100 residents were displaced, and more than 40 were injured. The seven children who died ranged in age from 15 months to 11 years. Two of the women who died were pregnant.
The fire exposed major flaws in the city's fire inspection system. The building had recently been cited for fire code violations, but the owner failed to make the required changes.
Capt. Andrew Neiman, an LAPD spokesman, said Saturday that he did not have the names of the suspects who were arrested.
But a law enforcement source familiar with the investigation said two men were arrested Friday on conspiracy to commit murder. A female suspect has been in custody on a murder charge since 2011.
A fourth male suspect remains at large.
In 1993, the 69-unit building at 330 S. Burlington Ave. was a way station for immigrants, some of whom lived a dozen or more to an apartment to stretch their incomes from low-wage jobs.
The fire's rapid spread was aided by the crowded conditions, with personal belongings and furniture crammed into small spaces, fire officials said at the time.
After two suspicious fires on the premises the previous month, inspectors had noted that fire doors were propped open and alarms were not functioning properly. They required the owner to conduct fire patrols every half-hour. But the patrols never happened, and the fire doors were still open during the deadly blaze.
The tragedy prompted widespread calls for reform in city fire inspections. But a year later, many of the suggested measures, such as starting a fire safety inspection task force and creating a computerized record system, had not been implemented.
From the beginning, rumors circulated that 18th Street gang members had started the blaze. At the time, local gangs were growing increasingly violent. The building — a place where hardworking immigrants intersected with drug dealers selling rock cocaine to motorists — was in the heart of their territory.
Robert Bub, a retired LAPD homicide detective, said that after the fire, police officers "were talking to every 18th Streeter that came in to try to shake something loose."
But people were scared to talk, fearing retaliation, Bub said.
Former City Councilman Mike Hernandez, who represented the Westlake district at the time, said that crime in the neighborhood at the time was "overwhelming." He said there was never an outpouring of grief or activism because many residents were reluctant to call attention to themselves out of fear of deportation.
Five years later, in 1998, two 22-year-old 18th Streeters were charged with 10 counts of murder after a gang member arrested in an unrelated killing claimed to know who had started the fire. But the charges against the two men, Rogelio Andrade and Allan Lobos, were later dropped for lack of evidence.
Meanwhile, the survivors of the fire struggled to rebuild their lives. Most did not return to the apartment building on Burlington Avenue — the memories were too grim. A group of them received $2 million in a civil lawsuit against the building's owner and managers.
Elias Verdugo Vasquez, the man who watched his wife and three children disappear into the smoke, returned to Chiapas, Mexico, with his only surviving child, his dream of a better life in America shattered.
Years passed, then decades.
At the Burlington Avenue building on Saturday, few people remembered the fire, and no tenants remained from that era.
But Maura Campos, the apartment manager, was living nearby at the time.
"I remember how there was a pregnant woman who died in the fire, and it was not that she was burned, but it was the smoke from the carpet, and children also died," Campos, 61, recalled in Spanish.
There is much less gang and drug activity in the neighborhood than there once was, some residents said. Campos credits LAPD officers, who used to keep watch by sleeping on the floor of her living room.
Behind the scenes, detectives continued to chip away at the case. On Friday morning, with the female suspect already behind bars, they moved in on the two men and took them into custody.
LAPD Chief Charlie Beck is planning a news conference Monday to release more details about the arrests. Officials released little publicly about the case Saturday, saying only that the arrest occurred after an "extensive and exhaustive investigation."
Times staff writer Ben Welsh contributed to this report.
To read the article in Spanish, click here
Time staff writer Ben Welsh contributed to this report.
ALSO
Homeless sex offender who killed 4 O.C. women is sentenced to death
Explosive device detonated inside Pasadena Cheesecake Factory; police seek suspect; no injuries
San Bernardino deputy caught on video threatening to 'create' charges and send man to jail
---
UPDATES:
1:30 p.m.: This article was updated with new information from law enforcement sources.
This article was originally published at 9:45 a.m.
Sign up for Essential California for news, features and recommendations from the L.A. Times and beyond in your inbox six days a week.
You may occasionally receive promotional content from the Los Angeles Times.