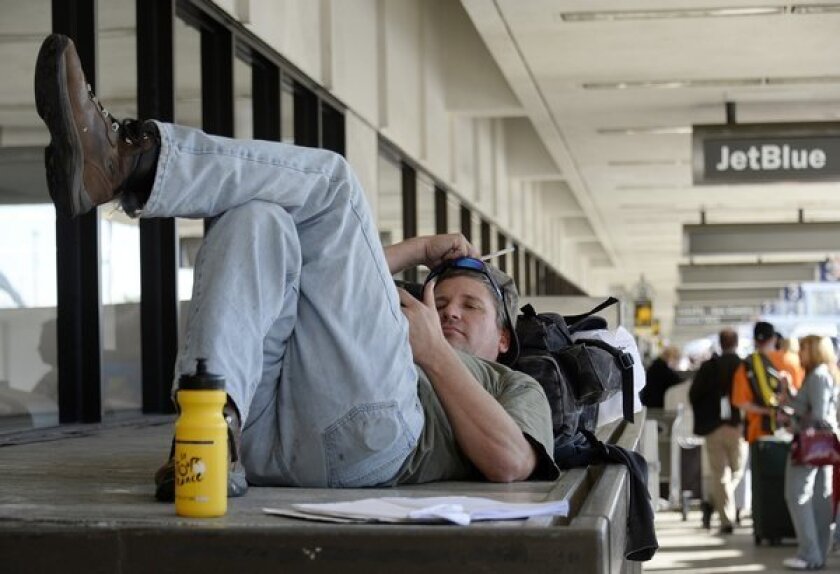 The Los Angeles International Airport terminal where a deadly shooting broke out Friday, killing one Transportation Safety Administration screener and sending hundreds of passengers scurrying for cover, was fully reopened early Saturday afternoon, officials said at a news conference.
Operations at the airport were thrown into disarray Friday when a gunman -- identified by police as 23-year-old Paul Anthony Ciancia -- opened fire inside Terminal 3 about 9:20 a.m. The incident closed down the airport for hours, stranding thousands of passengers.
Addressing reporters Saturday, Gina Marie Lindsey, executive director of Los Angeles World Airports, said LAX was "returning to normal," but also acknowledged that operations were "very, very busy." By the end of the news conference, about 1:20 p.m., she said Terminal 3 was fully operational.
Airport police Chief Pat Gannon said the Los Angeles Police Department had committed additional resources to airport security and that visitors to LAX should expect to see an increased law enforcement presence for the foreseeable future.
He said he learned in an FBI briefing that his officers were "60 seconds behind the suspect."
The shooting left bullet holes in the terminal walls and the floor stained with blood, Gannon said. The airport wanted the shooting area to be "pristine" before it was reopened, he said.
TSA screener Gerardo I. Hernandez, 39, was shot and killed in Friday's rampage, officials said.
When gunfire rang out, people in the lobby scattered, leaving luggage, strollers, baby bottles, wallets and purses on the floor.
Many of those items were still unclaimed Saturday. Passengers who left items in the lobby or at security checkpoints could retrieve them at the Terminal 3 ticket counters, LAX officials said.
More than 1,500 flights and 167,050 passengers have been affected by the shooting, officials said Saturday.
Of the flights, 724 were scheduled arrivals carrying 67,850 passengers and 826 were departures carrying 99,200 passengers, LAX spokeswoman Nancy Castles said. She added that 86 of the arrivals were diverted to other airports.
As operation returned to normal at LAX on Saturday, authorities were trying to figure out the motive for the attack.
A law enforcement official told The Times that a note was found on the suspect expressing "disappointment in the government" and saying that he had no interest in hurting "innocent people."
People in Pennsville Township, N.J., Ciancia's hometown, remembered him as a quiet teenager who by some accounts was bullied in high school.
A law enforcement official told The Times that investigators were looking into the possibility that Ciancia "wasn't a fan of the TSA."
In a statement issued hours after the shooting, TSA Administrator John S. Pistole said no words could explain "the horror that we experienced" when Hernandez became the first TSA officer to be killed in the line of duty.
ALSO:
Police trying to ID child found lying in roadway
UC union authorizes a possible strike at campuses, hospitals
Former owner of guard dog company sentenced for animal cruelty
---