Leonard Cohen dies at 82, singer-songwriter of 'Hallelujah' had a literary sensibility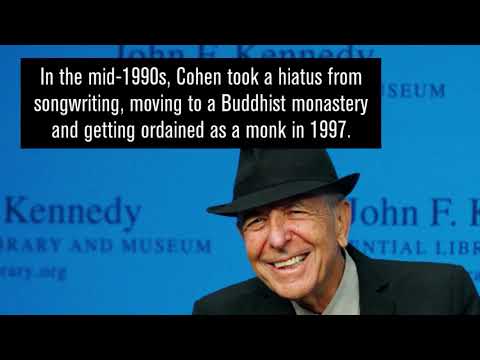 Leonard Cohen was a singer-songwriter who produced and performed music up until his death on Nov. 7, 2016.
Leonard Cohen, a singer-songwriter whose literary sensibility and elegant dissections of desire made him one of popular music's most influential and admired figures for four decades, has died. He was 82.
"Unmatched in his creativity, insight, and crippling candor, Leonard Cohen was a true visionary whose voice will be sorely missed," said his manager Robert Kory, confirming Cohen's death in statement. "He leaves behind a legacy of work that will bring insight, inspiration, and healing for generations to come."
The cause of death was not released.
In songs such as "Suzanne," "Bird on the Wire" and "Hallelujah," and in his poems and two novels, the Montreal-born artist provided a rarefied alternative to more accessible troubadours, employing meticulous language to plumb the vagaries of the human condition.
His dry, monotone voice, which over the years deepened to a cigarette-charred whisper, contributed to Cohen's popular image as a depressed — and depressing — artist. He teasingly alluded to that stereotype in one of his songs, referring to "the patron saint of envy and the grocer of despair."
Cohen's last LP, October's "You Want It Darker," reflected a deep awareness of his mortality.
He recorded much of the LP in his Hancock Park home, where he largely stayed in the last months of his life. Like David Bowie's "Blackstar," "Darker" was a meditation on death that arrived with uncanny prescience. The album opens with its title track, and its lyrics proclaimed an acceptance of the essential mystery of death. With backing vocals from a Montreal cantor, Cohen quoted Abraham as he prepared to sacrifice his son: "I'm ready, my Lord."
Humor was actually abundant, if subtle, in his work, along with a prominent vein of spirituality and, especially later in his life, a penetrating social and political eye.
"Cohen is a master of the quasi-surrealistic phrase, of the 'illogical' line that speaks so directly to the unconscious that surface ambiguity is transformed into ultimate, if fleeting, comprehension: comprehension of the bewitching nuances of sex and bewildering assaults of culture," author Tom Robbins wrote in the booklet of "Tower of Song," a 1996 tribute album.
Despite his stature among critics and other artists, Cohen struggled to find an audience for much of his career. But he enjoyed a late renaissance, as a young generation of musicians, including Nick Cave, Rufus Wainwright, R.E.M. and U2, discovered him in the 1990s.
More mainstream figures, including Billy Joel, Sting and Elton John, joined the chorus on the 1996 tribute album. A 2006 documentary film, "Leonard Cohen: I'm Your Man," reasserted his renewed prominence, and his tour in 2008 and '09 offered marathon concerts that drew high acclaim.
If his fans were captivated by Cohen's career dramas, they were also intrigued by the dichotomy he presented in his personal life — sophisticated ladies' man and ascetic Zen Buddhist.
Cohen never married but was known for a succession of relationships with notable women, including singers Joni Mitchell and Janis Joplin, artist Suzanne Elrod (the mother of his two children), actress Rebecca De Mornay and, most recently, singer Anjani Thomas.
There are very, very few people who occupy the ground that Leonard Cohen walks on. This is the rare, rare talent.
— U2 singer Bono
In the mid-1990s he suspended his career and lived in a Buddhist monastery, where he became a monk.
Cohen was inducted into the Rock and Roll Hall of Fame in 2008 and was a member of the Canadian Songwriters Hall of Fame — one of several honors bestowed by institutions in his native country. He won a Grammy as a guest singer on Herbie Hancock's 2007 album "River: The Joni Letters."
"There are very, very few people who occupy the ground that Leonard Cohen walks on. This is the rare, rare talent," U2 singer Bono said in the 2006 documentary. " ... This is our Shelley, this is our Byron. There was an otherness to the language. It was just the sensory overload of the language that first got to me."
Cohen was a poet apart from the '60s generation that first embraced him. An established star in the Canadian literary firmament, he was significantly older than his pop counterparts when he entered the music arena in his 30s. He also spent much of the decade on a Greek island, isolated from the era's musical trends and social activity.
Leonard Norman Cohen was born Sept. 21, 1934, in Montreal. His father, Nathan, was a garment merchant, and his mother, Marsha, was a nurse who encouraged his interest in poetry.
The first verses that inspired him were Bible passages and the liturgy at the synagogue he attended with his parents and his sister, Esther. He wrote poems as a youngster, and in his teens he pursued his fondness for country music by forming a group called the Buckskin Boys.
The written word prevailed, and Cohen attended Montreal's McGill University as an English major. After graduating in 1955, he joined the city's thriving literary scene and published his first volume of poetry, "Let Us Compare Mythologies," in 1956.
A second collection, "The Spice Box of Earth," earned acclaim when it appeared in 1961, and was followed by the autobiographical novel "The Favourite Game" in 1963.
In 1960, Cohen bought a house on the Greek island of Hydra, where he wrote his second novel, "Beautiful Losers," a sexual and spiritual phantasmagoria that brought him to wider critical and public attention, with comparisons to James Joyce and Henry Miller.
Despite the growing prestige, Cohen found it hard to make a living, so he started writing songs. He intended to move to Nashville, but when he stopped in New York he was seduced by the city's folk music scene.
When his songs, including "Suzanne," "Sisters of Mercy" and "Hey, That's No Way to Say Goodbye" began circulating, primarily through recordings by folk star Judy Collins, Cohen was suddenly a venerated figure who was credited with elevating the vernacular of the folk-pop genre.
Collins encouraged him to perform, which he did in spite of an almost paralyzing stage fright, and Columbia Records' famed executive and producer John Hammond signed him to the label.
His 1967 debut album, "The Songs of Leonard Cohen," wasn't a big seller, but it had a strong impact on a cult of fans and other musicians. Of his peers, only Mitchell and Bob Dylan could match him for literary ambition. Cohen's verses tended to be economical, even austere, with a grace and resonance reminiscent of scripture.
"And you want to travel with her / You want to travel blind / And you know that she can trust you / For she's touched your perfect body with her mind," he sang in his signature song, "Suzanne," which introduced some of his lasting motifs — the mysterious, soul-nourishing woman, an ambiguous relationship, strands of the sensual and the religious bound into a knot.
"We don't control the enterprise," Cohen once said of songwriting. " ... Often you don't understand what you've done.... [Songs] resonate with a truth that is hard to locate but which is operating with some force in your life.
"I often feel that about a Dylan song or ... Edith Piaf.... You feel they're talking about something that is true that you can't locate by yourself ... and you just feel like you've put in the last piece in the jigsaw puzzle for that moment. Like that moment has been clarified."
Early devotees included Mitchell and film director Robert Altman, who used his songs prominently in his 1971 movie "McCabe and Mrs. Miller."
His second album, "Songs from a Room," included two staples, "Bird on the Wire" and "The Story of Isaac," but Cohen's audience began to dwindle to a core of cognoscenti. And because he labored long and intensively over his songs, struggling to find the perfect words, long gaps separated his releases.
After "Live Songs" in 1973, he was a stranger to the sales charts. Depressed and desperate in the mid-'70s, he teamed with volatile producer Phil Spector to record the 1977 album "Death of a Ladies Man," a polarizing work that was praised by some for its daring but dismissed by most as a misfired collaboration.
It didn't turn things around for him, but interest in his work was renewed when pop singer Jennifer Warnes, a former collaborator and backing vocalist, released "Famous Blue Raincoat," an acclaimed 1987 album of Cohen material.
With his own engaging and often humorous album "I'm Your Man" following in 1988, Cohen soon found himself the object of tribute albums and effusive praise from that new generation. He was especially popular in Europe, where his persona fit the tradition of the romantic, world-weary cabaret singer.
Cohen stepped away from the resurgence in 1993 when he moved into the Mt. Baldy Zen Center near Los Angeles for several years. A longtime student of Rinzai Zen Buddhism, he was ordained a monk in 1997.
Cohen continued releasing albums in the early 2000s, but his plans for retirement hit a snag when he discovered that his former business manager, Kelley Lynch, had drawn $5 million from his savings. Cohen filed suit in 2006 and was granted a default judgment of $9 million in Los Angeles County Superior Court, but he was never able to collect from Lynch.
With his funds depleted, Cohen, who kept homes in Montreal and Los Angeles, returned to the road at age 73, in Europe and the U.S. in 2008 and 2009. The strain sometimes showed — Cohen fainted on stage in Barcelona in 2009 — but a 2009 album, "Live in London," was recorded during the tour.
Despite his burdens, Cohen had seemingly left the grocer of despair far in the past, happy in the relationship with singer Thomas, which began in 1999.
"I don't know what happened," he said in a 2007 interview. " ... That background of distress dissolved. I'm worried now that my songs are too cheerful because I'm feeling well. I think I may be irrelevant pretty soon."
Times staff writer August Brown contributed to this report.
MORE FAMOUS DEATHS
Kay Starr, who lit up 1950s pop radio with 'Wheel of Fortune' and 'The Rock and Roll Waltz,' dies at 94
James Galanos, whose gowns were worn by Nancy Reagan, Judy Garland and Heidi Klum, was 'America's couturier'
Norman Brokaw, talent agent who represented Marilyn Monroe and Elvis Presley, dies at 89
Sign up for Essential California for the L.A. Times biggest news, features and recommendations in your inbox six days a week.
You may occasionally receive promotional content from the Los Angeles Times.