Hugh O'Brian, actor who played Wyatt Earp, dies at 91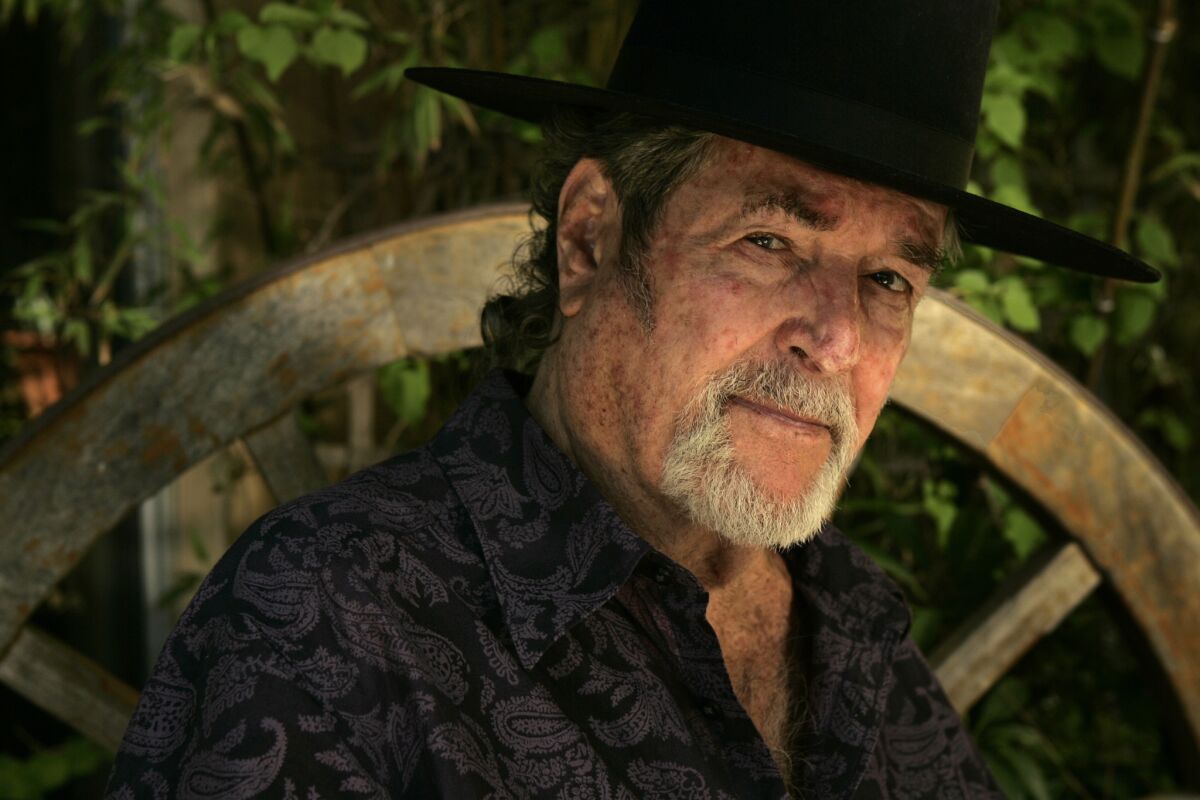 Hugh O'Brian, who helped tame the Wild West as the star of TV's "The Life and Legend of Wyatt Earp" and was the founder of a long-running youth leadership development organization, has died. He was 91.
O'Brian, who had several health issues, died Monday morning with his wife nearby at their Beverly Hills home, his publicist Harlan Boll said.
Handsome, square-jawed and athletically fit, the dark-haired O'Brian appeared in a string of movies and TV anthology series in the years before he became a star portraying the real-life Old West peace officer on "The Life and Legend of Wyatt Earp," which ran on ABC from 1955 to 1961.
TV's first adult western, "Wyatt Earp" became a top 10-rated series and made O'Brian a household name.
Portraying what the show's theme song described as the "brave, courageous and bold" frontier lawman, O'Brian wore a black frock coat, a gold brocade vest, a string tie and a flat-brimmed black hat — and he kept the peace with the help of a "Buntline Special": a .45 revolver with an extra-long barrel.
I decided right then I didn't want to go through life being known as Huge Krape, so I decided to take my mother's family name, O'Brien. But they misspelled it.
— Hugh O'Brian
Actor Hugh O'Brian at a memorabilia and collectible show in Burbank in February 2010.
(Gary Friedman / Los Angeles Times)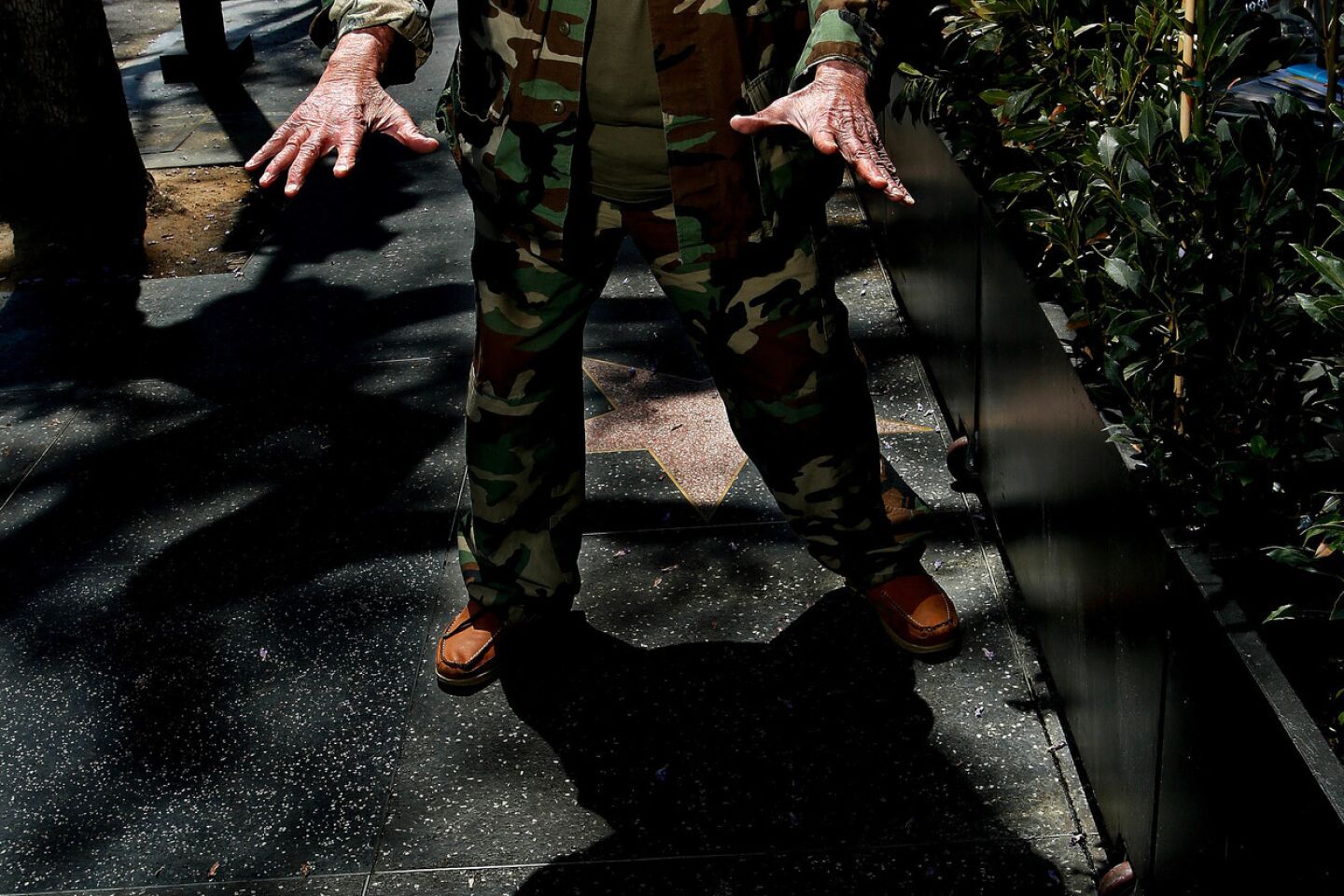 Hugh O'Brian stands near his star on the Hollywood Walk of Fame in June 2013.
(Mel Melcon / Los Angeles Times)
Actor Hugh O'Brian on Aug. 6, 2009. The actor changed his name from Hugh Krampe after a playbill botched the spelling of his last name.
(Ricardo DeAratanha / Los Angeles Times)
In portraying Earp, O'Brian became known for his fast draw.
"I didn't want to force them into having to cut away whenever that happened; I wanted it to be realistic," the actor said in a 2005 "Archive of American Television" interview.
He spent hundreds of hours practicing the quick draw, the result of which, he said, "became a very big promotional tool ... and everybody talked about the quick draw."
During the series' run, O'Brian received an Emmy nomination and became so identified with his dead-shot TV character that he did his best to keep the name O'Brian separated from Earp.
He did it by doing a lot of outside acting — on anthology series such as "Playhouse 90" and "Desilu Playhouse" — as well as guest appearances on TV variety shows and a stint on Broadway starring in the musical comedy "Destry Rides Again."
Decades later, O'Brian showed up as Earp in two 1989 episodes of the TV western "Paradise." He also appeared as Earp in the 1991 Kenny Rogers TV miniseries "The Gambler Returns: The Luck of the Draw". And he starred in "Wyatt Earp: Return to Tombstone," a 1994 TV movie that included flashbacks to scenes from his old series.
As O'Brian once said of the TV western that made him a star: "It's been a great horse, and she keeps coming around the corral."
Among his post-"Wyatt Earp" movie credits were "Come Fly With Me," "Africa — Texas Style," "The Shootist" and "Twins." He also starred in the 1972-73 NBC adventure series "Search," did more stage work and made guest appearances on series such as "Fantasy Island" and "The Love Boat."
But O'Brian's most enduring legacy is off-screen.
More than 375,000 high school sophomores selected by their schools have gone through his Hugh O'Brian Youth Leadership organization, which was founded "to inspire and develop our global community of youth and volunteers to a life dedicated to leadership, service and innovation."
The nonprofit organization grew out of an invitation to O'Brian from Dr. Albert Schweitzer to visit the medical missionary, a 1952 Nobel Peace Prize recipient, at his famed hospital in Africa.
O'Brian spent nine days working as a volunteer at the hospital on the banks of the Ogooue River in Gabon during the summer of 1958.
For O'Brian, it was a life-changing experience.
After dinner each evening, he and Schweitzer would spend hours talking.
As O'Brian was getting ready to depart down river, he later recalled, Schweitzer took his hand and asked, "Hugh, what are you going to do with this?"
On his flight back to the United States, O'Brian reflected on Schweitzer's comment that "the most important part of education is teaching young people to think for themselves."
"While the entertainment industry has lost one of its own and the baby boomers have lost their Wyatt Earp," a statement on the HOBY website said Monday, "we will remember Hugh as a person who dedicated his life to inspiring a global community of youth and volunteers committed to leadership, service and innovation."
O'Brian was born Hugh Krampe in Rochester, N.Y., on April 19, 1925. He enlisted in the Marine Corps in 1943 and was assigned as a drill instructor in San Diego.
With hopes of becoming a lawyer, O'Brian was scheduled to begin attending Yale University on the G.I. Bill in the fall of 1947. He spent the spring and summer in Los Angeles, working to earn enough money to buy a car to drive East, but had an unexpected change of plans when the actress he was dating began rehearsals for the Somerset Maugham play "Home and Beauty" at the Wilshire Ebell Theatre.
"If I wanted to see her, I had to go to rehearsals," he recalled in a 2009 interview with The Times.
When the leading man didn't show up on the second or third night of rehearsals, O'Brian was asked to read the leading man's role.
"After about four days, they realized the guy wasn't going to come back ... so the director asked me if I would do the role.... We did the show and a reporter for the L.A. Times came down to see it and the next day, he wrote a tremendous review ... That's how I got started."
The show's playbill, however, misspelled his name.
"They left the 'm' out of Krampe,'" he said in a 2013 Times interview. "I decided right then I didn't want to go through life being known as Huge Krape, so I decided to take my mother's family name, O'Brien. But they misspelled it as 'O'Brian' and I just decided to stay with that."
A third-billed starring role as a wheelchair-bound paraplegic in the Ida Lupino-directed 1950 movie drama "Never Fear" marked what O'Brian later described as his "real beginning" as an actor. A contract with Universal followed.
O'Brian was a one of the founders of the Thalians, a show-business charitable organization formed in 1955 to raise money for children with mental health problems. In 1964, he established the Hugh O'Brian Acting Awards competition at UCLA.
In 2006, O'Brian married for the first time.
In what was described as "the wedding to die for," he and his longtime girlfriend, the former Virginia Barber, were married at Forest Lawn Memorial-Park in Glendale.
O'Brian is survived by his wife, Virginia, brother Don Krampe and seven nieces and nephews.
McLellan is a former Times staff writer.
ALSO
Hugh O'Brian reflects on journey from Hollywood window washer to star
'Wyatt Earp' gets an assist from reporter, photographer
Gene Wilder dies at 83; 'Willy Wonka' star and Mel Brooks collaborator
Veteran actor Jon Polito dies at 65; starred in 'The Big Lebowski,' 'Miller's Crossing'
---
UPDATES:
1:45 p.m.: This article was updated with confirmation of O'Brian's death by his publicist.
This article was originally published at 12:05 p.m.
Must-read stories from the L.A. Times
Get the day's top news with our Today's Headlines newsletter, sent every weekday morning.
You may occasionally receive promotional content from the Los Angeles Times.