Alan Rickman dies at 69; British star of 'Die Hard' and 'Harry Potter' films
When the movie "Robin Hood: Prince of Thieves" opened in 1991, critics laid waste to the Hollywood adventure epic, lambasting the movie's interminable running time, faux medieval dialogue and star Kevin Costner's meandering accent.
But amid the pans, reviewers singled out British actor Alan Rickman for his comic take on the villainous Sheriff of Nottingham. He stole scenes with his zany mugging and sarcastic eye-rolling, they said. "It's a relief" whenever he's on screen, wrote a Variety critic, "such is the energy and brio he brings to the proceedings."
The performance, which earned the actor a BAFTA Award, exemplified what Rickman was capable of doing with the stock bad guy roles that the studios so often threw his way.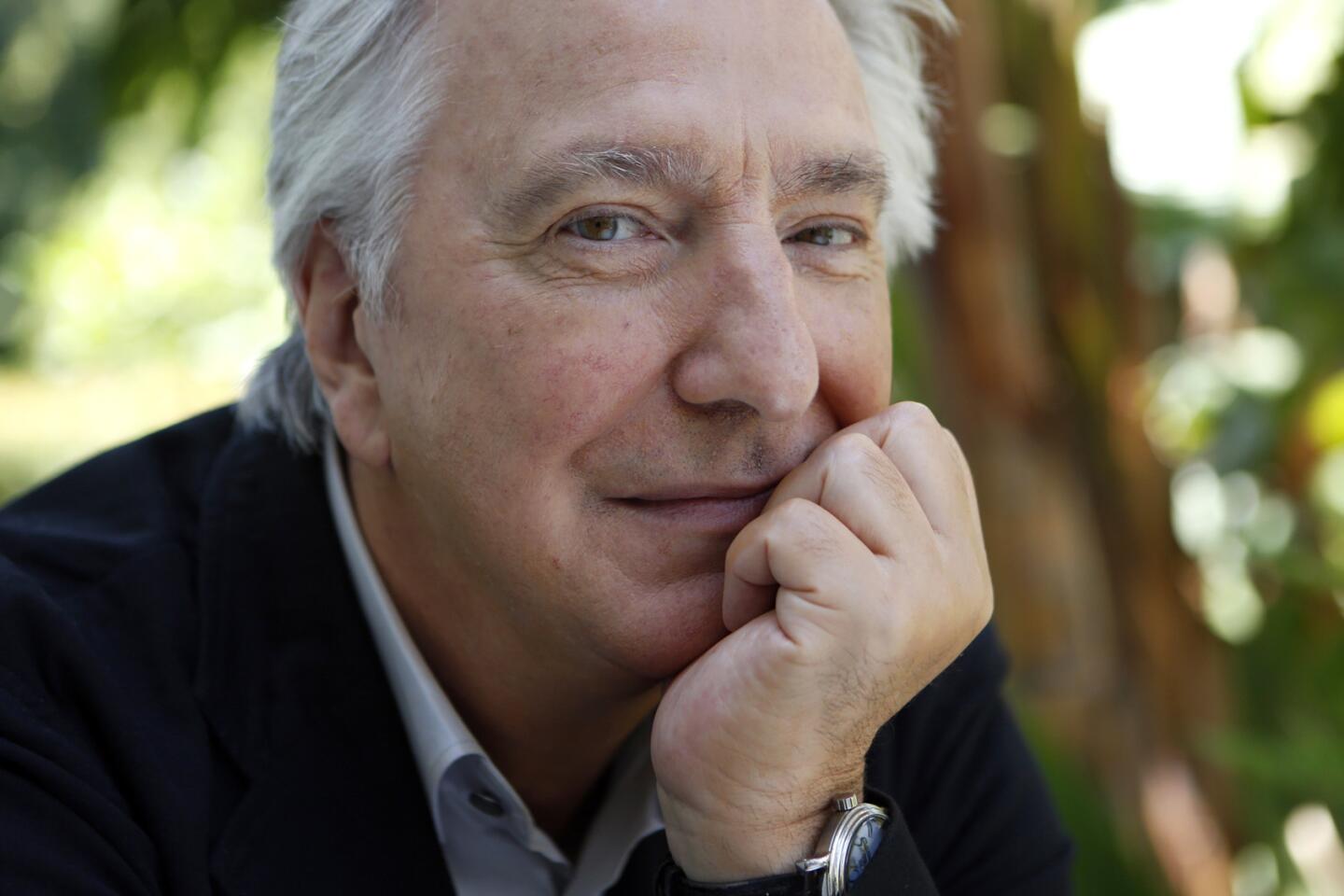 British actor Alan Rickman is photographed at the Sunset Marquis in West Hollywood on June 22, 2015.
(Francine Orr / Los Angeles Times)
Rickman won a Golden Globe in 1997 for his role in the HBO film "Rasputin: Dark Servant of Destiny."
(Robert Gauthier / Los Angeles Times)
Alan Rickman with his best actor Emmy for his work in "Rasputin."
(Patrick Downs / Los Angeles Times)
Alan Rickman in New York in 2011.
(Jennifer S. Altman / For The Times)
Possessing a mellifluous baritone and a congenital sneer that could signal aristocratic hauteur, Rickman invested these dark, forbidding characters — from "Die Hard" to the "Harry Potter" movies — with alluring complexity and a winking self-awareness.
Rickman, who also earned acclaim on stages in London and New York, died on Thursday. He was 69.
His death was confirmed by his agency, the Independent Talent Group. The actor died in London after a battle with cancer, according to his U.S. publicist.
In a career that encompassed everything from big-budget Hollywood movies to classical theater, Rickman made bad behavior fascinating to watch.
One of his earliest successes was as the predatory French aristocrat Le Vicomte de Valmont in the original production of "Les Liaisons Dangereuses" by Christopher Hampton. The play, costarring Lindsay Duncan, was produced by the Royal Shakespeare Company in 1985 and later transferred to Broadway, where Rickman received a Tony Award nomination.
Hollywood took notice. Rickman was cast in "Die Hard" as Hans Gruber, a German terrorist wreaking havoc in a Los Angeles skyscraper who faces off with Bruce Willis. Other villain roles followed, but Rickman maintained that he has always been drawn to the actor's function as a narrative conduit.
"It might not be great, it might not be perfect, but it does answer the human need to sit there together and be told a story," he told The Times in 2011.
In the "Harry Potter" series, Rickman played Professor Severus Snape, a coldly hostile Hogwarts instructor who was one of Harry's main antagonists. The actor appeared in all eight of the "Potter" movies.
On Twitter, "Harry Potter" author J.K Rowling remembered Rickman as "a magnificent actor" and "wonderful man."
Rickman could use his deep voice and snobby aura to comic effect, as in his last Broadway appearance in the 2011 play "Seminar," in which he played an arrogant writer who deigns to teach an adult education course.
His comic skills were also put to memorable use in the 1999 movie "Galaxy Quest," in which he played a has-been actor from a "Star Trek"-like franchise.
Born to a working-class family in London, Rickman wasn't destined for the spotlight. His father, Bernard, was a factory worker who died when the young Rickman was only 8. His mother, Margaret, was a housewife who raised her four children on her own.
Rickman began his working life in the graphic design field and even co-founded a design company. But he decided to devote himself to acting upon enrolling at the Royal Academy of Dramatic Art on a scholarship.
As a young man, he played Shakespearean roles and other classical parts in companies throughout Britain.
Even after his success in movies, Rickman returned to the stage. He received a second Tony nomination for a 2002 revival of Noel Coward's "Private Lives," also costarring Duncan.
On screen, Rickman proved that he could be a subtle dramatic actor in movies as diverse as "Truly Madly Deeply" and "Sense and Sensibility."
Later in his career, he turned to directing movies. He directed Emma Thompson, a friend and frequent costar, in the 1997 movie "The Winter Guest." His costume drama "A Little Chaos," starring Kate Winslet, opened in theaters last year.
Before he died, the actor filmed a role for "Eye in the Sky," a contemporary movie about drone warfare, starring Helen Mirren, that is set to be released in March. The two actors previously appeared in a popular but critically derided production of Shakespeare's "Antony and Cleopatra" at the National Theatre in 1998.
Rickman is survived by his wife, Rima.
For all the intimidating characters that he took on, Rickman maintained that he was not the people he played.
Those characters "are just people to me," he once told The Times. "I'm a lot less serious than people think."
Twitter: @DavidNgLAT
ALSO:
Alan Rickman in the eyes of his 'Harry Potter' family: 'the finest of actors,' 'extremely kind,' 'funny'
David Bowie, transformative musician and multi-dimensional artist, dies at 69
Oscars 2016: Complete list of nominees
About those Jimmy Fallon drinking-problem rumors ...
Get the Indie Focus newsletter, Mark Olsen's weekly guide to the world of cinema.
You may occasionally receive promotional content from the Los Angeles Times.