Jerry Parr, Secret Service agent credited with saving President Reagan's life, dies at 85
President Reagan waves just before he was shot outside a Washington hotel in 1981. Secret Service Agent Jerry Parr, left, shoved Reagan into the presidential limo immediately after the shooting.
(Michael Evans / Associated Press)
A photo taken moments after President Reagan was shot shows him being shoved into the president's limousine by Secret Service agent Jerry Parr.
(Ron Edmonds / Associated Press)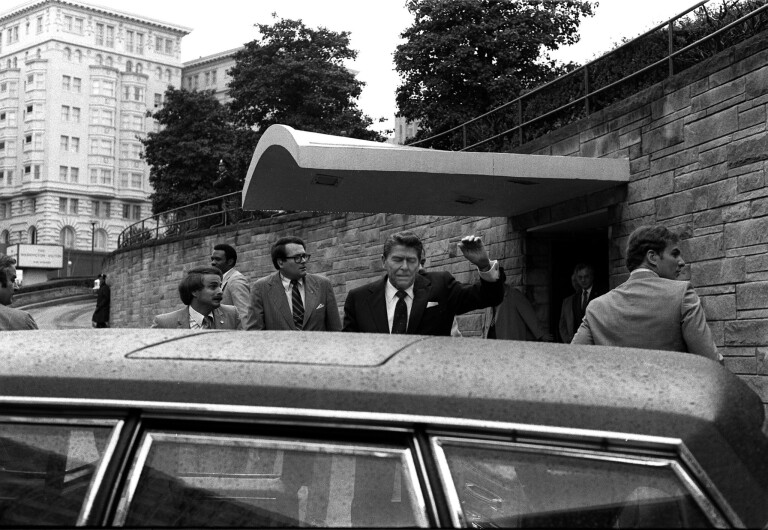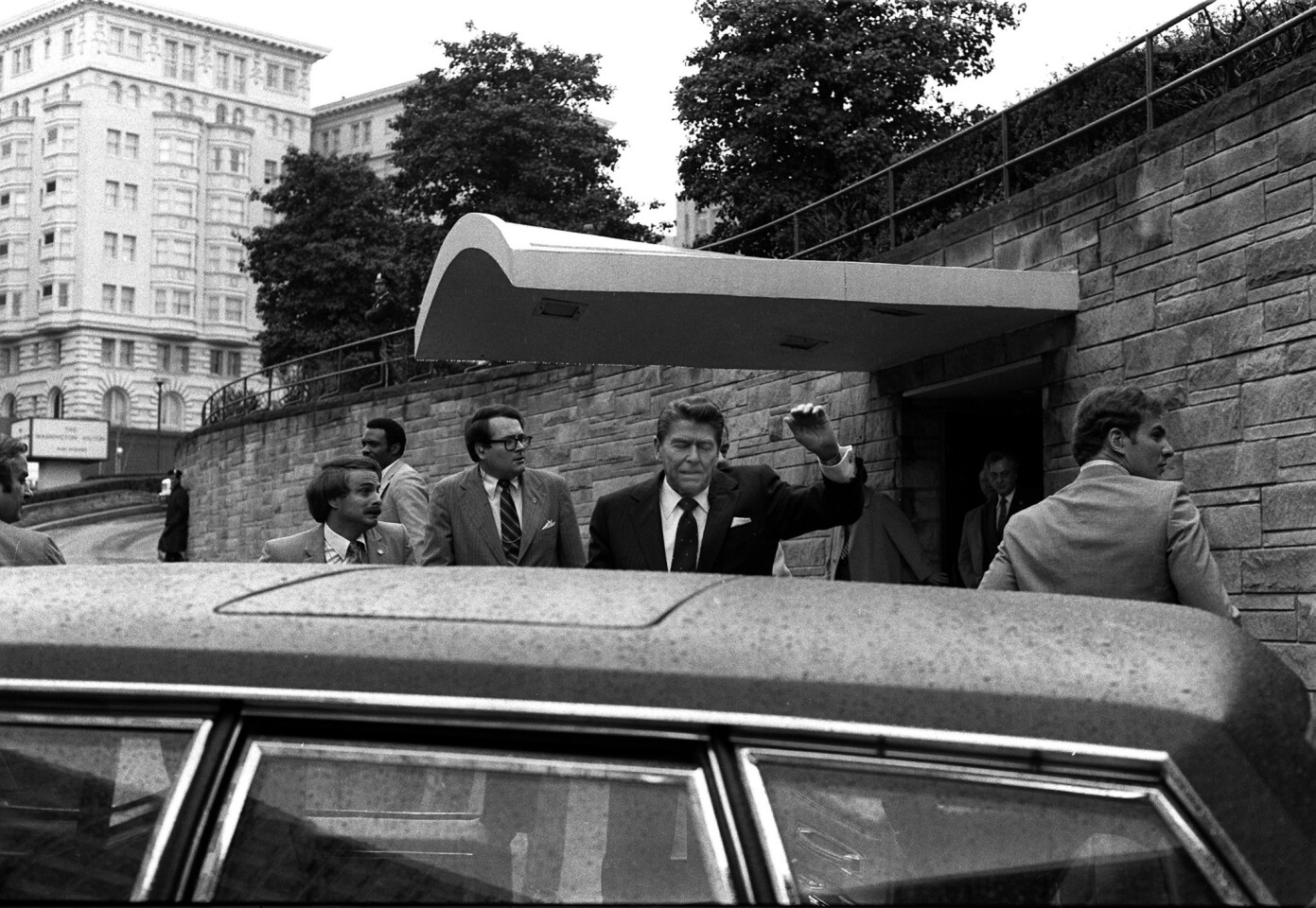 President Reagan is hurried into the limousine after being shot March 30, 1981.
(Ron Edmonds / Associated Press)
Secret Service agent Jerry Parr, right, hurries President Reagan into the bullet-proof limousine.
(Ron Edmonds / Associated Press)
Secret Service agents rush President Reagan into his limousine to be driven to the hospital.
(Ron Edmonds / Associated Press)
Jerry Parr, the Secret Service agent who shoved President Reagan into the back of the presidential limousine and ordered the car to the hospital during the 1981 assassination attempt, died Friday at a hospice in Washington. He was 85.
The cause was congestive heart failure, said his wife, Carolyn.
Parr was chief of the Secret Service detail when John Hinckley fired six shots outside the Washington Hilton. One bullet richocheted off the limousine and hit the president, who arrived at the hospital and famously told First Lady Nancy Reagan, "Honey, I forgot to duck."
Reagan later recovered from his wounds.
"Jerry Parr was one of my true heroes," Nancy Reagan said in a statement Friday. "Without Jerry looking out for Ronnie on March 30, 1981, I would have certainly lost my best friend and roommate to an assassin's bullet."
Born Sept. 16, 1930, in Montgomery, Ala., Parr grew up in Miami, where he watched Reagan as Lt. Brass Bancroft in the film "Code of the Secret Service."
More than 40 years later, the actor became president and Parr, a beetle-browed Walter Matthau look-alike, was thrust briefly into the Hollywood-like role of American hero.
In a photograph taken an instant after Hinckley fired his 22-caliber handgun outside the Washington Hilton Hotel, Parr and Reagan are visible over the top of the presidential limousine. Parr is grimacing, his eyebrows arched, left hand against the left shoulder of a recoiling Reagan.
As the president turns to look for his attacker, Parr gazes directly into the bullet-proof limousine. Parr called this his "counter-instinctive behavior."
"If you were running track, you would not turn and look at the starter," he said. "The gunfire is the starter ... You don't need to look over there."
Parr landed on top of Reagan, who hit the car's transmission hump hard. Reagan didn't know a flattened Devastator slug had bounced off a rib and lodged an inch from his heart.
After telling the driver to go back to the White House, Parr ran his hands over Reagan's body, but found no injury.
Then he noticed bright red blood on Reagan's lips, which his Secret Service medical training told him must have come from the president's lungs. He told the driver to head for George Washington University Hospital. The president had already lost three pints of blood when he staggered into the emergency room.
Protecting VIPs from every conceivable threat, Parr said, "is like eating a chicken gizzard. The more you chew it, the bigger it gets."
Parr saw his job as more than isolating the president in a cocoon. In 1985, an aide to Jimmy Carter told The Times about an overseas trip by the former president, who wanted to go to an island near Venice to talk with an order of monks.
At midnight, while Carter slept, staff members broached the idea and at 1:15 a.m., Parr and the staff members took a boat to the island and woke up the monks, who said they would be glad to meet Carter at 6 a.m.
"Those were the things, if you pulled it on a normal agent, they would just give you a flat no," said Mike Pohl, a member of Carter's White House press staff. "He could have found 11 reasons why it couldn't be done. Jerry was willing to go that extra step."
"He was humble but strong, reserved but confident, and blessed with a great sense of humor," Nancy Reagan said in her statement. "It is no wonder that he and my husband got along so well."
In addition to his wife, Parr is survived by daughters Kimberly Parr, Jennifer Turek, Patricia Parr and four grandchildren.
Times staff writers Elaine Woo and David Colker contributed to this story.
---
Must-read stories from the L.A. Times
Get the day's top news with our Today's Headlines newsletter, sent every weekday morning.
You may occasionally receive promotional content from the Los Angeles Times.