Military jet slams into San Diego neighborhood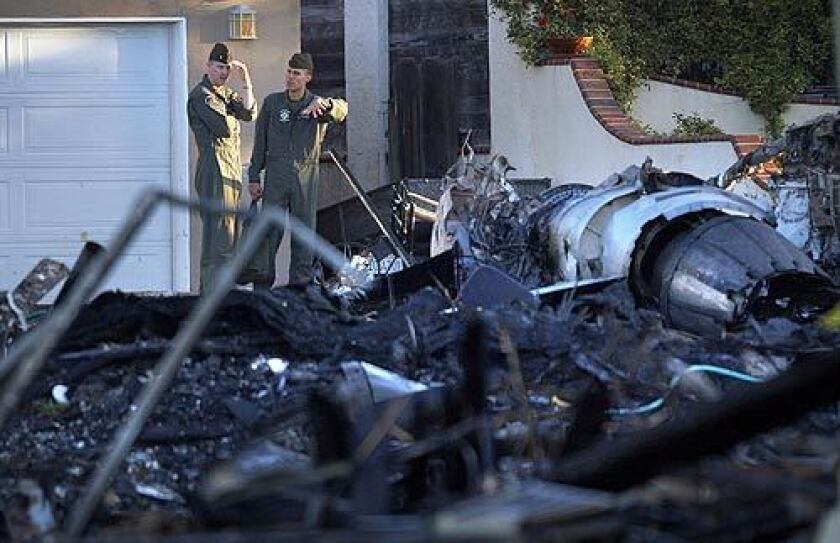 Reporting from San Diego —
It was meant to be a routine training mission: a young Marine pilot sharpening his skills flying an F/A-18D Hornet from the aircraft carrier Abraham Lincoln off the San Diego coast.
But as the plane lifted off the carrier deck, the pilot quickly knew he was in trouble, possibly with a malfunction in one of the plane's engines. He radioed the air controller at Marine Corps Air Station Miramar, who ordered an emergency landing attempt.
As the plane crossed over land at Torrey Pines en route to Miramar, more problems struck, including possible "flame out" of a second engine. The plane lost altitude and began to wobble.
Residents of the University City neighborhood west of Miramar, accustomed to the sight of warplanes overhead, looked up and knew something was terribly wrong.
Within seconds, the plane nosed downward and picked up speed, clipping the top of a jacaranda tree and smashing into a Cather Avenue home where a mother, a grandmother and two children lived. Skid marks could be seen on the driveway.
Three of the people in the home were later confirmed dead, and the fourth missing. Burning debris and the smell of jet fuel spread in all directions.
Three houses and four vehicles were destroyed by flames, 20 homes were evacuated and University City was covered in thick, acrid black smoke. Neighborhood schools were put on lockdown as officials scrambled to find the cause of the explosions and fireball.
The pilot had parachuted moments before the crash, landing safely in a tree between the homes and Interstate 805 about two miles from Miramar. Neighbors said they saw the pilot wandering around in a daze.
Jason Widmer, who was working in the neighborhood, talked to the pilot after he ejected and landed. The pilot said he had tried to steer into a brushy canyon to avoid homes.
"He was pretty shook up," Widmer said. "And pretty concerned if he had killed anyone. He had seen his bird go into a house."
The Marine Corps said the pilot, described as a lieutenant in his 20s, was taken to Naval Medical Center San Diego with minor injuries.
John Kreischer, 62, was returning home from taking pictures at La Jolla Cove when he spotted the plane only 300 to 500 feet in the sky shortly before noon.
"It was mushing through the air," Kreischer said. "It was chugging along with what seemed like one engine. Then I heard a roar of engine and all of a sudden, whoop, dead silence.
"This guy could have turned it around and put it in the ocean. He was never going to make it to Miramar."
More than 100 firefighters were on the scene within minutes, along with crash specialists from the Marine Corps and dozens of San Diego police.
"My heart goes out to the family of the victims and to the community of University City," Mayor Jerry Sanders said.
Marine officials said that the pilot was part of a training squadron and that he was trying to aim the plane at a deserted canyon to avoid slamming into homes or Interstate 805.
Marine Col. Chris O'Connor pledged an in-depth investigation and to see "that the neighborhood is cleaned up as quickly as possible."
Students at University City High were eating lunch when they saw the F/A-18D. "It was coming in too low," student Mike Scott said. "It was like the plane hit a wall: It went straight down."
Vanessa James, a neighbor, was taking out her trash when she heard a high-pitched boom.
"I heard the boom, came out and saw a parachute coming out over a house into a canyon," she said.
Paulette Glauser, a neighbor, said she saw the homes and cars on fire and people running away from the flames.
"One girl was hysterical," Glauser said. "I got her a blanket and water. The explosion was so loud and so horrifying."
Glauser thought of the pilot: "Can you imagine what's going through his head when he's ejecting and he sees his plane going down into a neighborhood?"
Military bomb specialists were combing the area for the second ejection seat, which has an explosive charge. Though the plane normally has a crew of two, only a pilot was aboard for the training mission. The plane was not carrying bombs, the Marines said.
The San Diego Police Department asked that anyone who might have spotted a piece of debris to leave it alone and call the police.
Part of the plane landed on the roof of a home and other parts were spread over two miles.
Widmer, who owns a home-cleaning firm, said the pilot was dazed but talkative and remorseful that he had been unable to avoid hitting houses.
Widmer, who served in the Navy, said he tried to comfort the pilot.
"I told him, 'Hey, when you lose an engine, you're at the mercy of gravity' ," he said. "I tried to help him, as I would any shipmate."
Marosi and Perry are Times staff writers.
richard.marosi
@latimes.com
---
The stories shaping California
Get up to speed with our Essential California newsletter, sent six days a week.
You may occasionally receive promotional content from the Los Angeles Times.