Newsletter: Counter: Filipino cuisine, rosé for everybody
It's maybe time to take a break from thinking — and watching and reading — about politics and think about food. Because whatever your belief system, this much excitement can make you hungry. Fortunately, there are some pretty great restaurants to go to, including a happy number of them in the same place in Chinatown. This week Jonathan Gold reviews a Filipino pop-up restaurant in the Far East Plaza (home of Chego, Pok Pok Phat Thai and the recently reviewed Howlin' Ray's) that's open only on the weekends.
In other news, we consider the world of rose wines, a food truck that has some great Southern-style sandwiches, a Hermosa Beach restaurant and some fields of grain a hundred miles north of L.A. — because your grain bowls, loaves of bread and pints of beer have their origins in fields of wheat, rye and barley.
Pinoy-California cooking in Los Angeles
Jonathan visits Lasa, the pop-up restaurant project from brothers Chad and Chase Valencia that's been in residency at Alvin Cailan's kitchen incubator in the Far East Plaza in Chinatown. There he finds some remarkable Filipino cuisine, in the form of four-course prix-fixe weekend dinners: "more or less the center of Pinoy-California cooking in Los Angeles at the moment."
A brief guide to pink wine
Wine writer Patrick Comiskey and a group of local wine experts consider rosé wines — specifically a primer for beginners, experts and weirdos. Yes, weirdos, which is a term used with much wine-drenched love. Writes Comiskey: "Rosés should be very, very dry. If not, then they're not doing their job, which is to refresh, quench thirst and stimulate the palate."
More fun with food trucks
If chicken sandwiches, country fried steak sandwiches and waffle fries with pulled pork (called Redneck Nachos) sound like your idea of a good time, Jenn Harris has the food truck for you. Ryan and Diana Lamon's Peaches' Smokehouse & Southern Kitchen truck is what happened when the couple competed in the TV show "Food Truck Face Off" — and won a food truck.
Where your grain bowls come from
Farm-to-table cuisine starts, of course, with the farmer. So this week we head to Tehachapi, where Alex Weiser and a group of local farmers and friends have spent the last three years working on the Tehachapi Heritage Grain Project. It's just the start, they hope, of a regional grain hub that can supply Los Angeles with locally produced heritage wheat and rye, as well as other grains.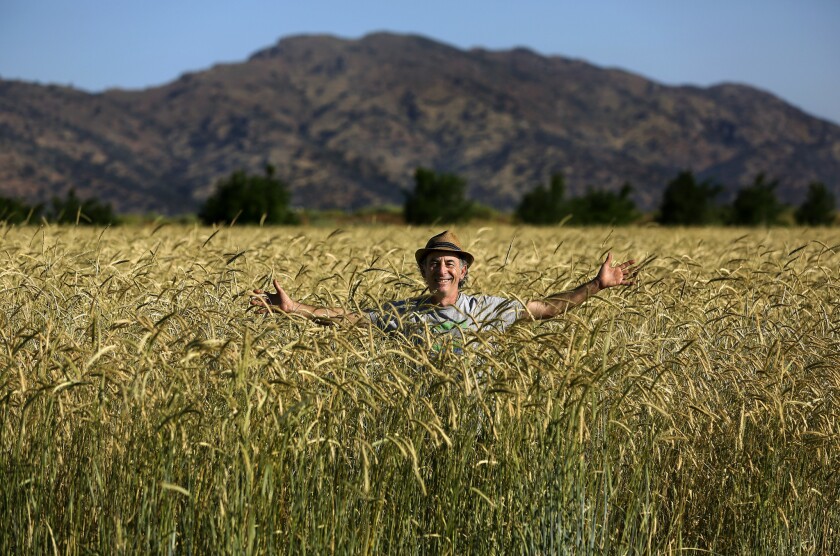 Where your dessert comes with beer
At Baran's 2239, a newish restaurant in Hermosa Beach, food writer Alex Golden finds a homey restaurant run by two brothers with many local connections (a Pasadena restaurant, a much-loved Tehachapi farm). While the atmosphere is casual and the beach nearby, what's on your plate is more ambitious — including beer pairings with your dessert.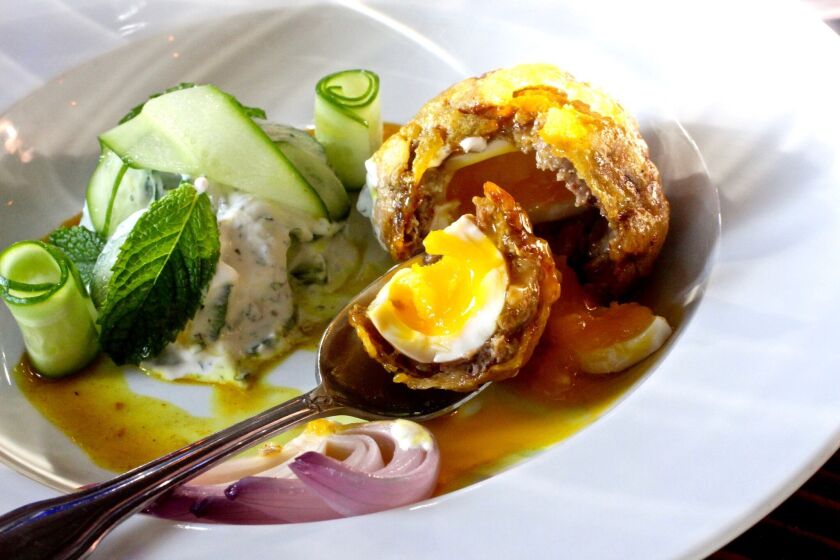 The Taste is coming: Our annual Labor Day food weekend, Sept. 2-4, will be here before you know it, and tickets are already available.
Jonathan Gold's 101 Best Restaurants, the authoritative annual guide to local dining, is online for subscribers.
Check us out on Instagram @latimesfood
In the Kitchen: Sign up for our weekly cooking newsletter
Check out the thousands of recipes in our Recipe Database.
Feedback?
We'd love to hear from you. Email us at food@latimes.com.
---