Newsletter: Chinese Islamic cuisine, spring wines, geranium cooking
Welcome to your weekend, likely long-anticipated. It's gorgeous out, of course, so it's a fine time to head to your local farmers market, where you'll find leeks, strawberries and, maybe if you're lucky, some rose geranium plants. You may have these in your backyard already, in which case, we have some recipes for you. It's also time for the Festival of Books, where you may find a few of your favorite authors.
If you're heading out to eat and are anywhere in or around Orange County, Jonathan Gold's latest review is of Mas' Chinese Islamic in Anaheim. Short ribs for everyone! Jenn Harris also give us her weekly restaurant news report and a look at banh mi sandwiches from a shack in a Silver Lake auto repair shop.
Halal Chinese cuisine
This week, Jonathan heads to Anaheim, to a restaurant that is part banquet hall, part family neighborhood joint. Meet Mas' Chinese Islamic. There he finds a lengthy menu of halal dishes, including plates of short ribs, a pretty great beef tendon stew and a giant tofu omelet dish recommended by the manager's mother. Yes, you will be taking home leftovers.
Spring wines from A to V
Wine writer Patrick Comiskey considers the wines of spring, specifically three bottles from A to V: an Austrian Riesling, Albariño and Vermentino. These are white wines, matured in neutral vessels, "dry, crisp, lean, mouthwatering wines with an emphasis on purity and freshness."
More ways to cook with your garden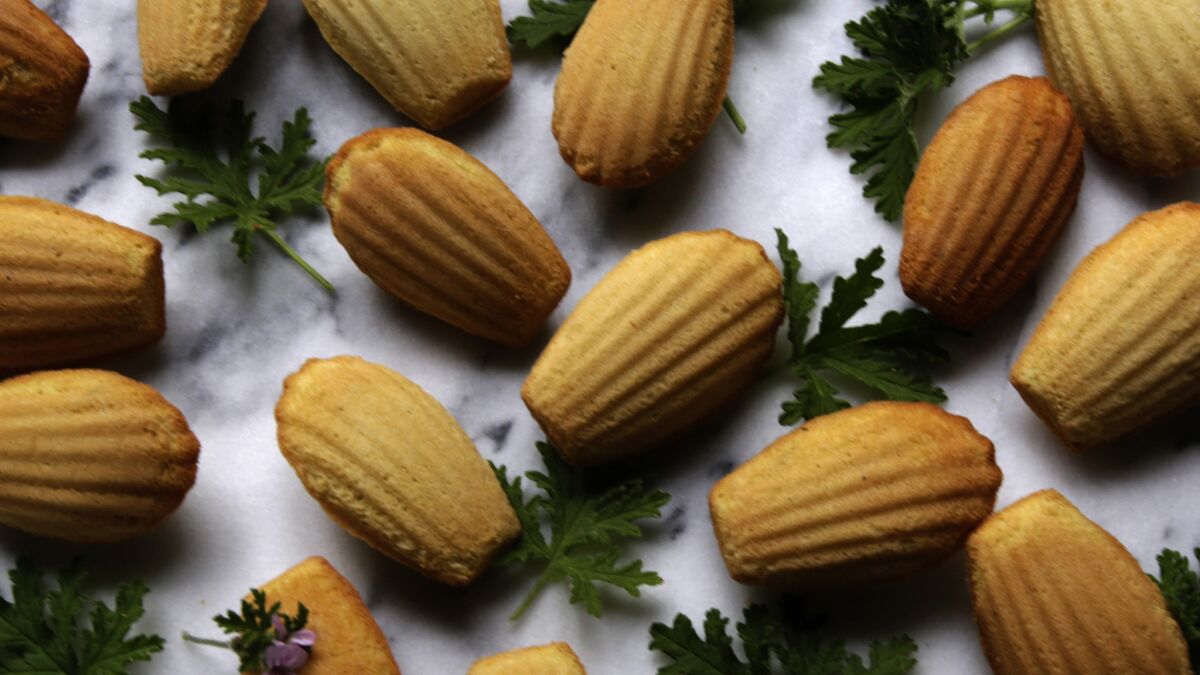 Got some rose geranium plants in your backyard? If you do, you may or may not know that you can cook with the highly aromatic leaves, even when the flowers aren't in bloom. Food writer and cookbook author Jeanne Kelley gives cooking tips and recipes, including jam, ice cream — and madeleines.
Cookbook of the Week
If you spend time in San Francisco, you've likely spent some of that time in line for Tartine, or Tartine Manufactory, the stellar bakeries from Elisabeth Prueitt and Chad Robertson. Prueitt has just come out with a new cookbook, "Tartine All Day," which we've reviewed. We also have Prueitt's recipe for spatchcocked chicken. Prueitt, by happy coincidence, is also at the Festival of Books today.
The Los Angeles Times Food Bowl: Want to spend 31 days exploring the food of this city through a Night Market, forums, dinners, films, pop-ups and more dining and drinking? A month-long food festival is coming to L.A. in May. Check out our cheat sheet to the festival.
Some upcoming Food Bowl events you won't want to miss: On April 30: Chef's Fable, in which Jonathan Gold hosts a conversation with Jon Favreau, Niki Nakayama, Magnus Nilsson, Roy Choi and David Gelb followed by a screening of "Chef." On May 5: A Food for Soul Forum hosted by Jonathan Gold featuring Massimo Bottura, Mario Batali, Roy Choi, Dominique Crenn and Mary Sue Milliken.
The Daily Meal, the food and drink website under the editorial direction of Colman Andrews, is now one of our partners. Check out their 101 best pizzas in America and other stories, recipes and videos.
Jonathan Gold's 101 Best Restaurants, the authoritative annual guide to local dining, is online for subscribers and now features his 2016 Best Restaurants. If you didn't get a copy of the booklet, you can order one online here.
Check us out on Instagram @latimesfood
Check out the thousands of recipes in our Recipe Database.
Feedback? We'd love to hear from you. Email us at food@latimes.com.
---