Newsletter: Of tacos and trattorias
It's the last weekend of July somehow, and our summer of excellent Italian food continues. In his new review, Jonathan Gold considers another of the high-profile Italian restaurants that have opened in L.A. recently, this time Felix Trattoria in Venice, chef Evan Funke's new temple of pasta. While you're waiting for your Felix reservations, you could do worse than make a Negroni and catch up on our restaurant critic's recent Italian catalog: Cosa Buona, Rossoblu, Pizzana, the Ponte.
If not pasta, then tacos — always tacos. So this week we check in on Lyft's plans to help you with your Taco Bell addiction and also give details on a local taquero's latest project, bringing Mexican food to Hong Kong. We have our weekly market report (green beans!), recipes for great bloody Marys, a market-driven cocktail, crab cakes and cornbread (which actually sounds like a pretty good brunch lineup), and a story about beer for rosé lovers. We also check in on Michael Voltaggio's restaurant shuffle, get a food scientist's take on the flavored oils trend, and highlight three upcoming food events worth noting — including a gyoza-eating contest. Or if you'd rather eat dumplings yourself, maybe just head to Daikokuya on your way to Dodger Stadium.
A pasta palace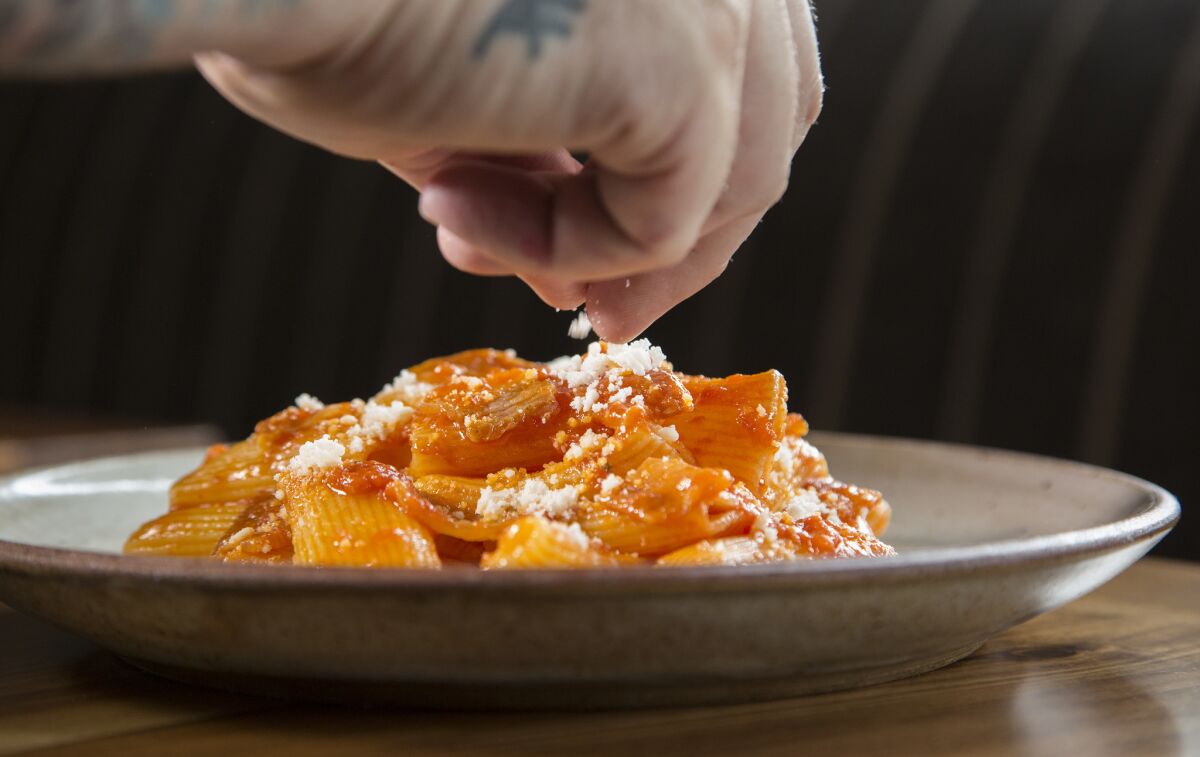 This week, Jonathan heads to Abbot Kinney and Felix Trattoria, Evan Funke's new Italian joint. Here our restaurant critic finds the chef rolling out sheets of pasta in the glassed-in temperature-controlled room, plates of orecchiette, trofie and pappardelle, not to say grilled octopus and a pretty impressive bistecca alla fiorentina. "You could probably watch this noodle ballet all night."
What's in your cruet?
Food and science writer Arielle Johnson considers flavored oils — not the pedestrian stuff of some supermarket shelves or Italian-ish restaurants, but the house-made concoctions that chefs have been playing with lately, made with burnt pine needles, seaweed, onion ash. And it's not hard to make your own, using coriander seeds or even burnt coconut, something that might ordinarily go to waste.
Translating tacos from L.A. to Hong Hong
Chef Esdras Ochoa has come a long way since he first started making tacos in a downtown L.A. parking lot. His Mexicali-style tacos first moved to a brick-and-mortar restaurant, Mexicali Taco & Co.; then he opened Salazar in Frogtown. Now he's moving farther afield — to Hong Kong, reports food writer Natalie Compton, where he's opening a restaurant in August.
Inking out one restaurant for another
Fans of Michael Voltaggio's modernist cooking will want to get to his flagship restaurant Ink this weekend, as the chef is closing his doors after dinner service on Sunday. But we won't have long to wait for his next project: Voltaggio means to open his next restaurant, Ink.well (named in part for the expanded bar program he's long wanted), in only a few weeks' time.
Ride-sharing fast food
Pit-stopping at your favorite drive-thru is a time-honored activity for many of us — in our own cars. And soon, as Deputy Food Editor Jenn Harris tells us, you will be able to have your Lyft driver stop at Taco Bell too. It's called Taco Mode, and if you're getting a Lyft in Newport Beach in early August, you can be among the first to test it out.
Strawberries and rye
Because sometimes it's fun to drink your market produce, Jenn checks in with bartender Brian Byrnes, of the new San Fernando bar in Glendale, and gets his recipe for what he calls a Strawberry W.C. Fields cocktail. Named for the late comedian, or rather his nose, the drink combines heady strawberry purée with Templeton rye and a few other things from the market, for when you need a little seasonal inspiration for your happy hour.
The Taste, our annual Labor Day food festival (this one is three days, not a whole month!) is returning to Paramount Studios. Check out the lineup, the demos and panels, the chefs and bartenders, and of course all the food. Tickets are on sale.
Goldbot: you can now talk to Jonathan Gold any time you want — or at least the robot version of him that now lives on Facebook Messenger. You can ask Goldbot for a personal restaurant recommendation based on location, type of food or price. The bot will also deliver Jonathan Gold's latest reviews straight to your device.
The Daily Meal, the food and drink website under the editorial direction of Colman Andrews, is now one of our partners. Check out their 101 best pizzas in America and other stories, recipes and videos.
Jonathan Gold's 101 Best Restaurants, the authoritative annual guide to local dining, is online for subscribers and now features his 2016 Best Restaurants. If you didn't get a copy of the booklet, you can order one online here.
Check us out on Instagram @latimesfood
Check out the thousands of recipes in our Recipe Database.
Feedback? We'd love to hear from you. Email us at food@latimes.com.
Get our L.A. Goes Out newsletter, with the week's best events, to help you explore and experience our city.
You may occasionally receive promotional content from the Los Angeles Times.