Of Nothingness, mocktails and halo-halo
We're in the brief but much-needed seasonal lull between back-to-school and Halloween, also known as a very good time to try that new restaurant down the street, and maybe cook up a couple of dishes you've been meaning to attempt at home.
For those who don't shy away from tire-sized bowls of chile oil, maybe head to San Gabriel for Nothingness, where restaurant critic Jonathan Gold finds plenty of Sichuan and Chongqing dishes. Or plan to attend a food event that, depending on your tastes, may include wheels of cheese, paella and beer, or a sampling of the best restaurants on the Eastside of the city.
We also have a story on the excellent Filipino dessert halo-halo from pastry chef Margarita Manzke of Republique and Sari Sari Store; directions for how to mix mocktails you'll actually want to drink; and a story on micheladas, the Mexican version of a Bloody Mary made with beer rather than vodka. So regardless of what you choose to indulge in — that spicy bowl of chile fish, the paella and beer festival, or a couple rounds of micheladas — it should be a very good week ahead.
INTO NOTHINGNESS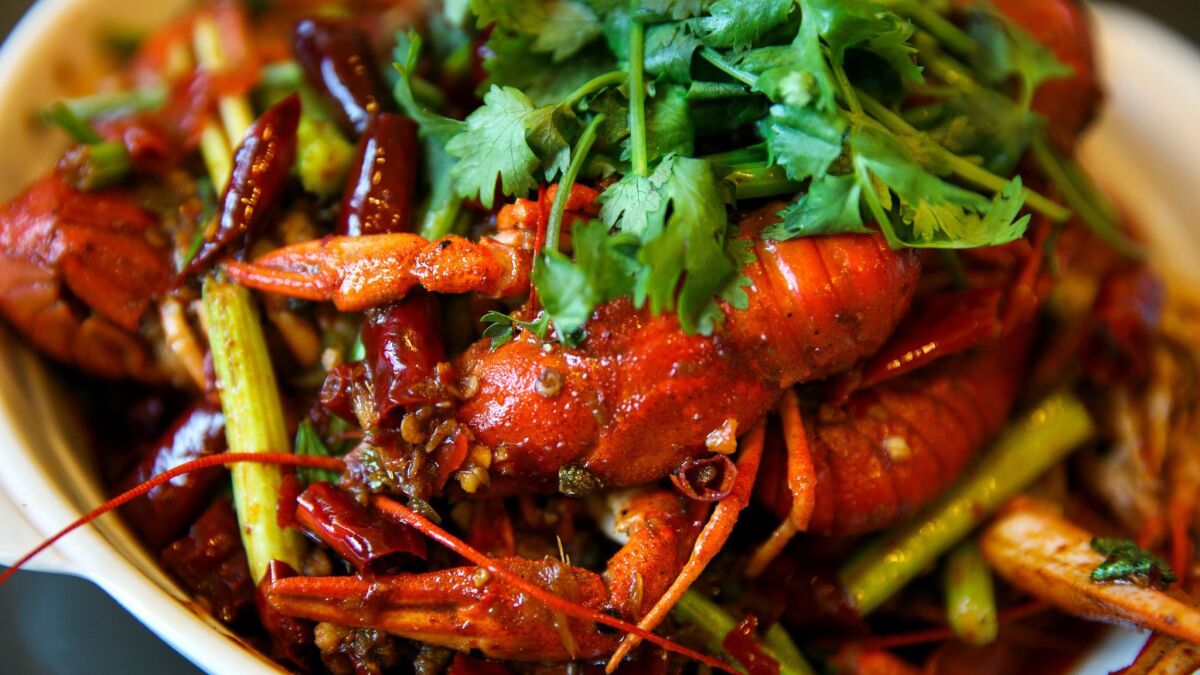 This week, Jonathan considers Nothingness. No, we're not referring to Jean-Paul Sartre's famous essay on free will, but a new San Gabriel restaurant that specializes in Sichuan and Chongqing dishes. Think lots of fish in mouth-numbing chile oil, and a fiery dish called Thunderbolt Frog.
SUGAR IN LAYERS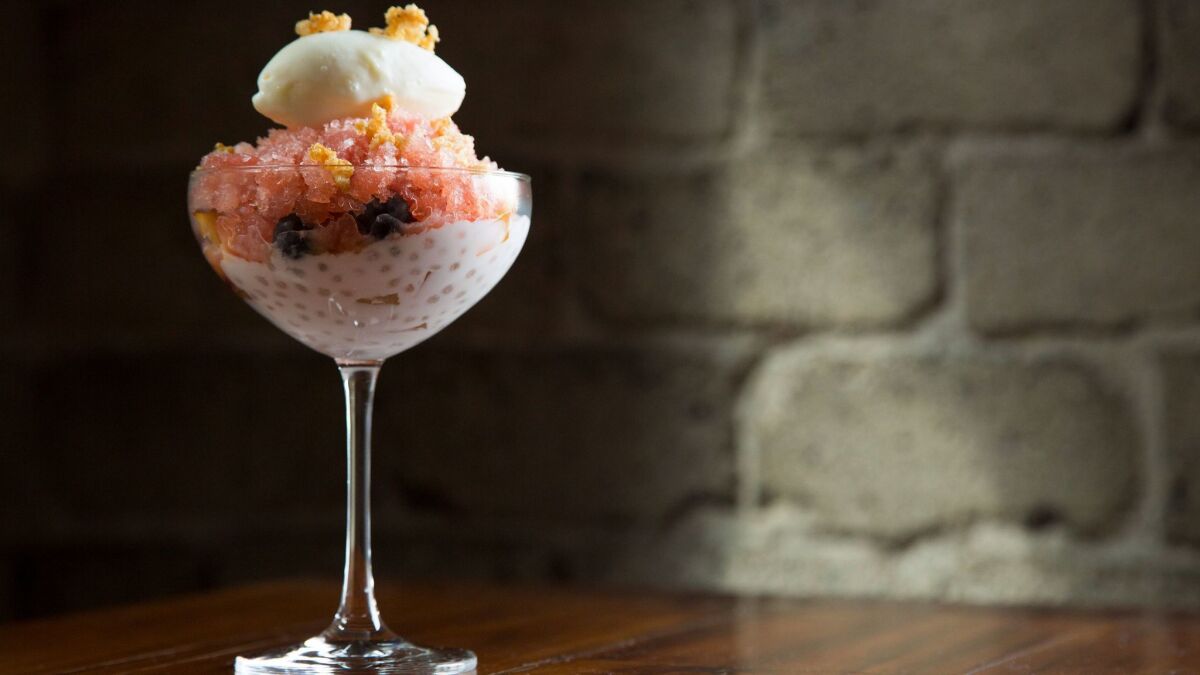 Margarita Manzke grew up eating halo-halo as a kid in the Philippines. Now she makes the stuff at both of her L.A. restaurants, Republique and Sari Sari Store. Food editor Amy Scattergood talked with Manzke about the importance of the dish; and, lucky for you, she also got Manzke's recipe.
MIXING UP MOCKTAILS
Gabriella Mlynarczyk, who is the drink architect behind some of the most Instagrammed and talked about libations in town, has turned her attention to mocktails, also known as cocktails made without alcohol. I spoke with her about what makes a good cocktail (alcoholic or not) and she shared a recipe for one of her favorites.
MARK YOUR CALENDARS
Now is as good a time as any to head to a food event. Why? Because I've got the details on four upcoming events, including Oozefest, a festival completely devoted to cheese; and the Paella and Beer Festival (which really needs no further explanation).
WHAT'S IN SEASON
Test Kitchen director Noelle Carter gives her weekly farmers market report, considering pears. Did you know that the Bartlett is the most common pear grown in California? Noelle has all the details, plus some great ideas, and recipes for how to use them, including the recipe for Euro Pane's pear spice cake.
Goldbot: You can talk to Jonathan Gold any time you want — or at least the robot version of him that lives on Facebook Messenger. You can ask Goldbot for a personal restaurant recommendation based on location, type of food or price. The bot will also deliver Jonathan Gold's latest reviews straight to your device.
The Daily Meal, the food and drink website under the editorial direction of Colman Andrews, is now one of our partners. Check out its city food guides, restaurant lists, food stories, recipes and videos.
Jonathan Gold's 101 Best Restaurants, the authoritative annual guide to local dining, is online for subscribers and now features his 2016 Best Restaurants. If you didn't get a copy of the booklet, you can order one online here.
Check us out on Instagram @latimesfood
Check out the thousands of recipes in our Recipe Database.
Feedback? We'd love to hear from you. Email us at food@latimes.com.
Get our L.A. Goes Out newsletter, with the week's best events, to help you explore and experience our city.
You may occasionally receive promotional content from the Los Angeles Times.