Newsletter: The Koreatown issue
If you've been spending the last week watching the Olympics, you're maybe feeling a bit nostalgic for snow — and very hungry for Korean food. Los Angeles may not have the former (though the skiing at Mammoth is better than you might think right now, given our depressing lack of precipitation), but we have a fantastic amount of the latter. Thus our Koreatown issue, a catalog of great restaurants, bars, markets, spas and more. We also have a cooking story and recipe from the mother of L.A.'s most famous Korean American chef, if you'd prefer dinner at home.
Instead of reviewing a single restaurant, this week Jonathan Gold checks out 38 of them, all in Koreatown. To pair with all that gamjatang, we also have a bar crawl, a market list, a tour of coffee shops and a detour into the network of spas that span the K-town neighborhood. If you're cooking at home while you watch the games, we also spotlight a portable gas stove, handy for making tableside dumplings — or adding to your earthquake preparedness kit. P.S. It's green garlic season at local farmers markets, not a bad thing to add to that pot of tteokbokki. Enjoy your weekend.
ESSENTIAL KOREATOWN RESTAURANTS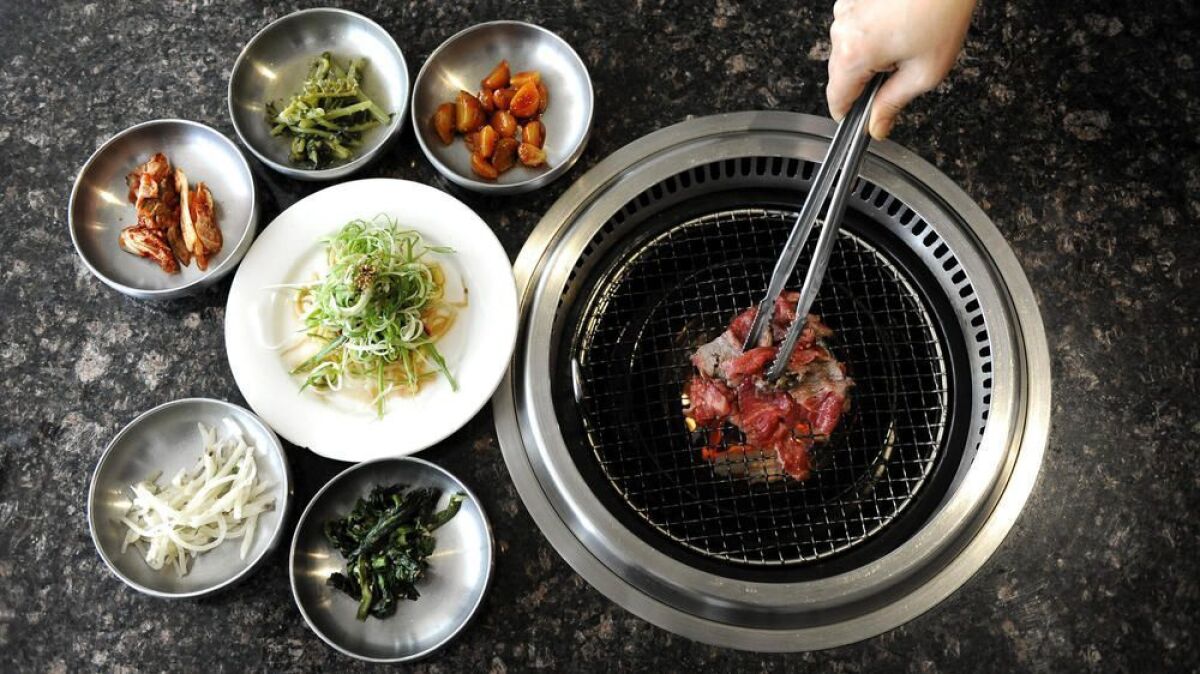 Koreatown packs a lot of restaurants into its few square miles, and Jonathan tours through 38 of his favorites. From porridge joints to barbecue specialists, to places that feature an array of dishes including budae jjigae, galbi jjim, gamjatang, bibim naengmyeon — and yes, Korean fried chicken. Pace yourself, even though our restaurant critic likely did not.
YOUR DRINKING GUIDE
Sure, you can find craft cocktail bars in K-town — and some fun dive bars too — but Koreatown is a great place for bars specializing in soju, the popular Korean liquor. Deputy Food Editor Jenn Harris does her own bar crawl, finding six bars, including one with a prison theme and one karaoke joint. Oh, and plenty of cheese corn.
COOKING WITH MOMMY CHOI
Recently Jai Nam Choi and her family came to The Times Test Kitchen to cook the homey Korean dish tteokbokki. You likely already know one of Choi's family members: her son Roy Choi, who has a number of L.A. restaurants and, most famously, his Kogi BBQ trucks. Choi, who goes by the nickname Mommy, gave us her recipe for the spicy rice cake dish.
A SPA CRAWL
Anybody read John Cheever's "The Swimmer" lately? (It's also a cult Burt Lancaster movie.) I traverse Koreatown's network of spas as Neddy Merrill did all those swimming pools — though fortifying myself with barley tea and porridge rather than backyard gin. L.A.'s Korean spas are great places for a soak, a scrub, a massage and maybe some food television. Many of them have in-house restaurants, or are adjacent to some great K-town noodle joints.
GETTING CAFFEINATED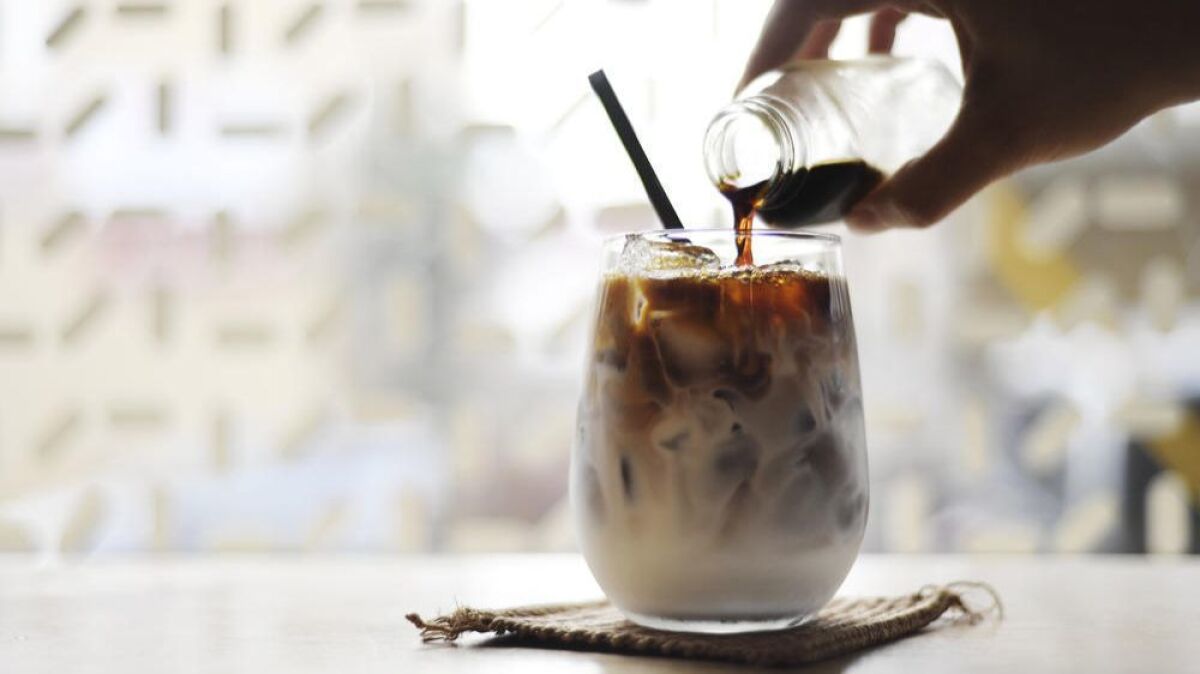 There's a lot to do in Koreatown, so much so that it helps to get properly caffeinated. A good pour-over or Gibralter is also a nice antidote to too much soju the night before. Food writer Tien Nguyen checks out the coffee scene, highlighting five particularly good coffee shops in the K-town neighborhood.
WHERE TO GO SHOPPING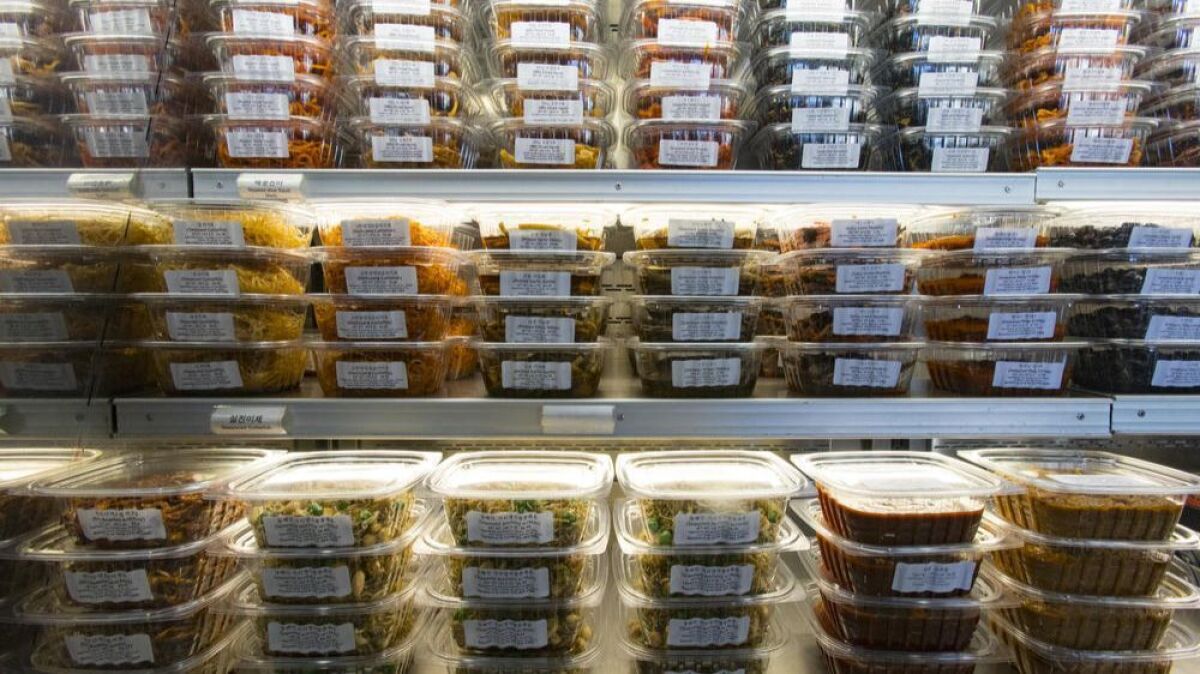 Koreatown is a pretty great place for home cooks as well as restaurant-goers, as it's loaded with specialty markets and heavily stocked grocery stores. Test Kitchen Director Noelle Carter finds five places to stock up on kimchi and gochujang , sesame oil and fresh seafood, as well as cooking gear and basic pantry items.
Our lunchtime chats with Jonathan Gold are back! On Friday at noon, our restaurant critic will be fielding your questions on restaurants, dining and food.
L.A. Times FOOD BOWL returns for a second year this May. It's 31 days of events celebrating L.A.'s food and drink scene and helping raise awareness and funds to fight food waste, hunger and food insecurity and to promote sustainability. Guest chefs include Ben Shewry (Australia), Yoshihiro Narisawa (Japan), Virgilio Martinez (Peru) and Yu Bo (China), along with Diana Kennedy (Mexico) and Fuchsia Dunlop (United Kingdom), with more to be announced. The full program will be released on March 31. If you have a restaurant, bar, market or other establishment and are interested in hosting a Food Bowl event, here's how to register.
Jonathan Gold's 101 Best Restaurants, the authoritative annual guide to local dining, is online for subscribers featuring his 2017 Best Restaurants. If you don't have a copy of the booklet, you can order one online here.
Goldbot: You can talk to Jonathan Gold any time you want — or at least the robot version of him that now lives on Facebook Messenger. You can ask Goldbot for a personal restaurant recommendation based on location, type of food or price. The bot will also deliver Jonathan Gold's latest reviews straight to your device.
Check us out on Instagram at @latimesfood.
And don't forget the thousands of recipes in our California Cookbook recipe database.
Feedback? We'd love to hear from you. Email us at food@latimes.com.
Get our L.A. Goes Out newsletter, with the week's best events, to help you explore and experience our city.
You may occasionally receive promotional content from the Los Angeles Times.