Newsletter: Clay pots, Chianti and Coachella
Happy Saturday. What to do this weekend, other than checking in on Tiger Woods and certain irascible Twitter feeds? You could do worse than head to the San Gabriel Valley for some clay pot rice, according to Jonathan Gold: This week's review is of Nature Pagoda, a Hong Kong clay pot specialist. If you're in need of sustainable seafood, we have a story about a Navy vet turned fishmonger. If you're headed to your local farmers market, we have a story about what to do with all those spring vegetables, particularly asparagus. And if you're needing a bottle or more of wine, we have a piece on Chianti.
Then there's Coachella, a festival that's as much about the food these days as the music. We have a guide to what's cooking, literally, plus some survival tips from local chefs. Bandannas. Rope. Hot sauce. In other news, we have not a few doughnut recipes, if you're looking for a weekend cooking project; a list of our top recipes from March; and some craft beer destination spots, if you should find yourself in Pomona or Covina and in need of a pint. Enjoy your weekend.
IN PRAISE OF CLAY POTS
This week's San Gabriel Valley restaurant review is not a massive banquet hall or a dim sum palace but a small Hong Kong clay pot specialist. Nature Pagoda has dumplings and porridge, crocodile and hog stomach, herbal soups and turtle shell jelly — but you are here, says our critic, for the super-heated clay pot rice, a dish that is remarkable for the crispy bits on the bottom of the pot.
YOUR COACHELLA SURVIVAL GUIDE
If you're heading out to the desert next weekend or the weekend following, you likely know that Coachella is a destination not just for great music but pretty terrific food as well. Deputy Food Editor Jenn Harris gets the details on this year's food lineup, which this year includes Guerrilla Tacos, Shake Shack, a 40,000-square-foot food hall, a pop-up restaurant from chef David Chang, a tiki bar — we could go on. Read all about it, as well as survival tips from five L.A. chefs.
SPRING VEGETABLE LOVE
In her latest Cucina Italiana cooking column, Evan Kleiman considers the spring Italian dish garmugia, a bowlful of verdant vegetables given a quick sauté. It's an easy way to showcase all the English peas, asparagus, artichokes and other seasonal vegetables currently loading local farmers markets, as well as a light dish to pair with great bread and a glass of wine.
NOT YOUR GRANDMOTHER'S CHIANTI
Speaking of wine, this week wine writer Patrick Comiskey spotlights Chianti, a wine that may still remind you of red sauce restaurants with gondola murals and straw-wrapped bottles, but is actually a wine that's "more approachable, more charming and certainly more versatile with any meal, Italian or otherwise. Comiskey recommends three bottles for under $30.
MORE FUN WITH SUSTAINABLE SEAFOOD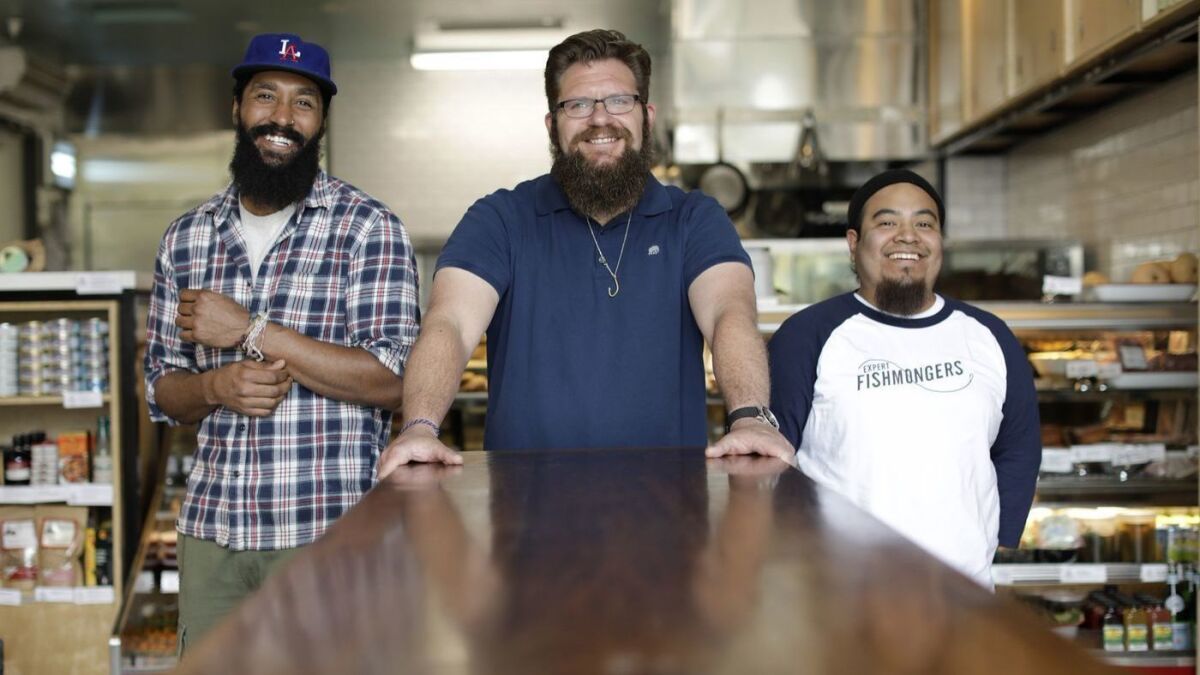 Not many folks have a straight career path into the kitchen; for Brandon Gray his trajectory included a stint in the Navy. These days, Gray is navigating the waters at Cape Seafood and Provisions, a sustainable seafood shop on Fairfax, where he's curing seafood and making bottarga and katsuobushi in house. Food writer Zan Romanoff talks to Gray and explores the menu.
L.A. Times FOOD BOWL returns for a second year this May, with 31 days of events celebrating L.A.'s great food and drink scene and helping raise awareness and funds to fight food waste, hunger and food insecurity. The lineup of dining events, panel discussions, chef collaborations, volunteer projects and other food and drink-inspired happenings is up online now and in print Sunday. So who's coming this year? Celebrated Spanish chef José Andrés, chefs Ben Shewry (Australia), Yoshihiro Narisawa (Japan), Virgilio Martinez (Peru) and Yu Bo (China), along with legendary cookbook writer Diana Kennedy (Mexico) and more. Our launch party is at Rossoblu on April 30, and on May 1, the opening night party will be an event called Changing the World Through the Power of Food, with Andrés, Gold and friends. Help us celebrate this year's Restaurant of the Year and Gold Award-winning chefs Mary Sue Milliken and Susan Feniger. And yes, our Night Market will be back for five nights at Grand Park, with 50 food vendors and fun events. For all the details go to lafoodbowl.com.
Jonathan Gold's 101 Best Restaurants, the authoritative annual guide to local dining, is online for subscribers featuring his Best Restaurants of 2017. If you don't have a copy of the booklet, you can order one online here.
Goldbot: You can talk to Jonathan Gold any time you want — or at least the robot version of him that now lives on Facebook Messenger. You can ask Goldbot for a personal restaurant recommendation based on location, type of food or price. The bot will also deliver Jonathan Gold's latest reviews straight to your device.
Check us out on Instagram at @latimesfood.
And don't forget the thousands of recipes in our California Cookbook recipe database.
Feedback? We'd love to hear from you. Email us at food@latimes.com.
---