All the amazing things you'll be eating at Coachella (Guerrilla Tacos, Shake Shack!), plus a survival guide to the festival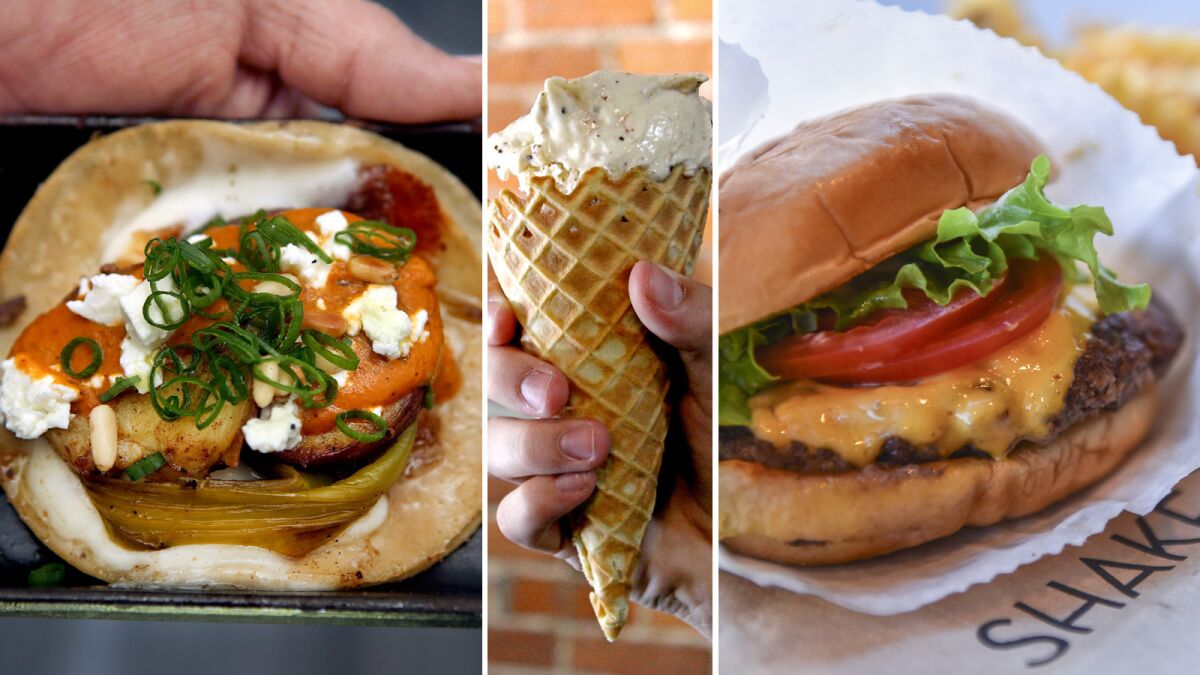 One of the best food festivals in the country might actually be the Coachella Valley Music and Arts Festival, happening April 13-15 and 20-22 in Indio. Although the annual event isn't technically a food festival — think multiple stages and music tents, a lot of dust and cutoff denim — for the last four years, Goldenvoice, the company behind the festival, has been inviting the country's best chefs to cook in the desert. Attendees have always gone for the music, but the culinary lineup is just as exciting.
Last year a secret tiki bar (in general admission!) was introduced. This year Nic Adler, who curates all the food and beverage at the festival, was on a mission to one-up himself.
"Now I would say if you're a festival and you don't have some type of culinary program, you're probably not doing it right," Adler said recently. "We're at a place where everyone realizes there should be a food experience, so how do we do what's different? What's going to push us ahead again?"
This year's big additions include a 40,000-square-foot food hall called Indio Central Market (inspired by Grand Central Market in downtown L.A.), located in what used to be the Mojave music tent. The indoor space will have 15 food vendors (Wingman Kitchen, Ramen Hood, Ms Chi ) and a kombucha bar with more than a dozen flavors on tap. This is also where David Chang, who just opened his first L.A. restaurant, Majordomo, in Chinatown, will have a pop-up version of Fuku, his New York City restaurant. The tiki bar will return (though Adler is remaining mum on the location) and a new bar called Bar Not will serve nonalcoholic drinks by bartender Jason Eisner, of Block Party in Highland Park, in general admission.
Also coming: a Van Leeuwen ice cream shop. Rather than a stand with a couple flavors, Adler says you'll be able to walk in, sample items and actually sit down in an air conditioned space and eat your ice cream. And Shake Shack, the popular New York City burger chain with a couple recent SoCal locations, will have a full replica of the Madison Park location at the festival.
Other full pop-up restaurants include Gwen, chef Curtis Stone's Hollywood butcher shop and restaurant, and Little Pine, Moby's vegan restaurant in Silver Lake. Outstanding in the Field, the pop-up dinner crew, will return to the Rose Garden VIP area with long-table dinners throughout both weekends. And on the bar front, the team behind the Broken Shaker is setting up a bar, as is the 213 team behind Las Perlas in downtown L.A.
Below you can view a list of the chefs and restaurants attending. We also caught up with five chefs heading to Indio to discuss how they plan to survive the festival.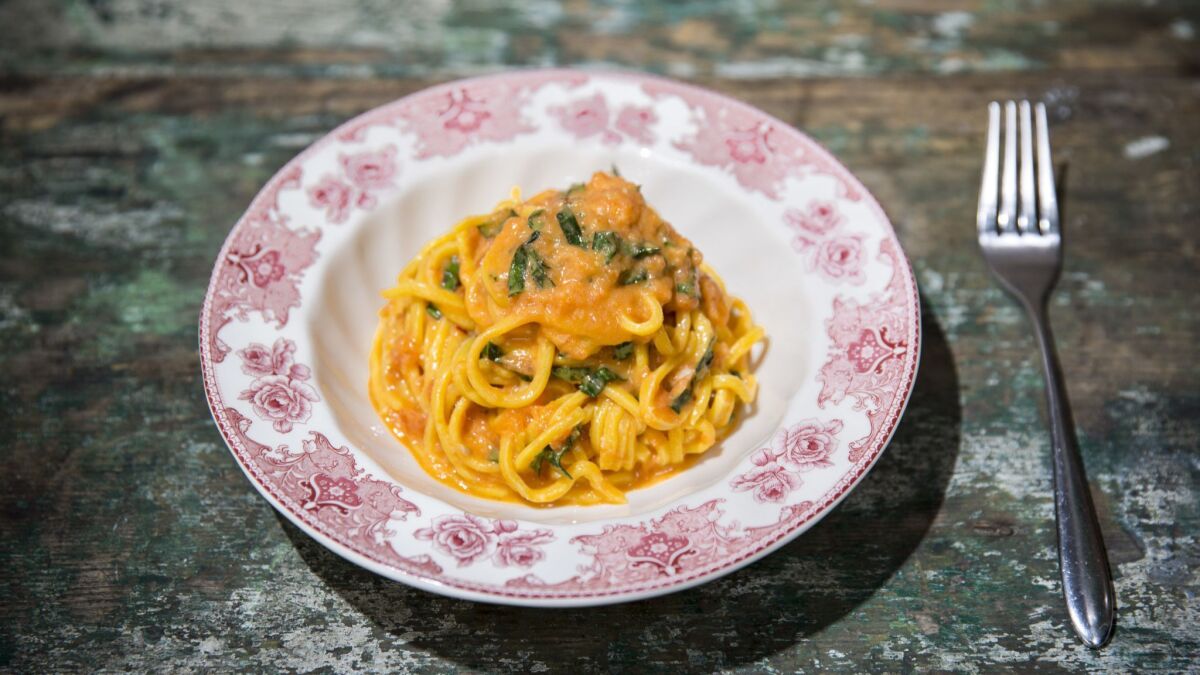 Food vendors and restaurants at Coachella
Bludso's, Little Pine, Gwen, Eureka!, Trejo's Tacos, Sumo Dog, Beer Belly, Phorage, Chego, Little Fatty, Little Damage, Juice Crafters, Herbivorous Butcher, Top Round, Wingman Kitchen, Milkbox, Cena Vegan, Vibe Organic Kitchen, Fat Dragon, Sweet Cup, Fuku, Ms Chi, Cassell's, McConnell's, Hanjip, the_Basement, Go Get Em Tiger, Shake Shack, Pinche's Tacos, Laguna Azul, Pig Pen, Cocobella, Seabirds, the Burger Show, Mallow Mallow, Magpies, Guerrilla Tacos, the Ponte, Trapizzino, Hi Ho Cheeseburger, Sweetfin Poké, Milk Bar, Pizzanista, Sunny Blue, Backyard Bowls, GT's, Menotti's, Ramen Hood, Joe & the Juice, Van Leeuwen, Hanjip, Pot Pizza Spot, Hayden, Playa Provisions, KazuNori, Enter Sake and Cassell's.
Outstanding in the Field pop-up dinners
April 13: Bruce Kalman (Union in Pasadena and Knead at Grand Central Market) and Tyler Anderson (Millwright's Restaurant and Tavern in Simsbury, Conn.)
April 14: Brooke Williamson (Playa Provisions in Playa del Rey) and Shirley Chung (Ms Chi in downtown L.A.)
April 15: Kyle Johnson (Bourbon Steak in Glendale) and Josh Smith (Bardot Brasserie in Las Vegas)
April 20: Christian Page and Elia Aboumrad (Cassell's in Koreatown), Fabian Gallardo (La Esquina in New York City) and Oso Campos (Tacos Kokopelli in Tijuana)
April 21: Pawan, Nakul and Arjun Mahendro (Badmaash in downtown L.A.)
April 22: Sara Kramer and Sarah Hymanson (Kismet in Los Feliz and Madcapra in downtown L.A.)
Survival guide
Curtis Stone: Slow down, and make time for Beyoncé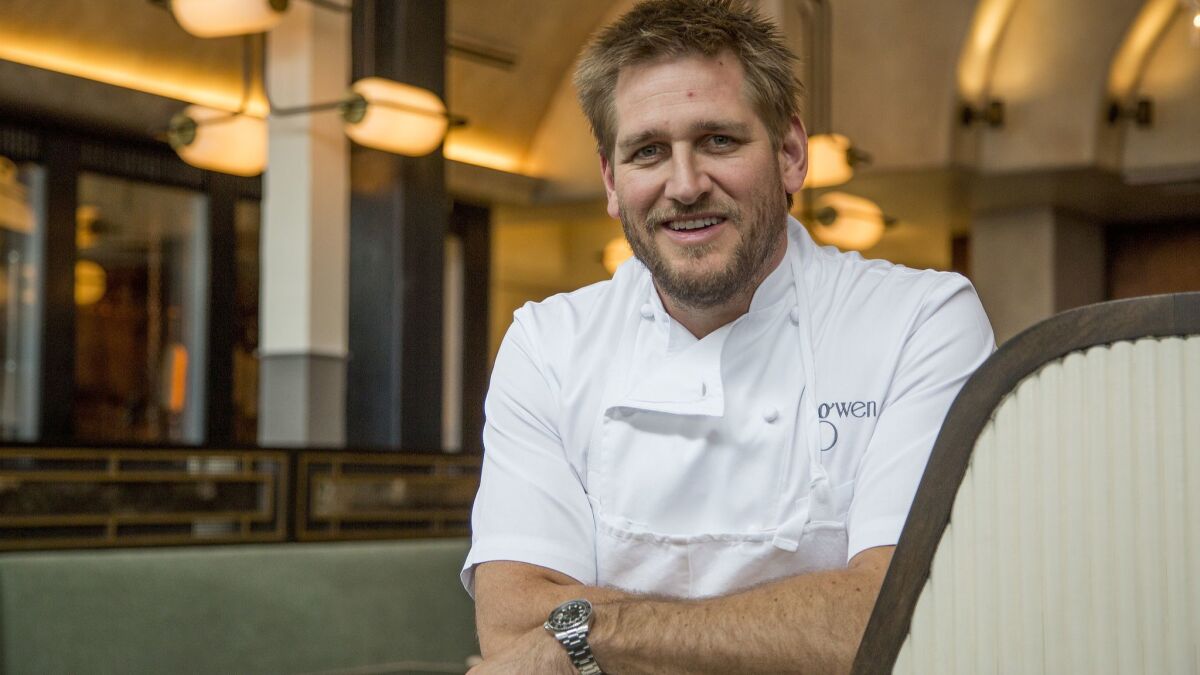 Stone will be busy with a full pop-up restaurant and hopes to create a little "oasis" for festival-goers. "Make sure you get a good balance," he says, "so you don't go full speed ahead right when you get there. Sneak away for a minute and find a quiet spot and chill for a couple of minutes." Stone, who is anticipating his time in the desert as "work, work, work," says he still plans to "get away and see Beyoncé play."
Alvin Cailan: Bring hot sauce, and eat frequently
The Eggslut chef and founder doesn't go anywhere without a bottle of hot sauce. The chef, who is also the host of YouTube's "The Burger Show," will be cooking cheeseburgers at the festival. "I always bring a bottle of Secret Aardvark," he says. "It's like the hot sauce in Portland. I've been addicted to it for the past 10 years." Cailan also suggests eating between shows. "Share your food and eat as often as possible, but not a lot," says Cailan.
Brooke Williamson: Wear a bandanna
Williamson, who returns to the festival for an Outstanding in the Field pop-up dinner this year, recommends bringing a bandanna. "As ridiculous as I thought this was when I saw it, I hated the feeling of having dirt and gravel in my teeth," she says. "I know that style is important when at Coachella, but practicality is even more important."
Dakota Weiss: Have a plan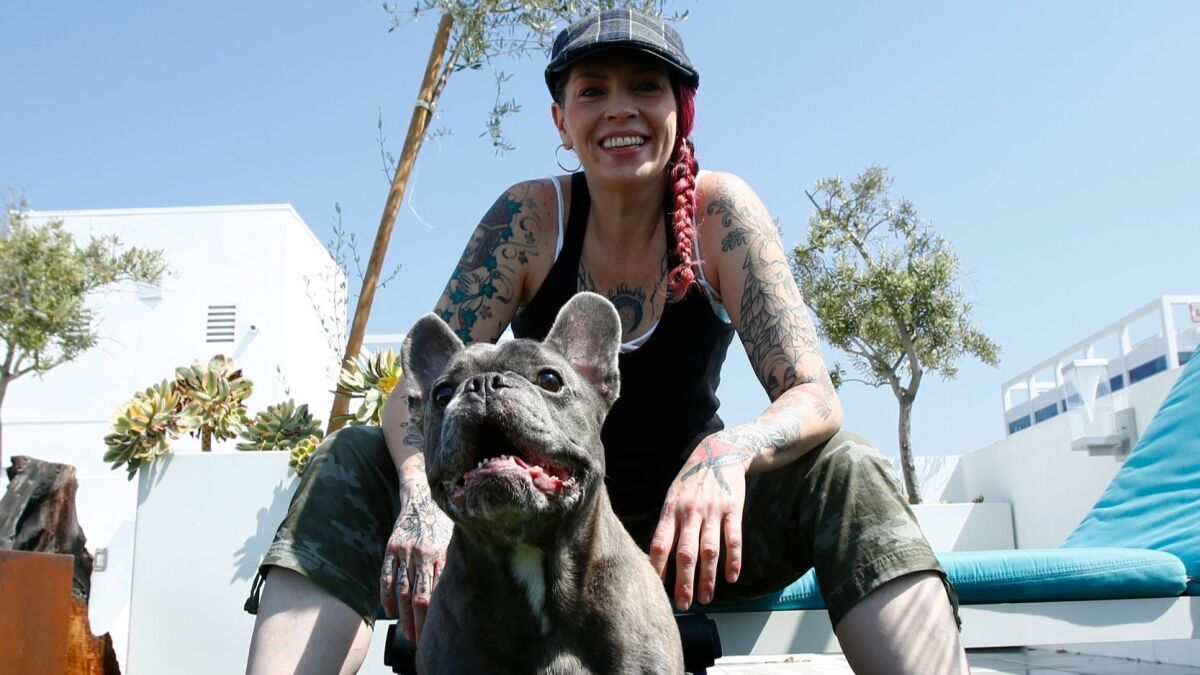 Weiss returns to Coachella for her third year with Sweetfin Poké. When she's not slinging poke bowls, she's making plans. "I think the No. 1 thing is just mentally preparing yourself ahead of time for craziness and no sleep," she says. Weiss also suggests planning out what you're eating along with the shows you're going to watch. "The lines can be really long, but if you get there earlier, like around 4 to 6:30 p.m., seems like the perfect eating hour," Weiss says. "Map out what you want to eat, and you can navigate the crowds a little easier."
Nakul Mahendro: Realize that time is not on your side, and bring a hoodie
Mahendro will join his brother and father to host an Outstanding in the Field dinner representing their downtown L.A. restaurant Badmaash. Over the last couple of years, he's learned what to eat, wear and expect at the festival. "Time at Coachella is totally different," he says. "It's warped. You think you have three hours and it feels like 10 minutes, or you'll have to wait 10 minutes for a show and it will feel like three hours." He also believes in bringing sweat pants and a hoodie for when the weather cools down in the evening. "If you're not staying at a mega mansion like Kendall and Kylie Jenner, you need joggers, a hoodie and rope," he says — the last to secure items from the elements. If you're not a chef, he says you can skip the rope.
---
Get our L.A. Goes Out newsletter, with the week's best events, to help you explore and experience our city.
You may occasionally receive promotional content from the Los Angeles Times.