Newsletter: Cowboy cooking, cookbooks and cocktails
Happy Saturday, and welcome to what is hopefully a long weekend of Labor Day festivities, or at least some downtime. If downtime means sampling a lot of food at a studio back lot with friends and fellow foodists, we hope you're enjoying The Taste, our annual Labor Day food festival, which kicked off Friday and runs through Sunday evening. (If you're out of town, or otherwise occupied, we're having a second Taste this year, held in Costa Mesa in late October.) We hope to see you in one place or another, as both should be pretty fun parties.
But if you're spending time at home with the paper, we have some stories for you. First up, we have a piece on the discada, a very cool outdoor cooking tool that has its history in the fields of the Southwest. Wanting a light cocktail instead of yet another glass of rosé? Try an Aperol spritz, a refreshing, and gorgeous, glass of Aperol, Prosecco and sparkling water. We review a new cookbook from the folks at Food52 that's all about desserts, get details on the first winery to open in L.A. since Prohibition, and check out the seasonal produce.
On the restaurant front, we have news about a new Cantonese restaurant, a shared plates Japanese spot, cheap seats at fancy tasting menu restaurants, and a report that the property that's long been home to Langer's Deli is up for sale. Norm Langer, whose family has been making some of the country's best pastrami sandwiches since 1947, says he's not going anywhere. Enjoy the last days of summer.
PLOW DISC COOKING
You'll be forgiven if you've never heard of a discada, much less cooked on one. This week, Test Kitchen director Noelle Carter takes her new one out for a spin, giving us the back story as well as recipes. A discada, also called a cowboy wok and a plow disc cooker, is an actual plow disc — one of the discs mounted behind tractors and used to till and prepare the ground for farming. You can also cook with them, a practice that dates back a century in the Southwest. You can make fajitas, chili, gumbo, even crab cakes and what Noelle calls "cowboy shakshuka."
YOUR ROSÉ REPLACEMENT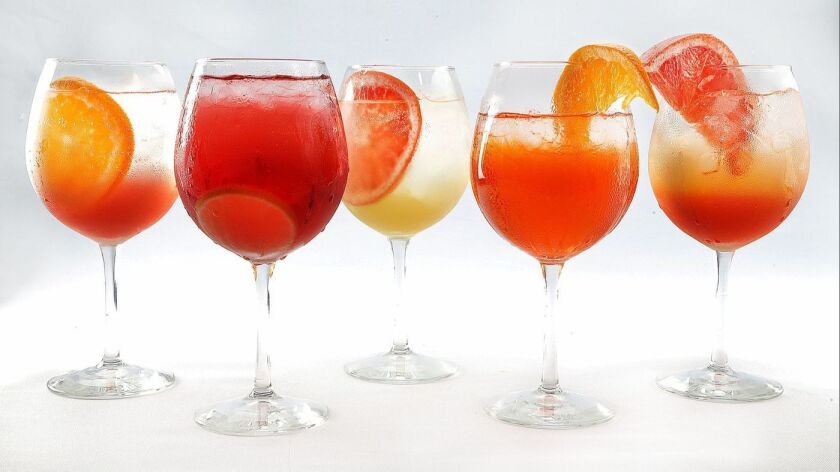 Because not everyone wants to drink rosé all the time, wine writer Patrick Comiskey considers the Aperol spritz. In Italy, the drink is a national ritual, and for good reason: It is light, sweet and "sessionable," a fancy word for a drink you can drink, well, a lot of. And you can make spritzes with more than Aperol: Patrick gives variations on the theme, with spritzes made with other amaros.
MAKE DESSERT FIRST
In my latest Cookbook of the Week column, I check out the new book from the folks at Food52, "Food52 Genius Desserts: 100 Recipes That Will Change the Way You Bake," from Food52 creative director Kristen Miglore. These are 100 recipes culled from dessert legends and lesser known bakers, and it operates like a kind of Best Of. So there are recipes from legends (François Payard, Lindsey Shere) but also from bloggers, caterers, memoirists and writers' grandmothers. Highlighted within the pages are so-called genius tips, which makes the book not only fun but practical. And yes, we got a recipe: a terrific lemon cake from Maida Heatter and her daughter Toni Evans. (And happy birthday to Heatter, who turns 102 next week.)
WINE IN DTLA
Wine country in California may now be centered in Napa and Sonoma, but it once included Los Angeles, where there was once a thriving wine-making community. San Antonio Winery is still around — it opened in 1917 — and soon there will be another, the first new winery in L.A. since Prohibition. As Andrea Chang reports, Angeleno Wine Co. will begin production, using locally harvested grapes, in the next week or so, and will open a tasting room next year as well.
IN PRAISE OF OKRA. YES, OKRA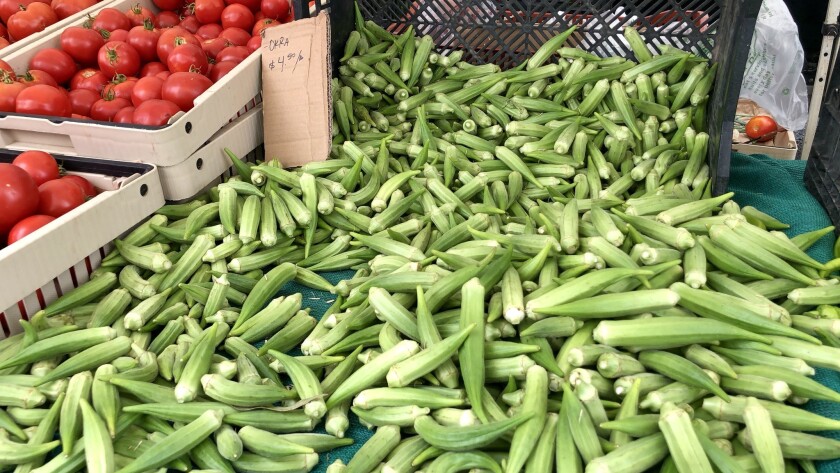 What's in season at the farmers market this week? Noelle spotlights okra, the vegetable — a member of the mallow family — that is ubiquitous in Southern cooking but often gets a bad name because of its sometimes slimy texture. That quality can be harnessed (okra is great as a thickening agent) or tempered by careful cooking. It's great in gumbo, but also made into chips or pickles.
The Taste(s): This year we're having two Tastes, not one, with the second happening in October in Costa Mesa. For more info and early tickets, go to extras.latimes.com/taste.
Check us out on Instagram at @latimesfood.
And don't forget the thousands of recipes in our California Cookbook recipe database.
Feedback? We'd love to hear from you. Email us at food@latimes.com.
---