Essential California: Trump keeps up his feud with the 'resistance'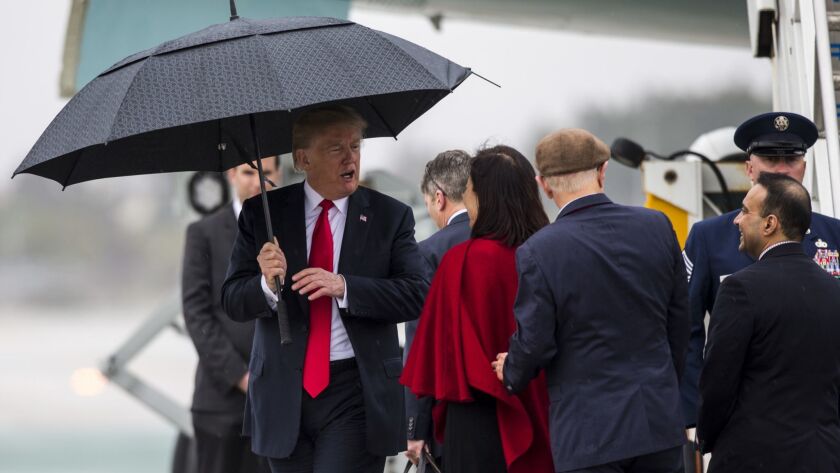 Good morning, and welcome to the Essential California newsletter. It's Wednesday, March 14, and here's what's happening across California:
TOP STORIES
President Trump finally made it to California but had few nice things to say about the state. He castigated California's Democratic state government, saying that Gov. Jerry Brown is "doing a terrible job running the state." The attention Trump wanted to bring to his signature issue, the border wall and related immigration crackdowns, was overshadowed by his abrupt firing of Secretary of State Rex Tillerson. But Trump still had plenty of time to keep up his feud with the "resistance." Los Angeles Times
— Trump finally faced the state he loves to hate, and for the most part California went on with life. There were protests, traffic jams and the usual social media storm. But more rhetoric than action. Los Angeles Times
— In Newport Beach, Trump backers liked what they heard. Los Angeles Times
— Besides the wall, Trump promised new aircraft and pay raises to the military. San Diego Union-Tribune
— Oh, and the creation of a U.S. military "space force." San Diego Union-Tribune
— During the campaign, Trump said he was so rich he didn't need donors. So why is he now on the familiar Beverly Hills fundraising circuit? The Atlantic
— All of Trump's tweets about California. Los Angeles Times
— This might be a reason why Trump visited L.A. and San Diego but not Orange County. Los Angeles Times
— Many Republican congressional hopefuls stayed away from President Trump. Los Angeles Times
L.A. STORIES
A little off the top: African American men successfully lowered their high blood pressure to healthy levels when aided by a pharmacist and their local barber, according to a study of patrons of 52 barbershops in the Los Angeles area. Los Angeles Times
Adventures in catering: When Hollywood star power comes to a humble Eastside taco truck. L.A. Taco
In the works: Tesla's Elon Musk recently mused about creating "an old school drive-in, roller skates & rock restaurant" in the Los Angeles area where people could eat while charging up their electric cars. That dream is now a step closer to reality: Tesla has applied for permits in Santa Monica. Los Angeles Times
Cinematic history: The Valley tract house where a gruesome cleaning occurred in "Pulp Fiction" is for sale — for more than $1 million. Los Angeles Times
Drill, baby, drill: L.A.'s history in oil. Curbed Los Angeles
POLITICS AND GOVERNMENT
Adding it up: Can single-payer healthcare really work in California? Some are skeptical. Sacramento Bee
First lady's project: Melania Trump plans to meet with tech giants over cyberbullying. Mercury News
Now available: UCLA has posted video of U.S. Treasury Secretary Steven T. Mnuchin being heckled by an audience at the university, footage that Mnuchin previously had demanded be kept under wraps. Los Angeles Times
Tech tale: A behind-the-scenes look at how Trump killed the takeover of Qualcomm. Wall Street Journal
CRIME AND COURTS
On second thought: ICE is changing its tune on a Bay Area immigration sweep after a spokesman resigned in anger over what he said were false claims by the agency. San Francisco Chronicle
Making its case: An Irvine-based website known as the Craigslist of pot for linking consumers with marijuana providers is pushing back against allegations that it is violating state law, arguing that it's a technology company and not a marijuana business. Los Angeles Times
Manson ruling: The remains of cult leader Charles Manson were awarded to his grandson from Florida, court records show. Kern County Superior Court Commissioner Alisa R. Knight authorized coroner's officials to release Manson's body to Jason Freeman. Los Angeles Times
Charged: A man accused of killing a Pomona police officer was charged with capital murder and could face the death penalty. Los Angeles Times
CALIFORNIA CULTURE
Art world shocker: Helen Molesworth, the chief curator at the Museum of Contemporary Art whose exhibitions included the critically acclaimed 2017 Kerry James Marshall retrospective that was also a rare popular hit, has been fired. Some say it's a big mistake. Los Angeles Times
Ooof: UCLA's trip to the NCAA tournament didn't last long. Beset by turnovers and poor shooting, the Bruins lost to St. Bonaventure 65-58 on Tuesday in a play-in game at the University of Dayton Arena. Los Angeles Times
Just what she needed: One story of "facial feminization" surgery. The New Yorker
The artist: Damien Hirst's new vision of Venice. New York Times
Solid opening: Even China loves "Black Panther." Los Angeles Times
El Pollo … hmmm: The beloved Mexican Southern California chicken chain has a new logo. Some might find it a bit creepy. Orange County Register
Epic: Stephen Curry had quite the 30th birthday. SF Gate
CALIFORNIA ALMANAC
Los Angeles area: scattered showers and 65. San Diego: scattered showers and 64. San Francisco area: scattered showers and 54. Sacramento: showers and 53. More weather is here.
AND FINALLY
Today's California memory comes from Kerry Traylor:
"I remember growing up in a Solana Beach home with full views of the ocean that my father bought for $16,000 on a starting engineer's salary. The I-5 in San Diego was empty all the time, and I walked to elementary school through fields of yellow mustard. By the time I was in college, my dad had broken ground on the first office building in a town that didn't even exist then but now has tens of thousands of homes, offices and retail space. When I was a teenager, that now-bustling town of Carmel Valley was just a big field where I rode horses. And now I sit in massive traffic on the I-5 every night."
If you have a memory or story about the Golden State, share it with us. Send us an email to let us know what you love or fondly remember about our state. (Please keep your story to 100 words.)
Please let us know what we can do to make this newsletter more useful to you. Send comments, complaints and ideas to Benjamin Oreskes and Shelby Grad. Also follow them on Twitter @boreskes and @shelbygrad.
---