Newsletter: Essential California: The state's housing crisis is killing the dream for millions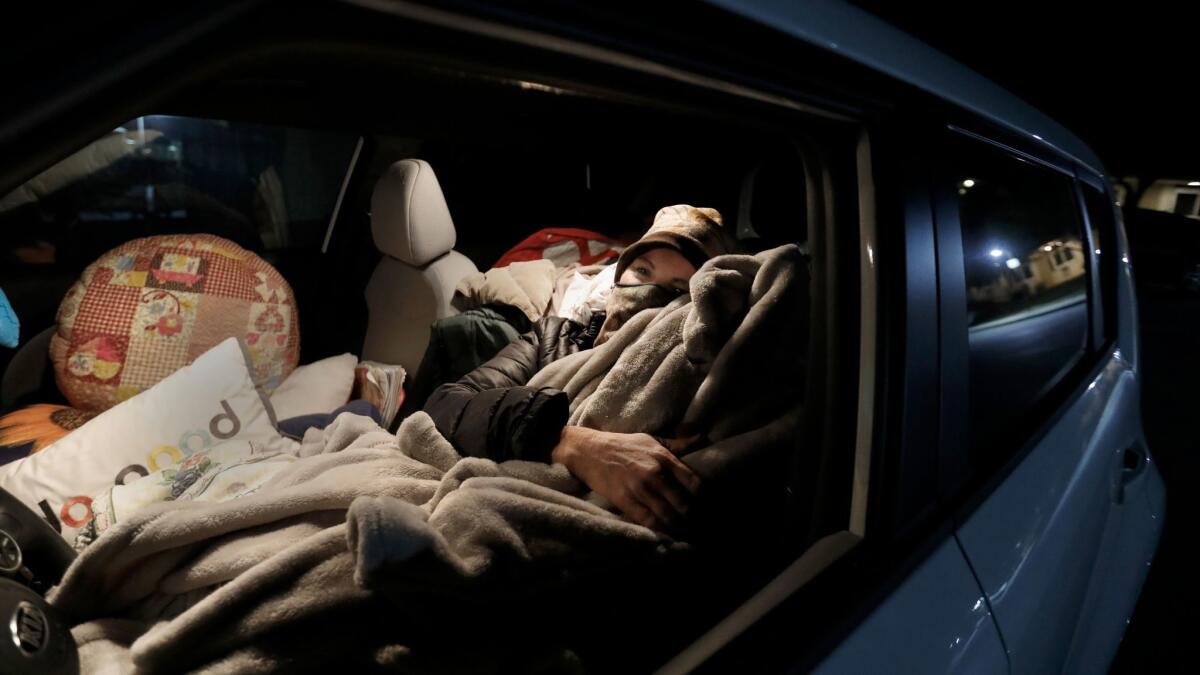 Good morning, and welcome to the Essential California newsletter. It's Monday, Dec. 25, Christmas Day, and here's what's happening across California:
TOP STORIES
California housing crisis in perspective
"Living in a vehicle is obviously better than living in a tent or a box — it's a kind of middle-class homelessness. But in affluent Santa Barbara and elsewhere, the ever-present convoys are another sign of growing income inequality and one of the state's most vexing problems — even working people can barely afford to live in many parts of California." Steve Lopez looks at life in the parking lot amid the wealth and privilege of Santa Barbara. Los Angeles Times
Here's more in Lopez's series about the long shadow of California's housing problems:
-- The twin crises of homelessness and soaring rents have the same DNA. Los Angeles Times
-- The six-hour daily commute is a big trade-off for affordable housing. Los Angeles Times
-- Finding the California dream — in Las Vegas. Los Angeles Times
-- How these are boom times for property owners but terrible times for renters. Los Angeles Times
-- The house that sold for $800,000 above asking price tells a grim story about California. Los Angeles Times
-- Want to pay $650 a month for a 2-bedroom apartment? Go east. Way east. Los Angeles Times
-- They put art before money. In their old age, they face eviction. Los Angeles Times
-- This man's busy gentrifying Compton. But at what cost? Los Angeles Times
Hollywood blues
Hollywood is celebrating the end of 2017 with astronomical sales from "Star Wars: The Last Jedi." But that won't be enough to write a happy storyline for the industry. Although movie ticket sales in the U.S. and Canada are expected to dip just below last year's record of $11.38 billion, the number of tickets sold is projected to drop 4% to 1.26 billion — the lowest level since 1995, according to preliminary estimates from studio executives. Los Angeles Times
Pasadena police under scrutiny
Graphic video of an encounter between two Pasadena police officers and a black motorist last month made international headlines and reignited the nation's heated debate over how police use force. The incident sparked outrage in a city with long-simmering complaints about how law enforcement treats African American men. Los Angeles Times
CALIFORNIA WILDFIRES
The residents of Ventura know they are lucky. Their city did not become another Santa Rosa with its myriad tragedies, but then again, they also know that not everyone in Ventura is feeling especially lucky. For the families who lost their homes, the slow accounting of their new lives has begun without the familiar landmarks. Trajectories changed, priorities upended, they toggle between past and present, caught between old habits of reference and the world they now inhabit. Los Angeles Times
Plus: Tributes to a fallen firefighter. Los Angeles Times
And: In wine country, victims of the fires spend a cold Christmas in motels. Press Democrat
How to prevent more tragedy: Is this a solution to wildfires? New York Times
Up for debate: Are California politicians politicizing wildfires to fit their views? Wall Street Journal
L.A. STORIES
Growing inquiry: A Santa Monica school district's conflict of interest investigation has grown to include three of the board's seven members. Los Angeles Times
Rams clinch: The Rams locked up their first division title since 2003 with a 27-23 victory over the Tennessee Titans. The L.A. team's season finale will be at home against the San Francisco 49ers. Los Angeles Times
Watch: Cool drone video captures the holiday lights of L.A. in dramatic fashion. Curbed Los Angeles
POLITICS AND GOVERNMENT
Lump of coal? Nope: The Los Angeles Police Department's bomb squad was dispatched Saturday to the Bel-Air neighborhood of Treasury Secretary Steven Mnuchin after receiving a report of a suspicious package. You won't believe what was inside. Los Angeles Times
Clemency for Christmas: Gov. Jerry Brown granted 132 pardons and commuted 19 sentences on Saturday, continuing a tradition. Brown typically grants clemency around Christmas Eve and Easter, focusing largely on those whose run-ins with the law occurred years ago. Those pardoned Saturday had already completed their sentences, the majority of which were for drug-related or other nonviolent crimes. Los Angeles Times
CRIME AND COURTS
Strange fight: A legal battle is brewing over Charles Manson's remains. "This is a really weird legal case," said Bryan Walters, a deputy attorney in the Kern County counsel's office. "We've had pen pals that claim they have written wills. It's like a circus, and nothing is clear where we should hang our hat on." Los Angeles Times
Suspect's father speaks out: A closer look at the Modesto man accused of plotting a Christmas terrorist attack in San Francisco. Modesto Bee
THE ENVIRONMENT
Dry times: New questions about how reliable Southern California's water supply from the Colorado River will be. Desert Sun
An alarming trend: Cars are hitting, and sometimes killing, black bears in Yosemite. Officials are concerned. San Francisco Chronicle
CALIFORNIA CULTURE
Too many tamales? Never! "At the end of 2017, a year of persistent chaos and anxiety for Mexican-Americans, tamales are a special kind of comfort food, and the tamalada a time for reflection. A friend recently told me that she and her sisters did their tamalada on Black Friday instead of Christmas this year, 'because we just wanted a time-out.' Her husband had lost his job in the fall; she had taken to driving a Lyft. 'I'm just stress-eating tamales right now,' she told me." — Gustavo Arellano on the power of the tamale in the age of Trump. The New Yorker
It's a wrap: Next month, Njideka Akunyili Crosby will install a block-long work of art at the Museum of Contemporary Art on Grand Avenue in downtown Los Angeles — a piece that will wrap the museum's entire facade. Los Angeles Times
VR game: Can virtual reality help revive the struggling shopping mall? The Daily Breeze
For sale: Bel-Air appears to have the most expensive house in America. But who wants to buy it? New York Times
CALIFORNIA ALMANAC
Los Angeles area: Partly cloudy and 68. San Diego: Partly cloudy and 66. San Francisco area: Partly cloudy and 60. Sacramento: Partly cloudy and 63. More weather is here.
AND FINALLY
This week's birthdays for those who made a mark in California:
Former Gov. Gray Davis (Dec. 26, 1942), Los Angeles Archbishop Jose Gomez (Dec. 26, 1951), USC Annenberg School for Communication and Journalism Dean Willow Bay (Dec. 28, 1963), actor Jon Voight (Dec. 29, 1938) and former Dodgers pitcher Sandy Koufax (Dec. 30, 1935).
If you have a memory or story about the Golden State, share it with us. Send us an email to let us know what you love or fondly remember about our state. (Please keep your story to 100 words.)
Please let us know what we can do to make this newsletter more useful to you. Send comments, complaints and ideas to Benjamin Oreskes and Shelby Grad. Also follow them on Twitter @boreskes and @shelbygrad.
Sign up for Essential California for news, features and recommendations from the L.A. Times and beyond in your inbox six days a week.
You may occasionally receive promotional content from the Los Angeles Times.