Newsletter: Essential California: Offshore oil drilling may be coming to a coastline near you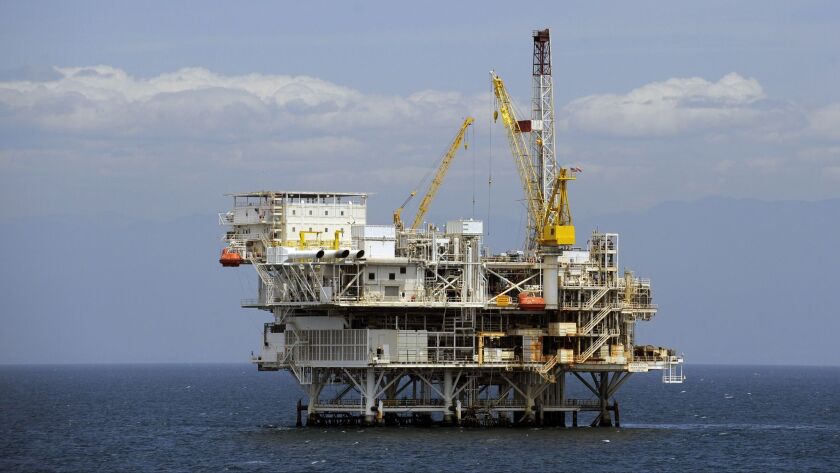 Good morning, and welcome to the Essential California newsletter. It's Friday, Jan. 5, and here's what's happening across California:
TOP STORIES
More drilling on the horizon?
The Trump administration, inviting a political backlash from coastal state leaders, on Thursday proposed to open for exploration the largest expanse of the nation's offshore oil and natural gas reserves ever offered to global energy companies, including waters off the coast of California. Interior Secretary Ryan Zinke said the draft five-year leasing plan would commit 90% of the nation's offshore reserves to leasing, including areas off all three regions of the California coast that have been off limits to oil and gas exploration since the Reagan administration. Los Angeles Times
Pot rules are changed
Atty. Gen. Jeff Sessions is rescinding an Obama-era federal policy that provided legal shelter for marijuana sales in states that have allowed recreational pot, placing thousands of marijuana businesses in California and other states operating legally under state law at risk of federal raids and seizures. The Justice Department move plunged California's fledgling recreational pot market into further uncertainty and was met with a bipartisan backlash from lawmakers in states where marijuana is now sold legally to any adult who wants to buy it. Los Angeles Times
Money matters: The crackdown on pot sales could push banks out of the cannabis industry. Los Angeles Times
The reaction: A marijuana advocate calls it "reefer madness." Los Angeles Times
What's going on at LAUSD?
The Los Angeles Unified School District is poised to start the spring semester next week amid lingering questions about when ailing Supt. Michelle King will return to the job, leaving what some see as a leadership gap in the face of daunting challenges. Though day-to-day decision-making has been handed over to an acting superintendent, King's long-term strategic plan has been in limbo during her four-month absence. Some efforts, including one to reduce the number of students who miss weeks of school, appear to be moving forward without King. Los Angeles Times
L.A. STORIES
Who's left? Weinstein Co. is getting closer to a sale of the company or its assets as the field of bidders narrows down to a handful of companies. Bids for all or parts of the embattled New York movie and television studio came due in December, with the highest offer coming close to $500 million including debt, according to a person familiar with the matter not authorized to comment because the discussions are private. Los Angeles Times
Interesting story: Why Hollywood's homicide rate shrank as assaults rose — a commander's unfiltered analysis. Los Angeles Times
Losing "Sunny," Part 1: Two decades after a young woman's brutal slaying, those left behind still try to cope. Daily Pilot
IMMIGRATION AND THE BORDER
By the border: At the border wall prototypes, signs briefly appeared warning against bats, bottles and "implements of riot." Los Angeles Times
Arrested: A man visiting his girlfriend for the holidays after his first semester as a transfer student at UC Berkeley was arrested by Border Patrol agents at an immigration checkpoint in Jamul. San Diego Union-Tribune
POLITICS AND GOVERNMENT
Changes afoot: A dramatic increase in new housing near transit stations could be on its way across California under new legislation proposed by a Bay Area legislator. Los Angeles Times
Big: "California's attempt to skirt the GOP's new $10,000 cap on local and state tax deductions is officially in play." The Mercury News
This is a problem: More frequent and intense wildfires are making it harder for homeowners to find and keep insurance in California, a state regulator warned Thursday. Bloomberg
CRIME AND COURTS
More charges coming? The Los Angeles man accused of placing a prank call that resulted in the fatal police shooting of an innocent man in Kansas last week was the target of an ongoing LAPD investigation into similar hoaxes and had a reputation for helping others gain revenge on online enemies, law enforcement officials told The Times. Los Angeles Times
Sad story: A retired Los Angeles County sheriff's deputy was shot and wounded at his Redondo Beach home early Thursday while answering a knock at his door, authorities said. Los Angeles Times
Sentenced: A San Francisco man was sentenced to 27 years in prison for setting his girlfriend on fire. San Francisco Chronicle
THE ENVIRONMENT
Worrying reminder: An estimated 9.8 million people felt a magnitude 4.4 earthquake that rumbled across the Bay Area early Thursday, the U.S. Geological Survey reported. It was felt throughout the region, with people more than 150 miles away saying to the agency that they felt the shaking for perhaps five to 10 seconds, according to officials. Near San Francisco International Airport, several jolts could be felt. Los Angeles Times
Plus: The earthquake that rattled the Bay Area on Thursday is another reminder of the power and danger of the Hayward Fault, which runs below the populous East Bay. Los Angeles Times
A reprieve: Mountain lions that kill pets and livestock in Southern California will no longer be automatically targeted for death. Los Angeles Times
CALIFORNIA CULTURE
Farewell: After 15 years, a forest, a pig and a giant tongue, Echo Park alternative arts space Machine Project is closing its doors. Los Angeles Times
Off to the NFL: As they head for greener pastures, columnist Bill Plaschke concludes that both UCLA's Josh Rosen and USC's Sam Darnold never lived up to hype, but they seem ready for a future in the NFL. Los Angeles Times
#FBF! How Grace Kelly overcame shyness to become Hollywood royalty. BBC
The wrong kind of time capsule: Notes on an afternoon inside John Portman's Bonaventure Hotel. Los Angeles Times
CALIFORNIA ALMANAC
Los Angeles area: partly cloudy, 71, Friday and Saturday. San Diego: partly cloudy, 69, Friday and Saturday. San Francisco area: showers, 58, Friday; partly cloudy, 56, Saturday. Sacramento: showers, 59, Friday; partly cloudy, 57, Saturday. More weather is here.
AND FINALLY
Today's California memory comes from Mary Lou Oster:
"My father, Otto Wagner, was born at the corner of Manchester and Western in 1892. I was born there in 1932. The Wagners farmed the area all the way to the ocean. Later, it was developed, and I remember when the Forum was built my dad took us to lunch there. They wouldn't let us in because he didn't have a jacket on. Someone went and provided him with one so we were able to dine there. A simple memory. Now, at 85, I am watching the new stadium being built. It's amazing how time marches on."
If you have a memory or story about the Golden State, share it with us. Send us an email to let us know what you love or fondly remember about our state. (Please keep your story to 100 words.)
Please let us know what we can do to make this newsletter more useful to you. Send comments, complaints and ideas to Benjamin Oreskes and Shelby Grad. Also follow them on Twitter @boreskes and @shelbygrad.
---