Newsletter: Essential California: Parents arrested after children are found shackled and malnourished in Perris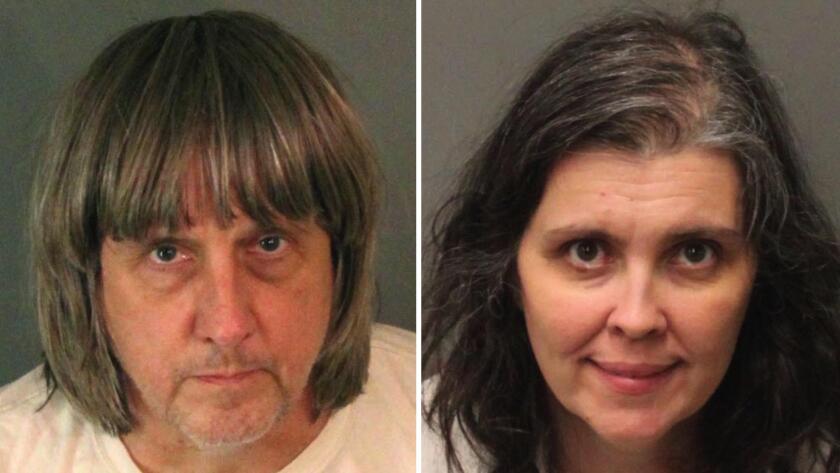 Good morning, and welcome to the Essential California newsletter. It's Tuesday, Jan. 16, and here's what's happening across California:
TOP STORIES
Nightmarish scene
A husband and wife are in custody on suspicion of torture and child endangerment after police say they found several of the couple's children chained to beds in putrid surroundings in Perris. The nightmarish discovery came Sunday after one of the children, a 17-year-old girl, escaped from the house and called 911. Los Angeles Times
Flu season fight
California hospitals have had to scramble for more space and staff to keep up with the high numbers of patients showing up in the ER with a deadly strain of the flu. Los Angeles Times
More from Montecito
The 101 Freeway, miles of which were transformed into a muddy, debris-filled river by the deadly Montecito mudslides, is expected to reopen next Monday. Meanwhile, the search for more victims continues. Los Angeles Times
A work-around: Amtrak is adding 2,000 more seats daily to its popular Pacific Surfliner train service to Santa Barbara to accommodate an uptick in passengers since the 101 Freeway closed in the Santa Barbara area Tuesday. Los Angeles Times
What to do with all that art?
As artists fall into disgrace for a range of allegations having to do with sexual misconduct, Times theater critic Charles McNulty wonders whether their art must be consigned to oblivion. He writes: "But inevitably a contemporary artist with whom I feel a special kinship will shatter my illusions about his or her character. I doubt that I will throw away the books or delete the recordings or swear off the films. I'm sure I'll be disillusioned and quite possibly disgusted, but I know that an artist is not identical with his or her masterpieces and that few human beings can live up to their greatest achievements." Los Angeles Times
L.A. STORIES
Memorial service: At the University Synagogue in Irvine on Monday, Rabbi Arnold Rachlis led more than 500 people in a tribute to Blaze Bernstein, the slain college student whose former high school classmate has been arrested in the case. Los Angeles Times
Homeless plan: L.A. leaders are planning to house dozens of homeless people in trailers on a city-owned downtown lot as a possible model for citywide temporary shelters. The proposal will be submitted to the City Council today. Los Angeles Times
Gulp: The Southern California News Group, which includes newspapers such as the Orange County Register and the Los Angeles Daily News, will be hit with "significant" layoffs in the coming months, the group's management announced Friday in newsroom meetings that took place across five publications. Los Angeles Times
Small world: The most praised ride at Disneyland? It's not in the theme park. Rather it's a cheap bus route from the Inland Empire to the Happiest Place on Earth. Orange County Register
An institution closes: "Starz, one of Gardena's two long-standing strip clubs, has agreed to sell its property and leave town by next year." The Daily Breeze
POLITICS AND GOVERNMENT
In his final year: Don't expect Jerry Brown to tackle Proposition 13 in his final year as governor. Los Angeles Times
Opinion piece: Why is liberal California the poverty capital of America? Los Angeles Times
Didn't think about this: "As recreational marijuana sales ramp up throughout the Bay Area, could the newly legal drug end up creating an unexpected type of high — in our real estate market?" The Mercury News
Frustrated neighbors: New Verizon antennas are generating an unwelcome buzz in Santa Rosa. The Press Democrat
CRIME AND COURTS
Changes in the works: A federal appeals court has assigned a committee to investigate workplace conditions in the wake of sexual misconduct charges that recently forced a high-profile judge to retire. Los Angeles Times
Hmmmm? El Cajon police arrested about a dozen people for feeding the homeless at a city park Sunday afternoon. San Diego Union-Tribune
THE ENVIRONMENT
Surf's up! Some large storms and high wind in the Pacific Ocean helped create huge waves on San Francisco Bay Area beaches. San Francisco Chronicle
Eeesh: Marijuana farms are suspected of spreading rat poison that is threatening the northern spotted owl, which is endangered. Los Angeles Times
CALIFORNIA CULTURE
All hail: In praise of the underappreciated flour tortilla. Why does it not get more respect? The New Yorker
Ansari responds: Comedian Aziz Ansari has responded to allegations of sexual misconduct by a woman he dated last year. Los Angeles Times
At the box office: "Jumanji: Welcome to the Jungle" landed at the top of the domestic box office this weekend, outpacing "The Post," about the Washington Post's 1971 decision to publish the Pentagon Papers. Los Angeles Times
Clooney! There's a whole lotta George Clooney coming to Hulu, with the actor making his return to TV in a new limited series for the streaming service and his last TV go-round, "ER," joining the streaming ranks. Los Angeles Times
Yoooge trade: The Pittsburgh Pirates took a definitive step in their rebuild Monday, agreeing to trade former National League MVP Andrew McCutchen to the San Francisco Giants. ESPN
Yum: Here is one take on the top 20 Chinese restaurants in Orange County. Orange County Register
Double yum: Here are 50 things to eat in Sonoma County "before you die." Sonoma Magazine
CALIFORNIA ALMANAC
Los Angeles area: Partly cloudy, 71, Tuesday. Partly cloudy, 76, Wednesday. San Diego: Partly cloudy, 68, Tuesday. Partly cloudy, 70, Wednesday. San Francisco area: Rainy, 58, Tuesday. Foggy, 56, Wednesday. Sacramento: Cloudy, 60, Tuesday. Cloudy, 58, Wednesday. More weather is here.
AND FINALLY
Today's California memory comes from Nancy Price:
"I was born in Santa Monica in 1952 and lived in the San Fernando Valley most of my life until I was 39 and then I moved my family to Oregon. What I miss the most is the sunshine and warmer weather that California has to offer all year long. I have so many wonderful memories of growing up in California, and my heart will always stay there. My best memories of my life were going to POP (Pacific Ocean Park) as a child and the huge bubbles that would come out as you entered the amusement park. Then as I became a teenager my siblings and I would all hop into my cousin Greg's VW bug back in 1969, take the shortcut through Sunset and end up at Sorrento Beach for the day. Everyone pitched in a quarter for gas and we would bring the baby oil and the Lemon Go Lightly that we would put in our hair to make it lighter and spend the day renting the rafts and riding the waves and sunbathing. The little building they had there for food had the best French fries and burgers. We would bring a radio and listen to the Beach Boys, Jan and Dean and all the awesome hits they had back then on KRLA. And about 4:30 p.m. we would fight the traffic and head on home. Life was so good back then, and you may not be able to ever go back to the way things were, but you will always have your memories."
If you have a memory or story about the Golden State, share it with us. Send us an email to let us know what you love or fondly remember about our state. (Please keep your story to 100 words.)
Please let us know what we can do to make this newsletter more useful to you. Send comments, complaints and ideas to Benjamin Oreskes and Shelby Grad. Also follow them on Twitter @boreskes and @shelbygrad.
---