Newsletter: Essential California: L.A. County's first new freeway in a generation stirs debate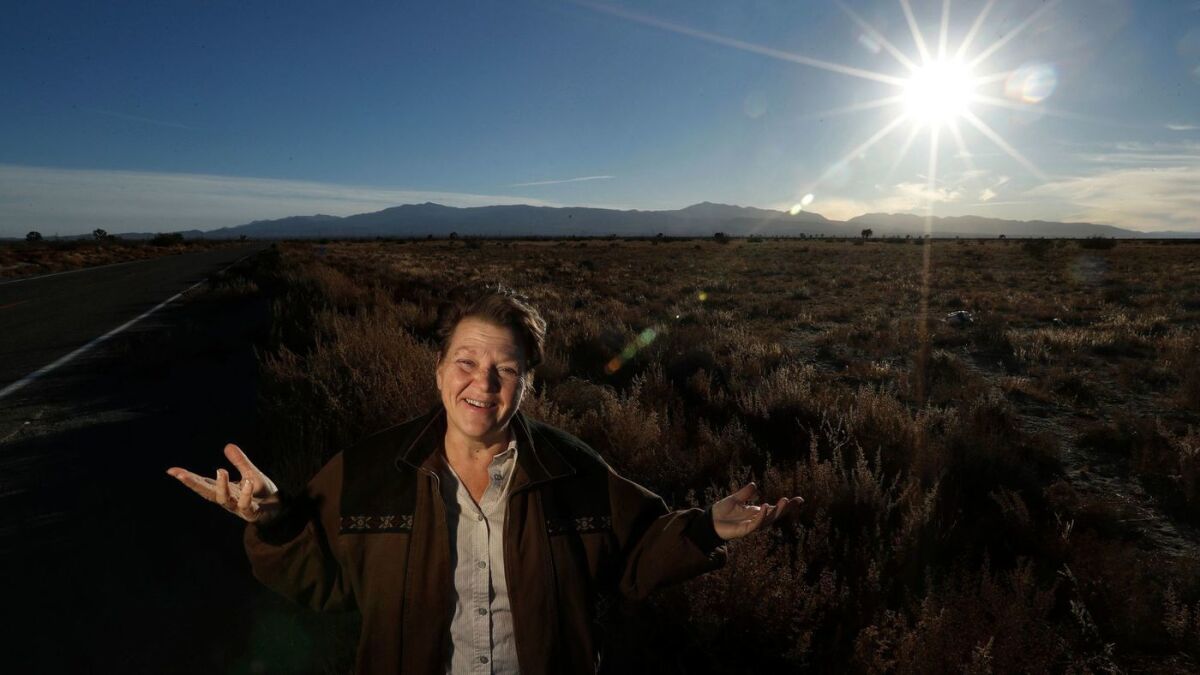 Good morning, and welcome to the Essential California newsletter. It's Monday, Feb. 12, and here's what's happening across California:
TOP STORIES
New freeway
With little fanfare, officials are laying the groundwork for the construction of the first new freeway in L.A. County in two decades. The 63-mile high desert freeway would connect Palmdale and Lancaster with Victorville, Apple Valley and Adelanto. These are fast-growing areas with limited access to mass transit. But the idea of a new freeway is generating a lot of questions about its environmental impact. Los Angeles Times
Big change
The manufacturer of the powerful painkiller OxyContin announced that it will stop promoting its opioid drugs to doctors after years of criticism and mounting lawsuits, some based in part on a Times investigation. Connecticut-based Purdue Pharma informed its employees that it was cutting its sales force in half, leaving about 200 representatives in the U.S., who no longer will visit doctors' offices to discuss the company's opioid products. Los Angeles Times
Read The Times' investigation into prescription drugs:
-- OxyContin and Purdue. Los Angeles Times
-- Doctors and overprescription. Los Angeles Times
Unexpected twist
When Gavin Newsom and Antonio Villaraigosa entered the governor's race, it was widely assumed that their past extramarital affairs were behind them. The details about their relationships when they served as mayors of San Francisco and Los Angeles, respectively, had been aired more than a decade ago, both men had settled down and established families and voters seemed uninterested in politicians' peccadilloes. Then, the #MeToo movement happened. Multiple detailed accounts of sexual misconduct emerged in Hollywood, the media and statehouses across the nation. Los Angeles Times
Additional measures
As Los Angeles politicians face mounting pressure to combat the homelessness crisis, the City Council is weighing two measures aimed at clearing obstacles to getting more people into housing. But the proposed laws have stirred up concerns among critics who fear they will muzzle neighbors or concentrate homeless housing into specific neighborhoods. Los Angeles Times
L.A. STORIES
Smart: In something of an upset, El Camino Real Charter High School has won the 2018 Academic Decathlon for the Los Angeles Unified School District. Though El Camino, located in Woodland Hills, was clearly an academic powerhouse in this competition, the win ran counter to recent form because Granada Hills Charter High has triumphed repeatedly. Granada Hills won the L.A. crown on its way to the 2017 national championship — its third straight. Los Angeles Times
A sense of comfort: How does a community try to recover after tragic disaster? Steve Lopez found out over coffee at a beloved Montecito eatery. Los Angeles Times
Plus: Santa Barbara County authorities are monitoring a storm system that is expected to dump light rain beginning Monday over the barren hills charred by last year's Thomas fire. Los Angeles Times
Buzz off? It's Manhattan Beach versus the beekeeper lady. Daily Breeze
POLITICS AND GOVERNMENT
Rare praise: The Trump administration and California officials — particularly leaders in Los Angeles — have consistently clashed on crucial policy issues from immigration to healthcare. But now comes an unusual twist. A senior administration official, speaking in advance of Monday's release of the White House's "infrastructure principles," singled out for praise a Los Angeles County sales-tax increase that was a top initiative of Mayor Eric Garcetti. But there is a catch. Los Angeles Times
Alternative news: How Rep. Devin Nunes has managed to bypass the scathing judgment of the mainstream media. Politico
Crowded, broken and filthy: Criticism of BART is heating up, and the transit agency insists help is on the way. But ridership is down. San Francisco Chronicle
Immigration proposal: White House officials have begun floating a possible compromise idea — a pledge to maintain legal immigration at current levels, about 1.1 million people a year, for more than a decade. President Trump has proposed a series of measures, including restrictions on family unification, which he calls "chain migration," and an end to the visa lottery, that critics say ultimately could cut legal immigration to America by 40% or more. Los Angeles Times
She's back: Sen. Dianne Feinstein seems to be back on cruise control for reelection, thanks in part to Trump. Politico
The leader: Can Rep. Nancy Pelosi control her Democrats enough to win back the House? New York Times
CRIME AND COURTS
State Supreme Court vacancy: It's now been almost six months since former Justice Kathryn Werdegar retired after more than 23 years, one of the longest runs in state history. And it wasn't as though she quit suddenly, having given Gov. Jerry Brown more than five months' notice. But summer turned to fall and now winter, and the governor has still not appointed someone to take Werdegar's place, leaving the court with six of its seven members. There is no deadline for Brown to make his selection. Los Angeles Times
Weinstein Co. woes: A $500-million deal to sell Harvey Weinstein's troubled old studio to former Obama administration official Maria Contreras-Sweet hit a major roadblock this weekend after the New York attorney general's office expressed serious concerns about the sale. Los Angeles Times
Off my lawn: Police say this 84-year-old women fired on neighbor kids because they were being noisy. Record Searchlight
CALIFORNIA CULTURE
Up and away: The Disneyland resort raised prices over the weekend, several months before the park plans to unveil a remake of its boardwalk-themed area at California Adventure. The prices rose the highest for annual pass holders, up as much as 18%. Daily tickets rose nearly 9%. By comparison, the consumer price index rose 2.5% in the 12 months ending January 2017. Los Angeles Times
Push-pull: The future of San Jose's once-bustling Japantown is now in jeopardy. Can it be saved? The Mercury News
Bull's-eye: Jasper Johns in downtown L.A. is a triumph, Times art critic Christopher Knight writes. Los Angeles Times
Totally: Kate Kelly, Chris Isaak, Ronnie Lott, Huey Lewis, Esprit, Double Rainbow, Marine World Africa USA, Humphrey the Whale and other signs of 1980s Bay Area life. SF Gate
Film versus real life: How Sacramento turned "lady bird" into a verb to describe a demographic trend. Sacramento Bee
CALIFORNIA ALMANAC
Los Angeles area: mostly cloudy and 62. San Diego: scattered showers and 60. San Francisco area: sunny and 60. Sacramento: partly cloudy and 61. More weather is here.
AND FINALLY
This week's birthdays for those who made a mark in California: writer Sandra Tsing Loh (Feb. 11, 1962), actor Burt Reynolds (Feb. 11, 1936) and singer Henry Rollins (Feb. 13, 1961).
If you have a memory or story about the Golden State, share it with us. Send us an email to let us know what you love or fondly remember about our state. (Please keep your story to 100 words.)
Please let us know what we can do to make this newsletter more useful to you. Send comments, complaints and ideas to Benjamin Oreskes and Shelby Grad. Also follow them on Twitter @boreskes and @shelbygrad.
---