Newsletter: Essential California: As homeless camps explode in L.A. suburbs, residents fear they will become permanent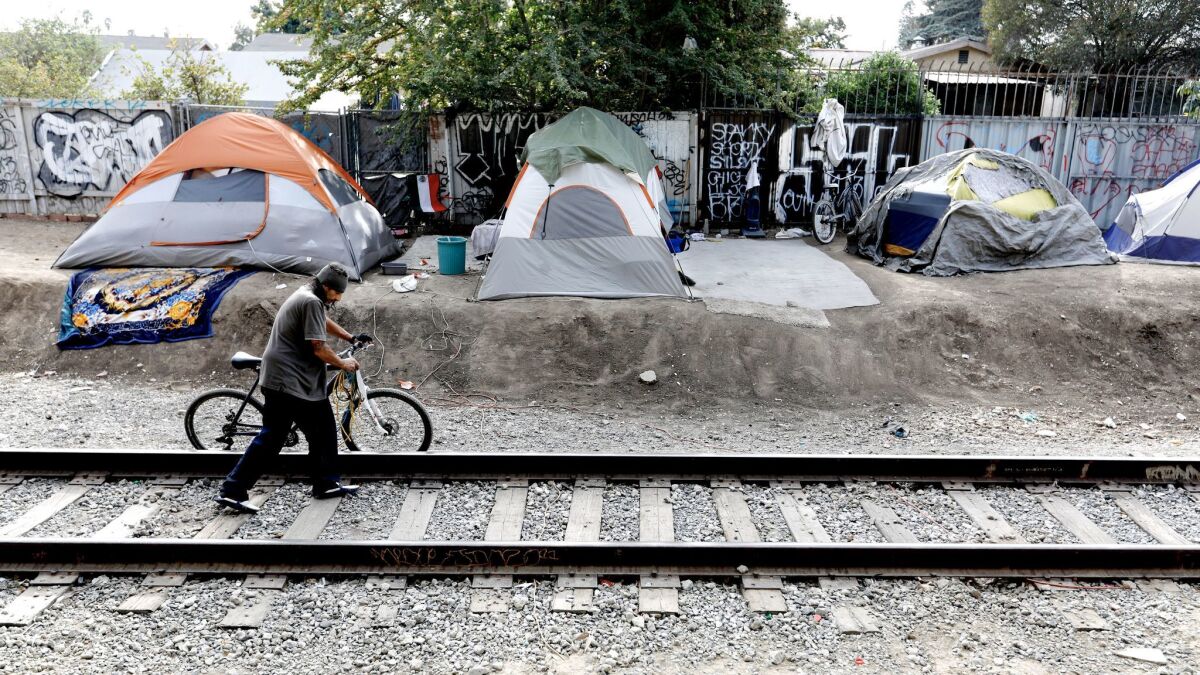 Good morning, and welcome to the Essential California newsletter. It's Wednesday, Feb. 21, and here's what's happening across California:
TOP STORIES
As Southern California's homeless population has exploded in recent years, the South Bay and Harbor areas have seen their own surge, with an estimated 6,145 people calling the camps home, according to the 2017 homeless count — a 4% increase from the prior year. The situation has alarmed L.A. County health officials, who fear the growing encampments are ripe for public health outbreaks, notably hepatitis A, which caused numerous deaths in San Diego's homeless community. That led the county to add toilets and sinks at some camps, but in West Carson, nearby residents are worried those facilities will result in the camp becoming permanent. Los Angeles Times
Plus: Orange County's homeless began trading tents for motel vouchers and other aid as their camp along the Santa Ana riverbed was cleared. Los Angeles Times
And: The city of Los Angeles has a mounting backlog of requests from the public to clean up homeless encampments, prompting the city's Bureau of Sanitation to seek millions more in budget funds to pay for the sweeps. Los Angeles Times
An unrepresented district
Residents of a swath of southeastern Los Angeles County now find themselves with the unhappy distinction of being without a representative in the state Senate and Assembly. Their legislators, Assemblywoman Cristina Garcia and Sen. Tony Mendoza, both have gone on leave after facing public allegations of improper conduct. Los Angeles Times
No hearing here
The Supreme Court on Tuesday turned down a 2nd Amendment challenge to California's mandatory 10-day waiting period for new gun purchases. With only Justice Clarence Thomas in dissent, the justices let stand a ruling of the 9th Circuit Court that called the California law a "reasonable safety precaution" and one that does not violate the constitutional right to own a gun. Los Angeles Times
L.A. STORIES
Firefighter fights: In a two-page memo, Los Angeles City Fire Chief Ralph M. Terrazas said the department has recently experienced a series of "divisive" workplace incidents, including on-duty disagreements over NFL protests. Los Angeles Times
The deal is on: Grocery operator Albertsons Cos. plans to buy drugstore chain Rite Aid Corp. — a move it announced Tuesday as major retailers continue to bulk up and diversify in the face of shifting consumer shopping trends and stiff competition from retail giants Amazon.com Inc. and Walmart Inc. Los Angeles Times
Yuck: A steaming pile of garbage was the end result after a trash truck's contents caught fire Monday morning in North Hills before the blaze was knocked down, authorities said. Los Angeles Daily News
What the future holds: As Los Angeles rediscovers the L.A. River, "the future of communities along its path hangs in the balance." City Lab
IMMIGRATION AND THE BORDER
Separating families: According to public defenders and immigrant advocates, more and more immigrant families that come to the southern border seeking asylum are being charged in federal criminal courts. Los Angeles Times
POLITICS AND GOVERNMENT
On the horizon: Thousands of California Democrats will gather this week in San Diego for their annual convention, featuring several potential presidential contenders as well as candidates battling for endorsements from the party faithful in advance of the June primary. Los Angeles Times
Labor icon: Elected officials, local activists and other congressional sources said Dolores Huerta is having pointed conversations to try to make sure her son, Emilio Huerta, is the only Democrat challenging Republican Rep. David Valadao. A local lawyer, he lost badly to Valadao in 2016. Los Angeles Times
New candidate: "The grandson of one of the architects of the Munich massacre is running for Congress in California, and winning praise from members of the local Jewish community for his moderate positions on the Israeli-Palestinian issue." Haaretz
CRIME AND COURTS
Found: A 29-year-old Uber and Lyft driver who went missing in downtown Los Angeles more than a week ago was located late Monday night, authorities said. Los Angeles Times
Clearing records: Alameda County will dismiss, reduce or seal decades of marijuana-related convictions, Dist. Atty. Nancy O'Malley said Tuesday, clearing thousands of people of activities that California no longer deems crimes. San Francisco Chronicle
On the street: "An NBC Bay Area investigation reveals a dangerous concoction of drug needles, garbage, and feces lining the streets of downtown San Francisco." NBC Bay Area
THE ENVIRONMENT
More solar panels, please: A new bill from a Bay Area lawmaker aims to increase rooftop solar production throughout the state. Los Angeles Times
CALIFORNIA CULTURE
Up in Placerville: The Hangtown Fry — made with eggs, bacon and oysters — was conjured up in Placerville, which is known as Old Hangtown. The only place in town that still serves the dish is the Buttercup Pantry. Eat it — if you dare. Los Angeles Times
Cool! Olympic skater Mirai Nagasu was a familiar figure at her parents' Arcadia restaurant when she was growing up. Los Angeles Times
History lesson: How the world's first movie stars made sure Beverly Hills didn't become part of L.A. Los Angeles Magazine
No more 24-7: Canter's Deli has "decided to suspend our dine-in restaurant service" between the hours of 3 a.m. and 8 a.m. Sunday through Thursday. Eater LA
Too big? "Critics say search giant Google is squelching competition before it begins. Should the government step in?" New York Times
CALIFORNIA ALMANAC
Los Angeles area: sunny, 60, Wednesday; partly cloudy, 57, Thursday. San Diego: partly cloudy, 60, Wednesday; showers, 59, Thursday. San Francisco area: partly cloudy, 53, Wednesday; showers, 52, Thursday. Sacramento: partly cloudy, 57, Wednesday; partly cloudy, 54, Thursday. More weather is here.
AND FINALLY
Today's California memory comes from Eric Kaminsky:
"When I was very young, my grandmother used to take me with her to the Broadway and May Co. department stores in downtown Los Angeles. Such big, great places to visit, even for a child. But not as great as riding the Pacific Electric from Baldwin Park, where we lived, to downtown L.A. Greater yet was arriving at the downtown L.A. station. It was multistoried, and as we arrived at the station, I could look out the car window and see a myriad of track and spindly trestles below us on so many different levels. To this day I can still picture it. It is one of my best memories associated with my grandmother, along with Clifton's Cafeteria, which she never failed to take me to when we went downtown."
If you have a memory or story about the Golden State, share it with us. Send us an email to let us know what you love or fondly remember about our state. (Please keep your story to 100 words.)
Please let us know what we can do to make this newsletter more useful to you. Send comments, complaints and ideas to Benjamin Oreskes and Shelby Grad. Also follow them on Twitter @boreskes and @shelbygrad.
---