Newsletter: Essential California: Did Oakland's mayor press the limits of Trump resistance?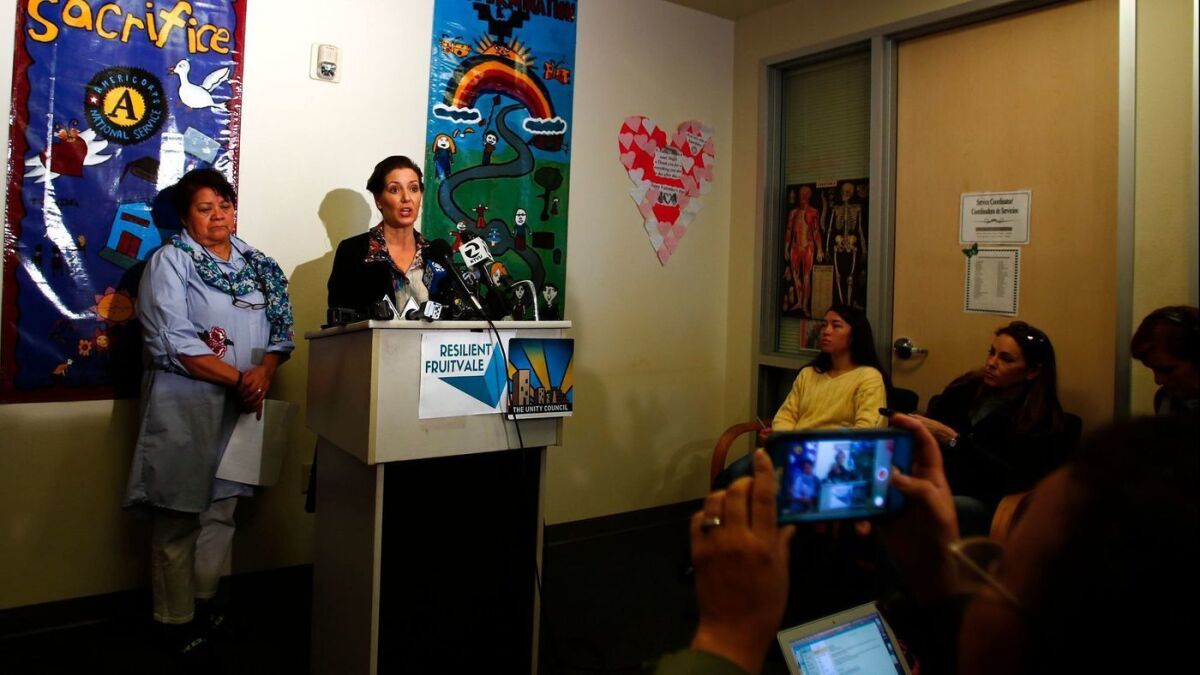 Good morning, and welcome to the Essential California newsletter. It's Tuesday, Feb. 27, and here's what's happening across California:
TOP STORIES
Typically, local and federal officials work together on law enforcement actions, providing a unified front. But that is not the case as President Trump presses a crackdown on illegal immigration and California officials push back. Still, the actions this weekend of Oakland's mayor are raising questions about whether there are limits to the resistance. Los Angeles Times
Here he comes: The president is finally expected to go to California. Trump is scheduled to visit in mid-March to see prototypes for a potential border wall and learn more about the construction, according to administration officials involved in the planning. He will also visit Los Angeles to attend a Republican National Committee fundraiser. Washington Post
Build that fence? The new barrier being built by the Border Patrol in Calexico, Calif., looks a lot more like a fence than wall. Los Angeles Times
DACA update: The Supreme Court handed Trump a significant defeat Monday, turning down the administration's plea for a quick ruling that would have upheld the president's power to end special protections for so-called Dreamers. Los Angeles Times
High anxiety: Workplace raids are bringing heightened anxiety for Southern California businesses. Los Angeles Times
Trying to stay: Outrage in Fresno about a deportation of a woman who supporters say has given so much. Fresno Bee
In the #MeToo moment
Did the sexual harassment scandals change the Democratic state convention this last weekend? In some ways they very much did, with #MeToo becoming a political rallying cry. But in some ways they did not. Los Angeles Times
L.A. STORIES
Tiny city, huge problems: A Los Angeles County investigation into possible corruption in Maywood has set its sights on a broad swath that includes four current and former council members, 13 companies, five current and former city administrators and one activist who dresses up as a clown. Los Angeles Times
Cafeteria cases: Three construction contractors are to return nearly $11 million after the Los Angeles Unified School District filed a series of lawsuits for alleged overbilling. Los Angeles Times
Hotel proposal: Hospitality workers in Rancho Palos Verdes are proposing an ordinance to require the exclusive Terranea Resort and nearby Trump National Golf Club to supply employees with "panic buttons" to alert authorities in the case of a sexual assault. Los Angeles Times
Benefit concert: Katy Perry is trying to help victims of the Thomas fire. Los Angeles Times
Literary alert: "L.A. can still claim me as the splendid mutation that crawled out from the stucco slums of Sepulveda." — Kate Braverman, the L.A. author whose work is finding new audiences. The New Yorker
POLITICS AND GOVERNMENT
Another epidemic in the making: First hepatitis. Then the flu. Now San Diego officials are dealing with a whooping cough crisis. San Diego Union-Tribune
Embarrassing, but ...: Does the snub of Sen. Dianne Feinstein at the state Democratic convention fundamentally change the race for Senate? Some are doubtful. Slate
Plastic ban: The Malibu City Council voted to ban the seaside town's roughly 65 restaurants and food vendors from offering or selling plastic straws, stirrers and utensils to customers. Los Angeles Times
CRIME AND COURTS
25-year sentences: Two Los Angeles police officers pleaded no contest to sexually assaulting multiple women, often preying on victims while one partner served as the lookout as the other carried out an attack in their unmarked police car. Los Angeles Times
Yikes: The Los Angeles Police Department's main Twitter account @LAPDHQ was hacked to declare the force's members are "white supremacists." Los Angeles Times
Big decision: The California Supreme Court decided that juveniles may not be sentenced to 50 years or longer in prison for kidnapping, rape and sodomy. Los Angeles Times
Mystery case: A bizarre death at a Coronado mansion: Will the truth be revealed? Los Angeles Times
Actress arrested: Heather Locklear was arrested at her Thousand Oaks home Sunday night on suspicion of domestic battery and assault of a peace officer, according to the Ventura County Sheriff's Department. Los Angeles Times
CALIFORNIA ENVIRONMENT
Rain, at last: A cold winter storm is expected to bring light rain and low-elevation snowfall to Southern California, with the rain falling the heaviest in the late-morning and early-afternoon hours on Tuesday. Los Angeles Times
Survival secret: How "rock moisture" saved one California forest from the ravages of drought. San Francisco Chronicle
What!? Was that snow in Sacramento on Monday? Or hail? Sacramento Bee
CALIFORNIA CULTURE
Perspective: "These Olympics felt like a watershed moment because this time Asian Americans were not just members but the face of the team and among its best performers. But the joy I felt those two weeks was repeatedly interrupted by disappointment and anger at the way their stories were told." — Times reporter Frank Shyong on the highs and lows of viewing the South Korean Olympics from the Asian American lens. Los Angeles Times
Something special: The inspiring story of Sugar Hill, the African American enclave for a generation of actors who broke down discriminatory laws and created the first "Black Beverly Hills." Curbed Los Angeles
The noodle underground: A inside look at the noodle pop-up that has taken L.A. by storm. "I really just want to share my mom's food with people." L.A. Taco
She's running: "Clueless" star Stacey Dash wants to be your congresswoman, South Bay! Long Beach Press-Telegram
CALIFORNIA ALMANAC
Los Angeles area: showers and a high of 56. San Diego: rain and a high of 57. San Francisco area: sunny and a high of 57. Sacramento: sunny and 60. More weather is here.
AND FINALLY
Today's California memory comes from John Sotos:
"It was the last Saturday of summer 1972, before our senior year at Troy High in Fullerton. Three buddies and I told our parents we were spending the night in Dana Point on a friend's boat. We lied. We crowded into Stan's Chevy and headed for Monterey. We had coffee in Santa Barbara, and later crept through Cambria toward the curves of Big Sur. There we stopped and admired the stars while the surf grumbled far below. We reached Monterey at dawn, unsatisfied. We drove on to San Francisco, then sped home. That trip and that coast are favorite memories."
If you have a memory or story about the Golden State, share it with us. Send us an email to let us know what you love or fondly remember about our state. (Please keep your story to 100 words.)
Please let us know what we can do to make this newsletter more useful to you. Send comments, complaints and ideas to Benjamin Oreskes and Shelby Grad. Also follow them on Twitter @boreskes and @shelbygrad.
---