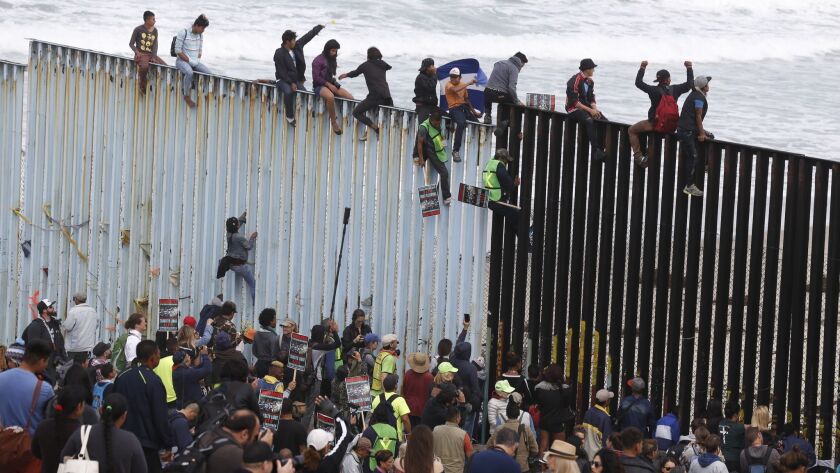 Good morning, and welcome to the Essential California newsletter. It's Tuesday, May 1, and here's what's happening across California:
TOP STORIES
In a span of just 100 miles along the U.S.-Mexico border in California, two scenes played out Monday that symbolize the yawning chasm that is the national debate over immigration. In the Imperial Valley, Vice President Mike Pence took a heavily secured tour of a construction site for the border barrier and lauded local Border Patrol agents, who presented him with a piece of the original border fence as a gift. Meanwhile, a two-hour drive west, a caravan of Central American immigrants who have drawn the ire of President Trump waited at the Tijuana-San Diego border crossing to ask for asylum. Los Angeles Times
More on the Golden State Killer
In the four-decade hunt for the Golden State Killer, there was much speculation that he might be a police officer. Investigators marveled at how he was able to elude capture, hiding in backyards and behind bushes as the police arrived. They said the killer seemed to understand the way police were looking for him, and some victims said he had the demeanor of a cop or military man. But several people who worked with Joseph James DeAngelo Jr. during his law enforcement days said they were stunned that he is now an accused serial killer. Los Angeles Times
Scoop!
The Los Angeles Board of Education is poised to select philanthropist and former investment banker Austin Beutner to be the next superintendent of the nation's second-largest school system. Barring a last-minute development, the only mystery is whether Beutner will emerge with four or five votes on the seven-member body. Los Angeles Times
Get the Essential California newsletter »
L.A. STORIES
Some curious math: In his fiscal 2018-19 budget, Mayor Eric Garcetti more than doubled the amount — $430 million — dedicated to easing the city's intractable homeless problem. Only about 20% of the proposed spending, however, would come from general fund money earmarked for direct services to homeless people. Los Angeles Times
Oooof: Dodgers shortstop Corey Seager will undergo Tommy John surgery on his right elbow and miss the rest of the season, the team announced Monday. Los Angeles Times
"I lost career opportunity": "Actress Ashley Judd and her lawyers have filed a lawsuit against disgraced movie producer Harvey Weinstein, claiming that he damaged her career by blocking her from getting major movie roles in retaliation for turning down his advances." ABC News
About that bad traffic: A tractor-trailer filled with concrete caught fire after a crash Monday afternoon, shutting down all but one lane of the 405 Freeway near Mulholland Drive and snarling traffic just before the rush-hour commute. Los Angeles Times
Looking back: Over the weekend, Orange County's Vietnamese community honored the thousands of people who died in the aftermath of the fall of Saigon. Orange County Register
IMMIGRATION AND THE BORDER
Moving on: The Trump administration's top immigration enforcer Thomas Homan said Monday that he will retire in June. Los Angeles Times
In court: "Civil rights groups are suing the California Secretary of State alleging that he is depriving 80,000 Californians with limited English proficiency of voting language assistance." NBC News
POLITICS AND GOVERNMENT
Get that paperwork in! California sought to jump-start its marijuana industry in January by giving businesses temporary, 120-day permits that briefly waived big fees and other costly requirements, but that grace period is ending, and many say the expense and red tape of getting a regular license are a headache. Los Angeles Times
Plus: The weed delivery app Eaze is also running into problems as the state's new marijuana regulations come online. Leafly
Look who's in town: Steve Mnuchin finally found a respectful audience in Southern California. Los Angeles Times
Interesting proposal: State lawmakers Monday introduced legislation to allow all Californians to serve on state boards and commissions regardless of immigration status. Los Angeles Times
Election time: "There is a cyclical quality to California's perennial debate over taxation, one most evident in the tax-related ballot measures placed before voters," writes Dan Walters. CALmatters
CRIME AND COURTS
DUI case: A woman charged with murder and driving under the influence in a March 29 crash that killed three Las Vegas teenagers in Huntington Beach pleaded not guilty Monday in Orange County Superior Court. Los Angeles Times
Very sad: Hannah Bell, 15, was fatally shot Friday in South L.A. On Monday, police joined relatives, neighbors and others in seeking answers — and justice. Los Angeles Times
Cold case cracked: Kenneth Ray Matthews, 60, is facing charges in the 1977 rape and killing of a South L.A. woman. Los Angeles Times
Unbelievable: "In what police on Monday described as a new wave of coordinated attacks, five adults and 11 teens have been arrested in a string of robberies and violent assaults in San Jose, just months after a similar crime bust in January." Mercury News
THE ENVIRONMENT
Heating up: The fight between the Trump administration and California on environmental issues is escalating. Julie Cart takes a look at the policy areas where both sides are clashing. CALmatters
CALIFORNIA CULTURE
A big yum: Times food critic Jonathan Gold has named Taco María his Restaurant of the Year. Los Angeles Times
Foodies: Check out this interview with Rebecca Merhej, the 29-year-old chef de cuisine at Love & Salt. Los Angeles Times
RIP: Larry Harvey, the countercultural guru who founded Burning Man, has died at age 70. Associated Press
Just like the show: Walk in Det. Harry Bosch's footsteps on this DTLA pop-up walking tour. Los Angeles Times
For the kids: "The Los Angeles Department of Transportation has invested $300,000 on 15 KDI-designed pilot play streets this year in Boyle Heights and Koreatown." New York Times
CALIFORNIA ALMANAC
Los Angeles area: Partly cloudy, 64, Tuesday. Partly cloudy, 65, Wednesday. San Diego: Showers, 61, Tuesday. Showers, 63, Wednesday. San Francisco area: Sunny, 66, Tuesday. Sunny, 62, Wednesday. Sacramento: Sunny, 80 Tuesday. Sunny, 81, Wednesday. More weather is here.
AND FINALLY
Today's California memory comes from Rick Valencia:
"The Golden State was beckoning with its promise of prime weather and its schools. It was a summer in the late '60s. At the time, I was 4 years old, and time was not important. It really did not matter to my siblings either. I was shuttled in a van with piñatas across the San Ysidro border ending a three-day journey on a crowded bus. It was scary. But the rewards just seemed enormous even to a little boy from Cihuatlan, Jalisco, Mexico. We would be with our father, our 'Papi.' I missed him dearly.
"We lived with one of my greatest aunties, Tia Susana, my hero and pioneer in her own right, and the Preciado family in Compton. We would be in 'El Norte.' Soon after the adventuresome passage, while settling into an early-evening family gathering and after hours of play time near Compton High School, with the summer's warmth and weather that only we know in this fine state, we surrounded the most magnificent invention of all time, developed by the 'gringos': Television! If that was not rewarding enough, what I was about to witness while lying down in front of a crowded living room amid various visiting families and friends was absolutely delightful and amazing, in black and white! I can still feel the anticipation and thrill in the room — the elation. I felt and I believed that day, someday soon, I will be going to the moon! We were watching the first man on the moon placing the grand American flag on its surface. And the only thought that crossed my young and naïve mind was that I would be next. Why not? We were now in California, in 'El Norte.' We cheered and celebrated! I jumped up and down knowing that the Golden State had delivered on its promise — united the family, and travels to the moon."
If you have a memory or story about the Golden State, share it with us. Send us an email to let us know what you love or fondly remember about our state. (Please keep your story to 100 words.)
Please let us know what we can do to make this newsletter more useful to you. Send comments, complaints and ideas to Benjamin Oreskes and Shelby Grad. Also follow them on Twitter @boreskes and @shelbygrad.
---