Good morning, and welcome to the Essential California newsletter. It is Saturday, May 26. Here's what you don't want to miss this weekend:
TOP STORIES
USC President C.L. Max Nikias, whose tenure was marked by a significant boost in the university's prestige and fundraising prowess but tarnished by a series of damaging scandals, is stepping down from his post, the university's Board of Trustees announced Friday. The move comes after more than a week of uproar over the university's handling of a longtime campus gynecologist accused of misconduct toward female students. The revelations published by The Times heightened long-festering concerns about university leaders' ethics and management style. Los Angeles Times
More fallout: Fourteen more women have sued USC alleging that Dr. George Tyndall sexually abused them during medical exams and that the university failed to take action when patients and clinic staff complained about his behavior. Meanwhile, Tyndall is defending himself in a letter sent to The Times. Los Angeles Times
Nikias' tenure: He was one of the highest-paid university executives in the country, respected not only for his academic acumen but also his skills managing one of the country's most influential educational institutions. He now joins the ranks of disgraced officials whose legacy seemed at one time beyond reproach. Los Angeles Times
Steve Lopez: The columnist says USC remains a great university and a vital local institution, but it lost its moral compass and changes at the top were long overdue. Los Angeles Times
And: A timeline of Nikias' troubled tenure. Los Angeles Times
A reckoning with Weinstein
For many of the women who claim that Harvey Weinstein raped, assaulted, groped, sexually harassed, masturbated in front of, inappropriately touched, forcibly kissed, verbally abused, professionally punished, spied on or systemically silenced them, Friday was a long-awaited day. Weinstein turned himself in to New York authorities, and prosecutors filed criminal charges against him, including rape. He continues to "vehemently deny" any criminal acts. Los Angeles Times
Where it all began: Here are a few of the stories that precipitated his downfall:
— Multiple women tell reporter Ronan Farrow their harrowing accounts. The New Yorker
— "Harvey Weinstein paid off sexual harassment accusers for decades." New York Times
— How Weinstein used his fashion business as a pipeline to models. Los Angeles Times
Plus: The list of Weinstein's accusers includes fledgling actresses and Hollywood royalty. Los Angeles Times
The quest to find GSK
The four-decade manhunt for the Golden State Killer sparked multiple law enforcement task forces, spawned an FBI website dedicated to catching the killer and prompted lawmakers to create a DNA database of known and suspected felons. But the man they caught never appeared as a suspect, and in interviews with the Los Angeles Times, retired investigators who hunted the masked assailant said poor communication between agencies, investigative tunnel vision and antiquated technology all contributed to suspect Joseph James DeAngelo's elusiveness. Los Angeles Times
Checking in on the race for Senate
In the California Senate race, the incumbent, Dianne Feinstein, has served since 1992. Few politicians in the state have her level of name recognition among voters and certainly not state Sen. Kevin De León, elected to the Legislature in 2006 but who has never appeared on a statewide ballot. Faced with that daunting prospect, the Los Angeles Democrat has a different goal for the June 5 primary: win enough votes for a second-place finish. Under California's unique primary rules, De León simply has to outpace the other 30 people on the ballot. Los Angeles Times
Get the Essential California newsletter »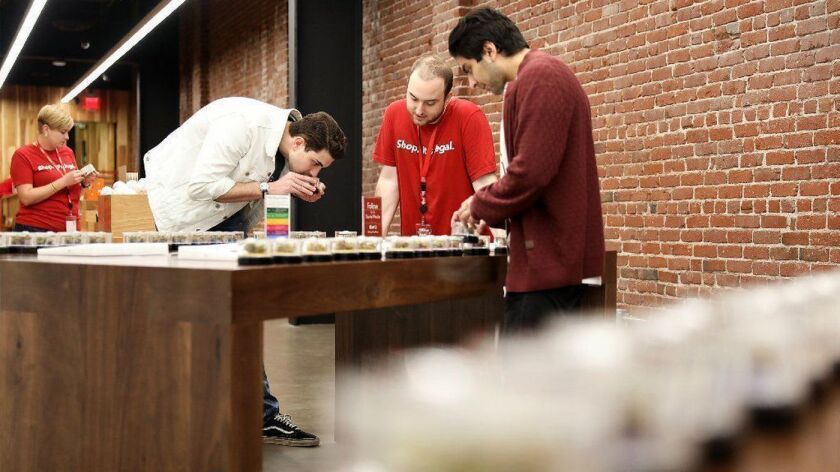 That doesn't sound right: A California doctor is selling hissing sounds to patients. The medical board isn't buying it. Los Angeles Times
Sanctuary split: While a San Francisco jail snubs ICE, Marin County does the opposite. San Francisco Chronicle
Director departs: The Museum of Contemporary Art, ensconced in uncertainty and internal strife for months, announced Friday that director Philippe Vergne is leaving. Los Angeles Times
Wow: "PG&E Corp.'s equipment was responsible for causing four of the wildfires that tore through Northern California in October, investigators from the state's Department of Forestry and Fire Protection determined in a report Friday." Bloomberg
Citizen journalist: "Stabbed at a neo-Nazi rally, called a criminal: how police targeted a black activist." The Guardian
Calling in the cavalry: "Tesla Inc. has flown six planes full of robots and equipment from Europe to California in an unusual, high-stakes effort to speed up battery production for its Model 3 electric sedan. " Reuters
He said what? Republican Rep. Dana Rohrabacher told a group of California Realtors this month that it should be OK for homeowners to refuse to sell their homes to gays and lesbians, prompting the National Assn. of Realtors to withdraw its endorsement. Los Angeles Times
Why is he leaving? Mystery surrounds the resignation of the provost at San Diego State University. San Diego Union-Tribune
Bomb threat: The Los Angeles County Museum of Art was closed Friday while police investigated a threat to the Wilshire Boulevard campus, officials said. Los Angeles Times
Awkward: Alex Anthopoulos, one of Dodgers president of baseball operations Andrew Friedman's lieutenants, traded in the struggling team for first place in Atlanta. But Friedman recently arranged a big party for him. Los Angeles Times
Cute! The new duchess of Sussex, Meghan Markle, helped design her coat of arms, which draws inspiration from California. BuzzFeed
THIS WEEK'S MOST POPULAR STORIES IN ESSENTIAL CALIFORNIA
1. Should you move to L.A.? Curbed LA
2. A California volcano once obliterated a forest and propelled ash 280 miles. Experts say it offers a warning. Los Angeles Times
3. San Fernando's former JC Penney building sits abandoned, in a downtown that misses it. Los Angeles Daily News
4. "This Professor Was Accused Of Sexual Harassment For Years. Then An Anonymous Online Letter Did What Whispers Couldn't." Buzzfeed
5. Scandal after scandal focuses scrutiny on USC leadership, culture. Los Angeles Times
ICYMI, HERE ARE THIS WEEK'S GREAT READS
A new name for Leimert Park? Various groups have different visions, but each agrees that unlike with Koreatown or Little Tokyo, there's nothing in Leimert Park's name that tells residents or tourists that the triangular commercial district along Crenshaw Boulevard in South L.A. is the region's epicenter of African American arts and culture. In a city known for its diversity, the map of Los Angeles has been remade in recent decades as numerous neighborhoods have been rebranding to mark the immigrants who shaped them. Los Angeles Times
The cannabis frontier: Now we have cannabis retailers that "seek to replicate the Apple store model" and give customers "a comfortable, informative and nonthreatening environment." That's how Culver City firm MedMen describes its pot shops in documents submitted as part of the company's most audacious plan yet: to become the nation's most valuable public cannabis company, worth more than $1 billion. Los Angeles Times
Stunning journalism: "Jose Manuel Martinez, who was born and spent most of his life in California, said that for three decades he had worked as a gun for hire, collecting debts and killing people across the United States. Police say that work was often for Mexican drug cartels, though in a few cases he also killed people just because they pissed him off." BuzzFeed
Yum: P.F. Chang's comes to Shanghai, but can you really sell American Chinese food to the country that invented the wok? Los Angeles Times
"The 13th step": Alcoholics Anonymous wrestles with a subculture of sexual predators. Orange County Register
Please let us know what we can do to make this newsletter more useful to you. Send comments, complaints and ideas to Benjamin Oreskes and Shelby Grad. Also follow them on Twitter @boreskes and @shelbygrad.
---